By Todd McDonald, Analyst
Overview
Starbucks (NASDAQ:SBUX) is scheduled to report 3Q 2013 earnings after the close of trading on Thursday, July 25. Results are typically available several minutes after the closing bell and will follow with a conference call at 5:00 p.m. EST.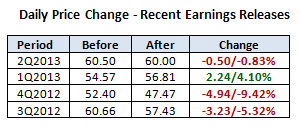 Outliers & Strategy
Earnings Per Share: The value for this measure typically compares with consensus estimates. The exception is if a Non-GAAP figure is present. The estimate is $0.53, the midpoint of analyst's range of $0.51 - $0.55.
Revenues: Revenues are seen growing 12.5% Y/Y to $3.72 bln, with a range of $3.64 bln to $3.80 bln. (Source: Yahoo! Finance)
Earnings Per Share Guidance (FY2013): In the 2Q2013 release, Starbucks guided FY2013 EPS in the range of $2.12 to $2.18. The current Street estimate is for FY2013 EPS of $2.19, with a high estimate of $2.26.
Comparable Store Sales: According to Zack's Investment Research, consensus estimates are for 5.6% growth in Global Comp. Store Sales.
Sympathy Plays: Green Mountain Coffee Roasters (NASDAQ:GMCR), Dunkin' Brands (NASDAQ:DNKN), and Coffee Holding Co. Inc. (NASDAQ:JVA).
Implied Volatility: The average move after earnings over the past eight quarters has been 4.59%. The options market is pricing in a less volatile move, or approximately 3.8%.
Fun Fact: The Starbucks name actually comes from a character in Herman-Melville's novel Moby Dick.
Recent News
07/23: Starbucks entered an agreement with Dannon to offer specialty Yogurt products in participating stores in the U.S. According to a Starbucks press release, the two firms will continue to create joint ventures in other products as well.
07/03: According to a post on Benzinga.com, Deutsche Bank recommended buying Starbucks due to its expansion into China and other Asian countries.
06/28: CEO Howard Shultz appeared on CNBC, stating that the company is currently processing about 4.5 million transactions per week, keeping customers loyal to the Starbucks brand.
06/26: Starbucks announced that it is planning to open 100 new stores in Malaysia over the next 4 years, reaffirming the company's commitment to global expansion. The company opened its first store in Malaysia 15 years ago.
06/13: Goldman Sachs reiterated Starbucks as a Conviction Buy, while raising its price target to $75 from $72, according to a post on StreetInsider.com. The firm believes that the new and upcoming food options will add to comparable store sales.
Technical Review
Starbucks shares have trended higher in 2013, outpacing the S&P 500 significantly (~30% vs. ~20% respectively). The shares are currently working off an overbought reading on the RSI, which is now at a more reasonable 51.61, which has been a buy-signal this year. If earnings surprise to the upside, look to implied volatility of approximately 3.8% for resistance, which corresponds to $69.50 - very close to recent all-time highs. Should results disappoint, look to the 50-day SMA near $66 as the first area of support, followed by the $63 area. (Chart courtesy of StockCharts.com)
Summary
Starbucks has had a solid 2013, thanks in part to an improving economic backdrop, decreasing commodity prices, international expansion, new product offerings, and strong brand loyalty. With shares near an all-time high and trading at almost 26x next year's projected earnings, it will take an impressive report to push shares higher. If any of the metrics disappoint, especially guidance and comparable store sales, Starbucks could sell off substantially.
Disclosure: I have no positions in any stocks mentioned, and no plans to initiate any positions within the next 72 hours. I wrote this article myself, and it expresses my own opinions. I am not receiving compensation for it (other than from Seeking Alpha). I have no business relationship with any company whose stock is mentioned in this article.
DISCLAIMER: By using this report, you acknowledge that Selerity, Inc. is in no way liable for losses or gains arising out of commentary, analysis, and or data in this report. Your investment decisions and recommendations are made entirely at your discretion. Selerity does not own securities in companies that they write about, is not an investment adviser, and the content contained herein is not an endorsement to buy or sell any securities. No content published as part of this report constitutes a recommendation that any particular investment, security, portfolio of securities, transaction or investment strategy is suitable for any specific person.