Banks have two sources of income: spread income, the traditional source of bank income that comes from borrowing money at one rate and lending it out at another, higher one, and fee income, which can be as simple as charges for bounced checks, and as complex as fees received from asset management and investment banking businesses.
How important are the two types of income to banks, and how different are banks from one another in terms of their "fee vs. spread" mix? The chart below shows spread income after provisions for loan losses as a percentage of total income for the 20 largest US banks by market cap. Data is provided by SNL Financial LC: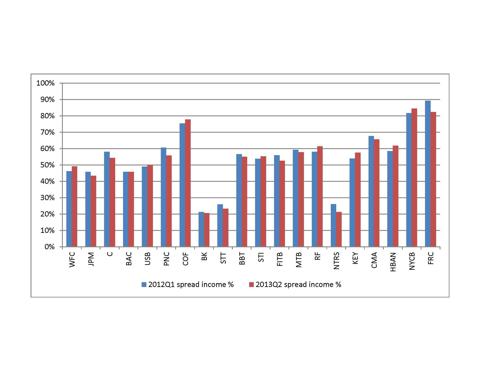 As both income streams can vary from quarter to quarter, I show data for Q2 2013 and Q1 2012. For most institutions, the figures don't differ much from one another.
What does this chart tell us? Compare JPMorgan Chase (NYSE:JPM), the largest US bank by assets, to Wells Fargo (NYSE:WFC), the largest US bank by market cap. How much different does JPM's large investment banking and asset management businesses make its spread vs. fee split? JPM's Q2 2013 spread income percentage was 43%, versus 49% for WFC. Hardly an earth-shattering difference. Citigroup's (NYSE:C) 54% spread income percentage is materially higher than WFC's.
The fact is, leaving aside the three trust/processing bank outliers, Bank of New York Mellon (NYSE:BK), State Street (NYSE:STT) and Northern Trust (NASDAQ:NTRS), most large banks have a spread income percentage in the neighborhood of 50%. This percentage does ratchet up as you look at smaller and smaller institutions. Capital One Financial (NYSE:COF) is unusual for its size, with a high 78% spread income percentage.
For investors nervous about what interest rate increases might do to bank earnings, it's important to recognize that fee income will provide only a partial cushion, and the cushion won't be all that much bigger for the largest banks.
Disclosure: I have no positions in any stocks mentioned, and no plans to initiate any positions within the next 72 hours. I wrote this article myself, and it expresses my own opinions. I am not receiving compensation for it (other than from Seeking Alpha). I have no business relationship with any company whose stock is mentioned in this article.