Ingredion (NYSE:INGR) at a Glance
The Ingredion that we see today is significantly different than what we will see in 2014 and beyond. Below is our introduction into their business model, their strengths, and the new buying opportunity that exists for Ingredion. Investors recently overreacted to management commentary and lowered guidance without considering the company's history of conservative guidance and consistent earnings beats (the last four quarters in fact). With this in mind, we value Ingredion at $82 by year-end of 2014, an increase of 28% from current levels. We will later highlight:
1) Potential in the South American markets
2) Ingredion's distribution network and economies of scale
3) Segment breakdown and
4) Cash Analysis/Valuation to peers.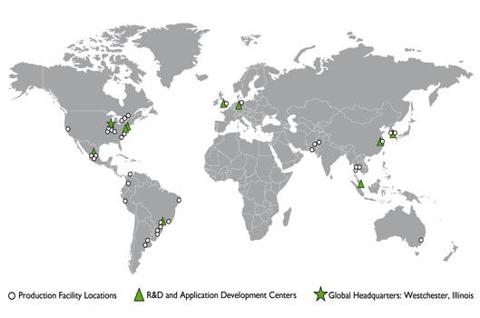 Ingredion Inc. is a global manufacturer and supplier of starch and sweetener ingredients to a range of industries, including packaged food, beverage, brewing, and industrial customers. The company's starch-based products include both food-grade and industrial starches. Their sweetener products include glucose syrups, high maltose syrups, high fructose corn syrup, and caramel color among others. The company's products are derived primarily from the processing of corn and other starch-based materials. They provide ingredient solutions for the food, beverage, brewing and pharmaceutical industries as well as numerous industrial sectors. Basically, Ingredion makes foods and beverages taste better, baby powders and cosmetics smooth to the touch, cereals and crackers crisper, and breads brown evenly. Truly diversified across many consumer markets.
Ingredion products and operations can be found all over the world. The wide range of products are used by the who's who of beverage and snack food companies including Kellogg (NYSE:K), Coca-Cola (NYSE:KO), Mondelez (NASDAQ:MDLZ) (formerly Kraft Foods, Inc.) and Pepsi (NYSE:PEP) among many others. Ingredion has 36 manufacturing plants located throughout North America, South America, Asia Pacific and Europe, the Middle East and Africa. The following breaks down the international operations of Ingredion. We highlight this in order to show the consistent performance of business in North America as well as the growth and potential of the new markets that Ingredion has moved into around the world.
North America
57% of 2012 sales
13 plants producing a range of sweeteners and starches
7 U.S. facilities providing a full line of starches and sweeteners
Ingredient development center in Mexico and 3 facilities manufacturing starches and sweeteners
Only corn refiner with facilities located in Canada - very little competition exists here
South America (Presents a great opportunity going forward that is explained in more detail below)
22% of 2012 sales
Largest manufacturer of corn-based starches and sweeteners in South America
11 strategically located manufacturing plants
Successfully operating in the region for more than 80 years
Asia Pacific
13% of 2012 sales (Compared to 6% in 2010 and sales continue to grow in 2013)
Developed: Japan, ANZ, South Korea
Emerging: China, SEA, India
Geographic footprint expanded greatly by NS acquisition in 2010
7 manufacturing
Sales offices providing broad coverage across developing and emerging Asia
Europe, Middle East, and Africa
8% of 2012 sales
5 manufacturing facilities
Ingredient development centers located in Hamburg, Germany and Manchester, England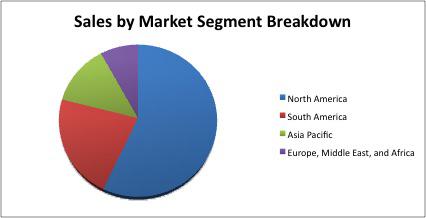 The growth drivers for Ingredion going forward will be outside of the United States. This fact makes the company a good emerging market play with solid growth prospects. One key area will be Mexico with 4% GDP growth over the past four years and 3.5%+ expected GDP growth rate over the next five years. The growth of the middle class and increased demand for convenience is driving product development involving both specialty and core ingredients. The "health" trend is reflected in the demand for nutritional ingredients and of "better for you" segments where economics remain favorable.
Another growth driver for Ingredion will be increasing purchasing power in South America. There has been significant per capita growth in the last five years and we expect GDP growth between 3% and 4% over the next five years. The growing middle class is seen stimulating higher consumption along with increasing demand of food crop production, animal feed, and bio fuels. Ingredion will continue to make important investments in South America because of the large benefit that they will see from upcoming sporting events. Brazil will continue to play a major role as a growth driver over the course of the next three years with the World Cup and Olympic Games being played. The 2014 World Cup and 2016 Olympics are expected to have a gross economic impact of about $50 billion and $70 billion, respectively. Food and beverage operations will expand rapidly, and Ingredion is set to flourish as they supply the main ingredients for these products. Twelve Brazilian cities will host the World Cup with 600,000 overseas visitors expected to make the trip for this event. The Brazilian government anticipates creating 120,000 jobs over the course of the next 3 years, which will have a huge impact on consumption and spending. These large events in South America present a great opportunity for Ingredion because of their current presence and investment in this region of the world. Management's comments have deterred investors in the short term about this growth segment, and we believe that story turns around in 2014.
The final growth driver involves the acquisition of National Starch on October 1, 2010 for $1.3 Billion. Through this acquisition, they have obtained a global research and development capability concentrated in Bridgewater, New Jersey. Activities include plant science and physical, chemical and biochemical modifications to food formulation, as well as development of non-food applications such as starch-based biopolymers. This acquisition has provided a great value for Ingredion and will continue to in the future. Product development activity is focused on developing product applications for identified customer and market needs and this acquisition makes Ingredion one of the best in the space.
One-Year Chart for INGR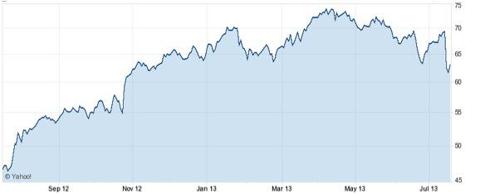 Recent Pullback Creates a Buying Opportunity
Ingredion has seen a pullback recently after providing outlook for second quarter 2013 and reducing guidance for full year 2013. The stock reacted and we believe that this was a market overreaction given the news and solid future prospects in the geographical areas that may see short-term difficulties. This was the recent update from Ingredion that caused the market overreaction and created a solid buying opportunity. The following is some of the management commentary from July 15, 2013:
· Second quarter 2013
Expect second quarter 2013 EPS of $1.15 to $1.20 due to deterioration of business in South America
North America and Asia Pacific expected to be up compared to last year; EMEA down slightly
· Full year 2013
New full year 2013 guidance of $5.10 to $5.40 Decline driven primarily by South America as well as less robust outlook for small parts of North America
Asia Pacific and EMEA remain on-track with previous expectations
· Ingredion Concluding Thoughts About 2013
Other than South America, business model is holding up in a turbulent environment
We remain bullish over the medium- to long-term on South America
North America showing resolve by delivering in a difficult raw material environment
Asia Pacific and EMEA on-track in 2013
Investors need to consider Ingredion's history when it comes to guidance after an event like this. When looking at earnings history and guidance in the past, Ingredion has traditionally guided very conservatively, but consistently delivered to the upside and beat expectations. Investors being spooked by management commentary about current business caused the recent overreaction in the stock. We have to remember that this is a small cap company at just under $5 Billion, making it tough for institutional investors to be involved.
Overall, Ingredion's investment thesis remains intact. The strong balance sheet allows them to invest in the business and/or return cash to shareholders, which Ingredion has done historically through dividends (currently a 2.4% Yield). The long-range target EPS CAGR of 10 - 12% remains in-place and achievable and early indications are that 2014 is setting up to be a better year. We also need to consider this company's longstanding history of success when looking at sales growth, gross profits, and strong cash flow.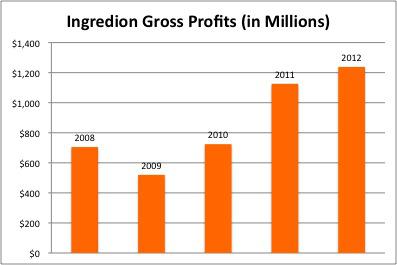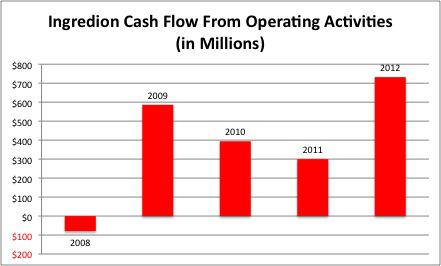 Investors should focus on Ingredion's cash flows from operating activities. This area has significantly improved, and indicates how much cash the company generated from its core business. This gives us the best picture of how well the firm's business operations are producing cash that will ultimately benefit shareholders. One major reason for this in the case for Ingredion was the company's accounts receivable decreasing, meaning that the firm collected a great deal of money from its customers.
Valuation

In the case for Ingredion, considering the future prospects on South America, they appear to be undervalued compared to their peers. The recent pullback should be seen as a market overreaction to the warning of slower growth in South American markets. As we can see with Ingredion, they are trading at a discount in 4 out of 6 valuation metrics, yet their dividend yield is above peers.
Profitability

Emphasis should be placed on Ingredion's cash flow per share. When using this metric as a comparison to competitors, Ingredion is generating far more cash per share than their peers.
Financial Strength

Management Effectiveness
Ingredion continues to be in a strong financial position and has been able to make nice acquisitions that have added value in a short period of time. Strong cash generation allows them to pay a solid dividend as well.
Ingredion's future prospects and investments in emerging markets make this a great buying opportunity on recent weakness. We believe that by second quarter 2014 that the stock will rebound, and we value the shares at $82, with downside being limited to $55 if the South American markets underperform management estimates. There is a great deal of potential beyond that with the 2014 World Cup and 2016 Olympic Games in Brazil. We believe that these future prospects present a great opportunity for Ingredion to be a major player in this space.
What You Need To Know
Ingredion reports its next quarter on July 31, 2013 and will give a clearer picture on the current situation in South America. Management's cautiousness is heavily weighted at times without looking at the company's history of guidance and earnings. Ingredion generates a great deal of cash and that will continue in the future. With the recent lowered guidance and outlook for the rest of 2013, remember the big picture, and look for optimism going into 2014 with steady improvements around the world and major catalysts for business in South America.
Disclosure: I have no positions in any stocks mentioned, and no plans to initiate any positions within the next 72 hours. I wrote this article myself, and it expresses my own opinions. I am not receiving compensation for it (other than from Seeking Alpha). I have no business relationship with any company whose stock is mentioned in this article.
Additional disclosure: This article was written by Hunter Orr, CFA the Director of Research with Alpha Street Research, and our team of supporting analysts. This article is exclusively written for Seeking Alpha and its readers. We personally do not hold any positions in stocks mentioned here, but will on occasion have buy ratings on stocks covered here and those buy ratings are available to our subscribers.