When you buy a share of stock in a company, you are purchasing a piece of ownership in it. What type of business would you want to own? When it comes down to it, you want a company that knows how to make money and is on track to continue doing so. Syntel (NASDAQ:SYNT) is one of these companies. Syntel offers information technology (NYSE:IT) consulting and Knowledge Process Outsourcing (KPO) services to companies all over the world. The corporation was founded in 1980, is headquartered in Troy, Michigan, and currently has over 20,000 full time employees.
The goal of Syntel is to offer innovative solutions to businesses' problems that result in increased productivity, efficiency, and profitability. They do this through finding targeted solutions to a company's issues that can be carried out in a number of ways, whether it be through improved technology or strategy. As of the second quarter of 2013, Syntel had 112 active clients, being Global 2000 organizations. This may not seem like a great amount of customers, but the company does not consider it a weakness, claiming that they are "small enough to listen, big enough to deliver".
Through its journey of helping other companies to make money, Syntel has been quite profitable itself. Its revenue for the trailing twelve months was $765.79 million, with an EBITDA of $242.41 million. Over the course of the past ten years, the company has consistently increased both sales and net income, as portrayed by the chart below. Although the company is considerably small at the current moment, with a market cap of just $2.97 billion, if it continues to grow at the rate it historically has, it won't be small for too much longer. Analysts estimate that the company could grow at a rate of 17% per year for the next five years.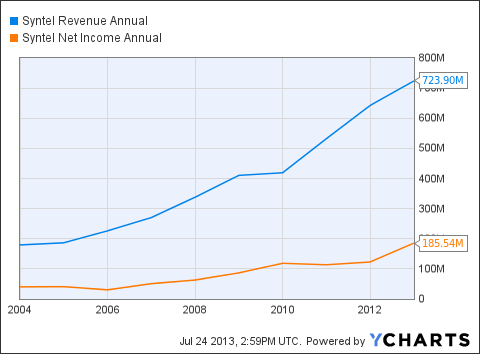 SYNT Revenue Annual data by YCharts
Syntel reported results for the second quarter in July 18th in an 8-K. Overall, they were quite impressive. Revenue was up to $202.5 million, up 13% from 2012's second quarter and 7% sequentially. This was a milestone for the company, as it was the first time that they exceeded $200 million in revenue for a quarter. The earnings per share was at $1.14 compared to last year's $1.04. Another important statistic to highlight was the new Global Headcount of 22,866, and increase of 14%. This 14% jump shows that the company is serious about their ambitious expansion. Overall, management seemed very happy with the second quarter and had an optimistic attitude overall saying, "The overall environment remains healthy and our prospects continue to improve. We are positioning ourselves for long-term success through client-driven investments in offerings that will help us deepen our customer relationships. The breadth of our pipeline continues to improve due to these investments and we look forward to helping our customers meet their future business and operational goals." Also optimistic was their guidance for 2013, as they expected revenues in the $800-$815 million range.
The company's most recent 10-Q, though, is from the first quarter, and so I will use that to further analyze the company's performance. The first quarter was equally impressive as the second, with revenue increasing about 10% and net income up 14%. One of the primary drivers of these consistent revenue increases is a strategy of vertical expertise with focuses on banking, healthcare, insurance, telecom, automotive, retail, logistics, and travel. The specialization results in increased focus and better relationships with key customers. These relationships are one of Syntel's main priorities, as they aim to do high quality work in order to maintain them, and for good reason. In the first quarter, Syntel's top 10 clients accounted for nearly 80% of their revenues. It is urgently important for Syntel to maintain these customers.
There are two ways for Syntel to continue increasing revenues. One of them is to acquire new customers, and the other is to initiate new projects with old customers. There are no indications that Syntel will not be able to continue doing this in the future. In the first quarter of 2013, for example, the Applications Outsourcing segment (which accounted for 76.6% of revenues) acquired $86.5 million worth of new engagements, while only losing $53 million as a result of project completion. In summary, Syntel is gaining new projects and/or customers faster than it is completing assignments, which could be an explanation to the increased number of employees.
One of the reasons why Syntel has continued to experience revenue and earnings increases is the successful implementation of a global delivery model. Syntel has employees from the United States and other locations around the world (primarily India) and has managed to utilize a data and voice connecting network so that employees and customers from all around the world can communicate with each other in a convenient manner on a regular basis. With this efficient business model, the company aims to expand both the applications outsourcing and KPO segments. If this is achieved through increased focus of resources on these two segments, then revenues and profit should increase at a steady and impressive rate in the coming years.
As we all know, though, there are risks involved in every investment. One of the factors that could slow the growth of Syntel is competition. Let's do a comparison of Syntel and two of its main competitors: Infosys (NASDAQ:INFY) and Wipro (NYSE:WIT).
| | | | |
| --- | --- | --- | --- |
|   | SYNT | INFY | WIT |
| Revenue | $765.79 million | $7.64 billion | $7.03 billion |
| Net Income | $195.35 million | $1.73 billion | $1.16 billion |
| Gross Margin | 43% | 35% | 30% |
| Operating Margin | 30% | 25% | 18% |
As you can see, Syntel is not the largest of its competitors. But it is surely the most efficient, as it margins are much more impressive. If Syntel can maintain this advantage, they will remain competitive, and maybe even one day grow to the size of its two competitors. If not, drastic changes with a negative impact could be suffered.
Another risk the company faces is a general economic decline. If Syntel's customers were forced to lower spending, this could result in lower revenues for the company. Even a downturn in a certain industry or company could be lethal. For example, American Express (NYSE:AXP) accounted for 27% of Syntel's revenue in 2012. If American Express chose or was forced to cut off engagement with Syntel, revenues would decline by more than 25%. In order to avoid this, Syntel aims to satisfy customers through high quality work, which can be achieved with the previously mentioned strategy of vertical expertise. Finally, the company must be able to hire qualified professionals in order to stay competitive. Syntel has looked toward India to do this, as 80% of their billable workforce in 2012 was from India.
So, without a doubt, the fundamentals are there, and so aren't a few minor risks. But thankfully, the stock is trading at a fair price. The price/sales of 3.87 and price/book of 4.87 do not exactly reflect this, but the price to earnings ratio of 15.27 makes the stock appear to be very cheap. All in all, this stock is not at a bargain price, but is surely a fair one with a bit of a margin of safety worked into it. Now that we have weighed the positive and negative aspects of the company's operations, it should be clear in which direction the stock price is likely to head.
Disclosure: I have no positions in any stocks mentioned, and no plans to initiate any positions within the next 72 hours. I wrote this article myself, and it expresses my own opinions. I am not receiving compensation for it (other than from Seeking Alpha). I have no business relationship with any company whose stock is mentioned in this article.