Yesterday's retail earnings (Home Depot (NYSE:HD), Target (NYSE:TGT), etc.) all beat expectations, helping the Dow Jones claw back almost half Monday's losses on very weak volume (just 991m shares). This was despite disappointing housing starts numbers and ominous signs of deflation in the PPI figures (which posted their biggest decline since August 1949 when records began). Hewlett-Packard (NYSE:HPQ) reported earnings a penny better than expected after the bell. Indeed, tech stocks in general were bid up after an RBC report recommending investment opportunities in Smartphone makers and raising their price targets on Research in Motion (RIMM), Apple (NASDAQ:AAPL) and Palm (PALM). American Express (NYSE:AXP) was also strong after two broker upgrades. There was also a NY Times report that the SEC is thinking about a new idea that could make it virtually impossible to place an order to sell stocks short and be sure it would be executed quickly. That may have triggered some short covering.
Risk aversion seemed to have waned a little over the past 24 hours. In the first instance this reflected the early stability seen on Asian bourses supporting sentiment together with comments from the IMF's Chief Economist who noted that the global economic recovery is now underway. However as I write, Chinese shares have taken a late bath (down 4.3%), having broken support (and are now technically in a bear market). It seems the catalyst is Maashan Iron & Steel reporting a second straight half year loss and a fall in copper prices. Miners, banks and carmakers are opening weaker in Europe on this late plunge. The Telegraph is also carrying a story that the German Economic Secretary is preparing measures with the Bundesbank in anticipation of a new credit crunch early in 2010. This has spooked the DAX. The Dow futures have now also turned negative.
The Chinese Market Has Broken Support. Lookout Below: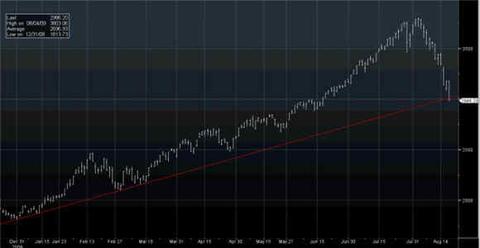 Today's Market Moving Stories
The UK short dated Gilts weakened notably overnight and the Sterling strengthened after another higher than expected CPI report in the UK. Inflation remained at 1.8% yoy in July rather than falling to 1.5% yoy as had been expected. Core inflation remains similarly resilient. On the face of it, this suggests that the Bank of England's new forecast of 1.3% yoy in Q3 will be quite a challenge. The continued upside surprises could reflect either a greater than expected impact from a weaker Sterling or over-estimation of the size of the economy's negative output gap that has been created by the BoE. If inflation continues to surprise to the upside, especially if driven by signs of stronger underlying pressures on prices, then an earlier hike by the BoE could become a risk.
The scope for quicker than expected growth in the UK will partly depend on how growth evolves in Euroland. If the latest ZEW survey is any guide, the better than expected Q2 GDP report cannot be dismissed. The German ZEW survey recorded a 16 point rise in the expectations index to 56.1, a level last exceeded in April 2006.
Australia and China struck their biggest trade deal yesterday, as the world's two most valuable listed oil companies, Exxon Mobil (NYSE:XOM) and PetroChina (NYSE:PTR), reached a $41 billion liquefied natural gas (LNG) agreement. Exxon will supply LNG from the massive A$50 billion Gorgon LNG project on Australia's northwest coast, expected to have an output of 15 million tonnes per annum (mtpa) at its peak. Chevron (NYSE:CVX) is the operator of the project with a 50% stake, while Exxon and Royal Dutch Shell Plc (NYSE:RDS.A) each own a 25% stake. It comes at a time of trade and political tension between China and Australia, and as China looks to soak up raw materials and energy supplies to fuel its growth. "It's a statement about the nature of our two economies and the fact that Australia is important to China, just like China is important to Australia," Australian Resources Minister Martin Ferguson said.
GM announced a production hike of 60,000 vehicles. Of course, this follows on the heels of a 10,000 unit increase announced by Ford (NYSE:F) last week. Note that the Ford announcement covered just Q3 while the GM increase applies to Q3 & Q4. Also, keep in mind that these hikes apply to North American output and thus some of the increase will be allocated to plants in Canada and Mexico. Still, today's GM announcement suggests that we have reached a point where the production increases are resulting in a modest amount of new hiring. Specifically, GM indicated that 1,350 workers are being recalled and, in my view, more are likely to follow. Inventory levels across the industry had been reduced to normal, or somewhat below normal, levels as of the end of July. The big question is what assembly schedules will look like for Q4. Toward the end of the press release, GM indicates that Q4 assemblies "will now be at least 20% higher than the third quarter." Such an outcome would mean that motor vehicle output could add 0.5% points to Q4 GDP.
Bloxham's today highlight the plight of food company Greencore (OTCPK:GNCGY) whose shares are being bucked around by endless speculation over the 29% shareholding ("owned" by Liam Carroll) enveloped in the Irish property crisis. They note one bank has moved to exercise security over a 15.9% stake, while another 13.6% is held somewhere within the Carroll group of companies. Ideally, the entire 29.5% shareholding is placed in an orderly fashion and anchored around a small group of institutional investors. Such a result would allow the shares to truly reflect the business instead of the being mired in concerns of a technical overhang. Tomorrow the High Court in Ireland is likely to make a decision about whether or not part of the Carroll group of companies is liquidated or not. A sub-optimal scenario is one where only part of the overall holding (15.9%) is placed on the market. That would leave a large residual block with unclear future ownership.
Markets tend to perform best in January, April and December.
A few one liners about the recession. Some of them even made me titter.
Chinese Bank Earnings
Asian investors remain cautious ahead of Chinese bank results and wary that profit taking will continue to stall a six-month rally. China has become the focal point of investors, with volatility in domestic markets rising on fears that the days of easy money are coming to end. But how much this is tied to doubts about China's recovery and to what extent that affects the rest of the world beyond sentiment is uncertain. Short-term trading signals have moved swiftly from reflecting overbought conditions 12 trading days ago to now being slightly oversold.
Bank of Communications, the country's fifth-largest lender, will kick off Chinese bank first-half results today, followed by two of the world's biggest banks by market value later in the week: Industrial and Commercial Bank of China and China Construction Bank. Pressure on net interest margins is expected to hurt the banks' results despite barely receiving a scratch from the global credit crisis. Investors will also be keen on any clues for second-half loan growth amid concerns Beijing has been trying to curb red-hot lending to avoid over stimulating the economy as it recovers.
Data Ahead Today
Today's economic calendar looks uninspiring. In the US, the MBA's mortgage applications survey is the only report of note, whilst the latest CBI survey and BoE minutes feature in the UK. In the meantime the focus will likely be on how Chinese equities trade today.
And Finally… Barack The Barbarian

Disclosures: None