Tuesday morning both TGT and HD gave buyers some incentives to come back into the market. Both companies reported better-than-expect earnings. TGT shares jumped +7.55% while HD added +3.14%. The market was strong right from the open and finished near the day's high. Financials were strong after upgrades on GS and AXP. GS rose +2.05% and AXP gained +4.28%. Commodity sectors also bounced and helped to push the market higher.
The Dow finished up +82.6 points; SPX added +9.94 points; Nasdaq gained +25.08 points: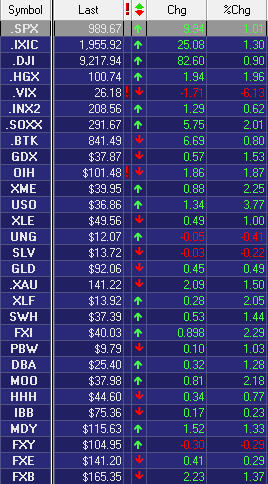 The bounce was broadly based. Most sectors closed higher. USO (oil) was up +3.77%. Commodity sectors all participated: XME (metals and mining) +2.25%, GDX (gold miners) +1.53%, OIH (oil services) +1.87%, XLE (energy) +1%. XLF (financials) added +2.05% while HGX (housing) gained +1.96%. FXI (Chinese ADRs) advanced +2.29%.
SPX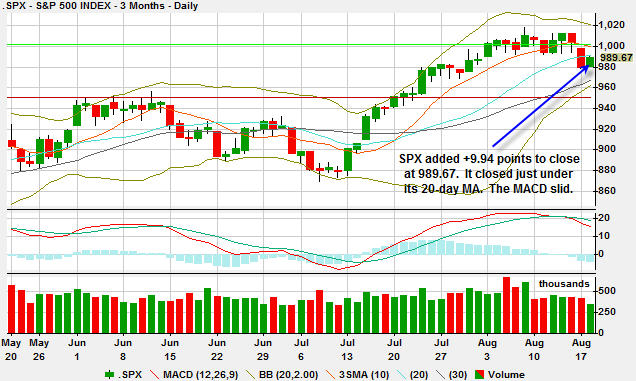 SPX added +9.94 points to close at 989.67. It closed just under its 20-day MA. The MACD slid.
Nadsaq


Nasdaq gained +25.08 points to close at 1955.92. It closed above its 30-day MA. Its MACD went lower.
It is certainly encouraging to see Nasdaq holding above the 30-day MA, and, SPX closing just under its 20-day MA. But, the 10-day MAs on both indices have just turned down. This means that we most likely will need some time (at least a few more days) to consolidate. There's no hurry to trade in either direction right now, especially not in options. Also, this is the options expiration week, so, some pinning action should start to happen soon.
The immediate support levels are still the 30-day MAs and the resistance levels are the 20-day and 10-day MAs. Until the indices move beyond the daily MAs, we are still in the consolidation phase. Any talks of what the market is going to do next are just talks. There are a lot of "so-called" analysts making wild predictions. Personally, I try not to watch too much TV. If I happen to see, read, or hear some interviews, I try to extract "entertainment" values out of those talks. Be patient, and allow the market to show clearer signs.
Trading can be "enthralling", and, one of the hardest things to learn is when NOT to trade. What some people do when the market goes through a consolidation phase is some "paper trading". It is especially fun in the expiration week, and, you can learn a whole lot. Options can have huge swings during the expiration week, and, by using "paper trading" on things that you have never done before can help expand your trading arsenal.
Good day and HappyTrading! ™