ETF U.S. Equity Indexes: Tuesday saw equities rebound and recoup approximately half of Monday's losses on what? If the answer is weaker volume, then you are correct.
Driving Tuesday's advance were positive earnings surprises from sectors in retail (HD, TGT, TJX), financials (NYSE:FMD), and energy (SOLF). Making matters worse or better, depending upon one's bullish or bearish investment bias, several bellwether financial stocks received upgrades: GS, AXP, and UBS.
Economic data also revealed July PPI numbers came in lower than expected and housing starts and building permits fell short of consensus estimates.
Despite today's positive performance, equities were still unable to resume their short-term uptrends. However, the DIA and SPY were upgraded to short-term lateral trends and market momentum (see table below) reversed its direction upward.
The VXX (short-term futures volatility exchange traded fund) managed to sustain its newly established short-term uptrend and therefore the tug of war battle between bulls and bears is still in progress.
(For a detailed analysis of today's positive & negative earnings surprises, please refer to Hillbent's earnings summary reports.)

ETF Sectors and Key Industries: Short-term trend upgrades (XLP, XLI, XLF, XLK, RKH, RTH, SMH, IYT). It is worth noting that 9 out 10 of the major sectors were up on lower volume, which indicates systematic distribution.
ETF International Equity Indexes: Short-term trend upgrades (EWW, EWU, VGK, IEV, EWA, EWJ, GML, GAF). Despite the global rebound in stocks, international markets are technically weaker overall vs. the U.S. markets.

ETF Commodities: Short-term trend upgrades (USO, UGA, DBC); and Intermediate-trend upgrades (DBC, DBA). Dollar weakness buoyed commodity related securities in today's trading session.

ETF Forex: Short-term trend downgrades (UUP, CEW); Short-term trend upgrades (FXE, FXB, FXA, FXM, BZF).
ETF Bonds: Short-term trend upgrades (TIP, EMB); Short-term trend downgrades (TLT, AGG);and Intermediate term trend upgrades (TIP).

ETF Real Estate: Short-term trend upgrades (XHB, REM).
Signing off @ Hillbent for The Market Direction…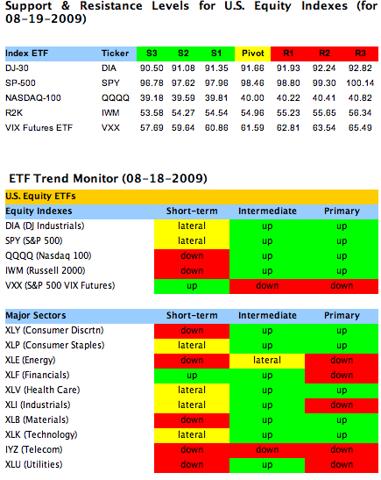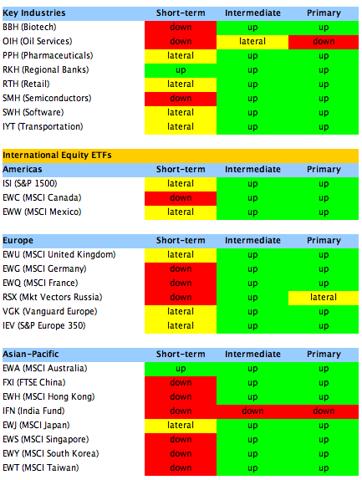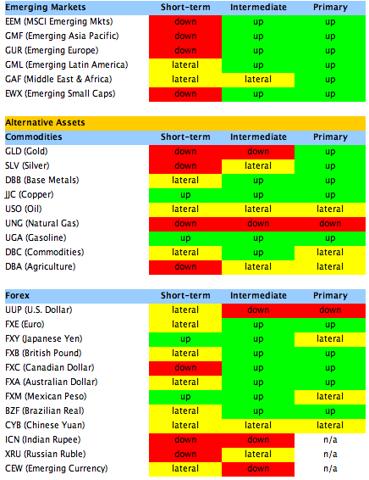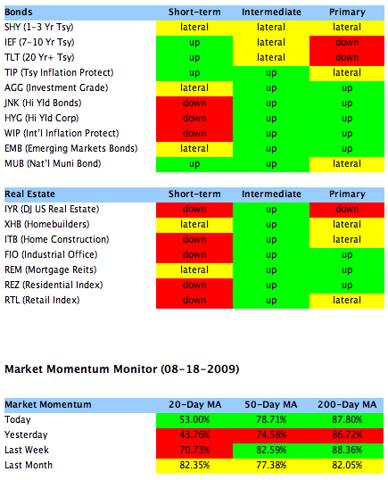 Disclosures: Hillbent.com, Inc. or its affiliates may own positions in the equities mentioned in our reports. We do not receive any compensation from any of the companies covered in our reports.