On Monday, Fitch Ratings downgraded Progressive Corp. (NYSE:PGR) but not because of a deterioration of the company's financial profile. Interestingly, the action was the result of a change in the agency's rating criteria.
Fitch cut Progressive's Issuer Default Rating (IDR) to 'A+' from 'AA-' and Senior debt ratings to 'A' from 'A+'. However, the outlook assigned for all ratings is stable. The agency increased weightage on Progressive's capital strength by focusing more on its estimated leverage ratios and its monoline character.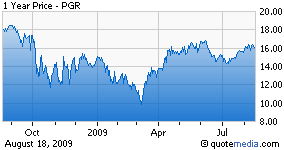 According to Fitch, Progressive has high net premiums written to surplus and net leverage ratios compared to its peers, and this exposes its capital to unanticipated pricing errors. Additionally, the company maintains an "autos-only" policy and does not provide any other form of insurance. This monoline nature exposes the company to the specific risks of the auto industry.
However, Progressive's industry leading position, strong risk-based capital ratios, underwriting margins and stability were also recognized by Fitch.
Progressive competes with some of the industry leaders such as GEICO, State Farm and Allstate Corp. (NYSE:ALL). While Progressive focuses only on auto insurance policy, these competitors also sell non-auto forms of insurance.
The recession has curtailed consumers' ability to purchase automobile insurance policies, thereby hurting balance sheets of auto insurance providers such as Progressive, Allstate, Infinity Property and Casualty Corp. (IPC) and State Auto Financial Corp. (NASDAQ:STFC). However, we believe that the recent rebound should bring some relief to these companies.
While Progressive's recent results showed continuation of slow premium-growth trends, underwriting results remain relatively favorable. Going forward, we expect the company to benefit from its cost-containment measures, good operating performances and market-leading position. Hence we have a Neutral recommendation on Progressive shares.