Houston-based Diamond Offshore Drilling, Inc. (NYSE:DO) has meticulously remained committed to returning excess cash to shareholders through special dividends. Since the beginning of 2006, in addition to its regular dividend the company has regularly been paying a special dividend.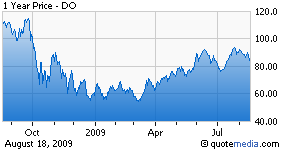 For the second quarter of 2009, Diamond declared a regular dividend of $0.125 and the 8th consecutive quarter of a special dividend of $1.875. The total dividend offered in the period was $2.00 per share.
Diamond Offshore is a major contract driller, providing comprehensive offshore drilling services to the global energy industry. The company is leveraged to the global deepwater markets through its fleet of high-specification and mid-water depth equipment. The company's solid contract backlog and deepwater orientation offer a very high level of earnings and cash flow visibility.

While Diamond's healthy backlog position offers a high level of earnings and cash flow visibility, a further slowing in the pace of new contracting activity, declines in dayrates for new contracts, declines in utilization and the stacking of idle equipment remain our concerns. We expect Diamond shares to perform in line with the broader market and hence reiterate our Neutral recommendation.