I have previously covered Angie's List (NASDAQ:ANGI) with articles calling for a near-term implosion (July 9th) and suggesting their business model might be a sham (July 11th). After reviewing the Q2-13 results, I have updated my models and have re-examined the disastrous trends I pointed out in my previous articles.
The "Strong" News
Angie's List reported a record 347.3k gross paid memberships added during Q2-13 alongside operating cash flow of $4.3M. ANGI also boasts a 12% sequential decline in y/y subscriber acquisition costs ($91 to $80). All three of these highlights are misrepresented, and are ultimately not the good news they are presented as.
First- the subscribers and the acquisition costs. ANGI ended Q1-13 with 1.95M subscribers and ended Q2-13 with 2.16M subscribers (growth of 210k), yet somehow reported "gross subscribers added" of 347k? If 347k of these subscribers are "new," that means 137k people left Angie's List in one quarter. Angie's List doesn't release churn numbers, and the reason is obvious.
The true cost of marketing should be applied to the net adds, not the gross adds. In this case, ANGI paid $132.62 per 'net new member,' the highest amount in 9 quarters.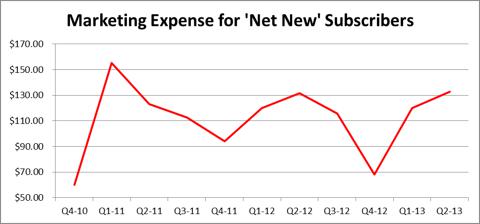 The operating cash flow is also misleading. ANGI claims $4.3M in Q2-13 and $14.2M for the first six months. While this is factually accurate, compared to net losses of $14.3M and $22.3M respectively, there is clearly more to this story.
The answer lies in massive growth in "deferred membership revenue" and "deferred advertising revenue." This represents cash that ANGI has received in advance for either membership plans or service provider contracts. Angie's List is still liable to deliver these services.
In total, ANGI has $70.81M in deferred revenues. Meanwhile, ANGI has only $66.24M in cash and equivalents. Effectively, ANGI has been paid nearly $71M to deliver future services, has spent some of their "advance," and has no extra cash to spare. ANGI is in the hole by over $4.5M. Considering ANGI's horrendous margins, growing marketing costs for new net members, and massive subscriber flight potential, this case likely won't end well.
Looming Negative Equity
The most obvious solvency issue is the massive looming negative equity. Based on standard loan covenants, which usually focus on variants of EBITDA, equity, and asset coverage ratios, ANGI is likely out of covenant compliance on their (undrawn) credit line and possibly close to breaching covenants on their term debt.
The aforementioned $4.5M deferred funding shortfall aside, ANGI is also underwater in receivables-payables. Compare accounts receivable and prepaid expenses ($27.93M) to the accounts payable and accrued liabilities balance ($37.78M), and ANGI is in the hole by almost another $10M.
ANGI is left with $14.893M in debt, likely secured by the property and equipment balance ($14.52M) and the restricted portion of cash.
A more traditional way to approach this solvency shortfall is to take the negative $11.86M in equity and subtract the intangible assets ($2.5M). This results in a similar picture -- underwater by over $14M.
Either way ANGI is in big solvency trouble.
Upcoming Secondary Share Offering
Angie's List has a credit line, but it's extremely unlikely they can draw a balance considering their negative receivables balance and large deferred revenue obligations.
ANGI has a lot of cash on their books, but this is misleading due to the nature of the advance membership payments.
The only way to keep operating is to issue additional shares. ANGI might be able to survive another quarter or two before there is a liquidity crunch, but I'm doubtful. When the need for a secondary becomes more apparent, and when ANGI finally files to sell a large block of shares, the trading price will undoubtedly plummet.
Broken Business Model
Angie's List is riding a "new tech" wave, but their company is using an old 1990s-era business model. Yelp (YELP), ReachLocal (RLOC), and Google (GOOG) offer services that present better valuation cases to the consumer. eBay (EBAY) is also testing a local service provider marketplace in the UK.
The first clue that the ANGI business model has a long history of failure is the massive accumulated deficit portion of their balance sheet. ANGI has lost a net $241.64M, is currently underwater - and yet trades on the market for over $1.5B?

ANGI has managed to increase their subscriber count by rapidly decreasing their average membership fees, and has managed to grow revenues by squeezing service providers for higher and higher participation fees. Since late 2010, quarterly revenue per subscriber has decreased 34% ($11.15 to $7.36).

Meanwhile, revenue per service provider has skyrocketed (64% up over same period).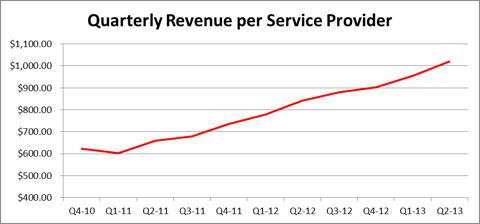 If service providers decide they are tired of being squeezed or consumers decide to move to cheaper services (either move would precipitate the other group also leaving), ANGI will be in immediate liquidity trouble. The massive amount of subscribers leaving during this quarter and the continuing decline of average revenue per member suggests that consumers are already figuring out the declining value proposition.
Trading Approach
In my opinion, based on historical performance and recent operating metrics, this company is worth close to $0.
I highly recommend the November $17.50 and $20 puts to give time for the liquidity crunch to develop further. We are already in a phase of poor solvency, but it takes both to truly crush a company.
Despite the clear over-valuation, I never recommend directly shorting a highly volatile stock.
Disclosure: I am short ANGI. I wrote this article myself, and it expresses my own opinions. I am not receiving compensation for it (other than from Seeking Alpha). I have no business relationship with any company whose stock is mentioned in this article.
Additional disclosure: I am short via August puts.