We wrote an article last week about why we expected a much cooler late July and August weather pattern than most other forecast firms. In reality, August may still be even "cooler" than most are expecting, not only for the Midwest but for the Eastern U.S. If you plan on strolling in Central Park, Boston Commons, etc., the next few weeks, while you will have to endure some rainy weather at times, you won't have to bring extra water bottles while walking your puppy.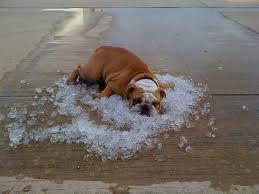 "Hey folks, if you live in the Midwest or East -- you won't need this anymore, perhaps well into August."
Source of Map: EARTHSAT
I highlighted the chart above showing how poor, the forecast accuracy of several different models have been, which did NOT show this pattern change towards cooler a week or more ago. You can see the low accuracy remaining. KEY POINT -- The weather pattern may be even cooler in the eastern U.S. in August, than many other forecasters are saying, not only in the Midwest. Models have not picked up what is happening in Canada and near Alaska.
The best way to play the natural gas market (NYSEARCA:UNG) is to look to buy put options for September. A conservative trader can buy the September $3.50-$3.60 natural gas put, especially if we see a rally after today's EIA report, due to the hot weather last week. The risk is about $700-900 with profit potential for $1300-$2,400, over the next 4 weeks. Hopefully there will be some kind of rally later this a.m. to allow folks to do this. Actually, the time to do this was last week when many other forecasters were still talking about hot weather and natural gas prices were 4% higher than where they are, as of this writing. Since prices are relatively cheap, and to protect against a sudden price strike in case of other non weather fundamentals, this is the best way to play natural gas (put options).
But what about the tropics? Could tropical storm Dorian suddenly do an about face and head into the Gulf Coast? Doubtful. Of more concern might be in the orange juice market, which has been on a tear due to worries over the hurricane season upcoming and more 'greening disease issues" in Florida. However, drought easing Florida rains and poor demand for OJ, probably mean lower OJ prices, down the road. Hence, if you see OJ continue to rally in the days ahead due to Dorian, it will probably be a good medium-term shorting opportunity. Dorian should not do damage to citrus groves in Florida, but if anything, bring more welcome rains.
This will likely be my last report for at least 2-3 weeks due to client obligations and privacy. Sorry that I cannot comment more on grains, coffee, sugar, cotton, cocoa (frost damage only light -- not a major deal), nor have updates for other markets if the forecast suddenly changes, till later in August.
Disclosure: I have no positions in any stocks mentioned, and no plans to initiate any positions within the next 72 hours. I wrote this article myself, and it expresses my own opinions. I am not receiving compensation for it (other than from Seeking Alpha). I have no business relationship with any company whose stock is mentioned in this article.