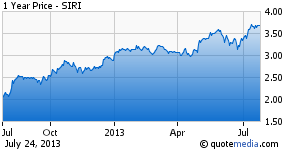 At first glance Sirius XM Inc.'s (NASDAQ:SIRI) reported Q2 earnings have a few things for investors to get excited about. Since the company has been fairly quiet in between calls, likely due to the $2 billion share buyback which has been in full swing, investors have been left to simply wait and "hope" that the company performs well absent any news in the meantime.
That changed on July 9th when the company issued a press release stating it had added 715,000 new net subscribers in the second quarter, exceeding even my own bullish expectations. Let's take a look at two other metrics which are jumping out at me right now as exceptional at first glance.
Self pay monthly churn at 1.7%
Subscription services are faced with churn ratings, or how many subscribers 'cancel' each month. In Sirius XM's case the company should be keeping this around 2.0% per month to remain healthy and continue to add subscribers at a reasonable growth rate. Sirius XM posted an outstanding 1.7% average churn rate for Q2. Retention discounting? Doubtful, and I will get to that in a moment. There were increases to customer service and billing and sales and marketing over the year ago period, but not to extents that I would consider to be excessive.
The short of it here is that a 1.7% churn is exceptional, and investors should celebrate this number as it shows the strength of the product. In the face of much criticism of what some believe would be waning popularity of the Sirius XM service, the numbers of cancellations to not indicate this. When one considers that a large portion of this churn is likely due to new car purchases, these lower churn ratings as time moves forward should be harder to obtain and likewise the company should be applauded for decreasing this against what should be a rising tide, and a gradual increase in this metric.
ARPU (average revenue per user) increased to $12.28 from $12.05
One would expect heavy uses of retention discounting to be reflected in the ARPU line. Increasing the number of customers who pay 'less' will impact the average amount of revenue from the entire paying base. Obviously with an increase of $0.23 on a per subscriber basis over Q1's reported $12.05 to Q2's $12.28, it is hard to argue that there would have been a heavy use of said discounting.
It makes that 1.7% churn number even more exciting.
Investors should look to increased subscriptions to Sirius XM's MySXM Internet radio service which has been heavily promoted on its own stations. This is free promotion, and costs involved with alerting customers to this service can simply be placed on the display of the radio and in small sound bites between songs. Every addition on the streaming side adds revenue, and these customizable stations may be serving to help keep customers as subscribers as it makes the service more compelling and current.
Other metrics speak for themselves. Raised financial guidance, shares repurchased to date of 391 million, and a bit of retired debt at $130 million all combine to paint a very good picture for Sirius XM moving forward.
A word of caution
Watch carefully for sensational headlines based upon Sirius XM's second quarter net income as compared to last year's inflated number due to recognition of over $3 billion in NOL (net operating losses). Some may use the massive "decrease" in earnings per share to paint a sorry picture or say things such as "Sirius XM's second quarter net plunges." Savvy investors will understand that the recognition of losses last year skewed net earnings, and will not be swayed by these headlines.
Disclosure: I am long SIRI. I wrote this article myself, and it expresses my own opinions. I am not receiving compensation for it (other than from Seeking Alpha). I have no business relationship with any company whose stock is mentioned in this article. I am long SIRI January 2014 $2, $2.5, $3, and $3.5 calls. I am long SIRI August $3.5 to $4 bull call spreads.