By Carla Fried
For all the thousands of economic indicators and market trends that can be followed, there's one simple data point that can be especially telling in today's markets: The cash position of value managers.
Per their value bent, managers who care about margins of safety typically give themselves plenty of leeway to own cash if they a) feel they need to sell or trim positions that have inched too close to their intrinsic value and b) there's nothing compelling to reinvest those proceeds in.
The value-centric Weitz Funds boosted its cash stake to 25% earlier this year as it found it harder to justify a more fully-invested portfolio as it took profits.
Another contented sideline sitter is the widely respected $8.8 billion IVA Worldwide mutual fund. In a note to shareholders, the managers report that as of the end of May nearly 29% of the portfolio is in cash, nearly triple the level of a year earlier. That works out to about $2.5 billion earning nothing.
And that's just fine by the managers, as they explained in their note:
"Cash is a byproduct of expensive markets and our inability to find mispriced securities. Even though we believe that today equities are the best house in a bad neighborhood, relative to cash and government bonds, and this might result in equities going higher over the short-term, we are not willing to play the relative game."
Co-manager Charles de Vaulx offered up an interesting rubric to run your own portfolio through: "We decide to invest in an equity because it is a good investment, not because we want to avoid holding cash."
IVA has yet to file its portfolio disclosure for the second quarter. But among its U.S. positions in the first quarter it trimmed stakes in Hewlett-Packard (NYSE:HPQ), Oracle (NYSE:ORCL), Berkshire Hathaway (NYSE:BRK.B), Microsoft (NASDAQ:MSFT), and NewsCorp (NASDAQ:NWSA). The limited buying that occurred was mostly in foreign stocks, including Nestle and SAP. But the team also increased its stake in Expeditors International of Washington (NASDAQ:EXPD) and established a new small stake (0.38% of the portfolio) in Energen (NYSE:EGN). From the looks of their price-to-book value ratios it's not hard to see how they might fit a tight-fisted value investor's criteria.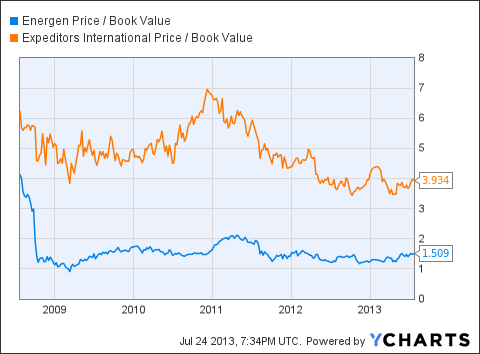 EGN Price / Book Value data by YCharts
Disclosure: I have no positions in any stocks mentioned, and no plans to initiate any positions within the next 72 hours. I wrote this article myself, and it expresses my own opinions. I am not receiving compensation for it. I have no business relationship with any company whose stock is mentioned in this article.