When I say "The Fall" I'm not speaking about Autumn, but there might be a seasonal paradox tied into this question that should make us all sit up and take notice.
Take Citigroup (NYSE:C), please. Since it hit an intra-day low of $2.99 on July 31st it has shot up almost 40%, and the usual "cheerleaders" like Jim Cramer are touting it every chance they can.
Average daily volume on C is around 442 million shares, but on August 5 the volume soared to almost 2.7 billion shares (6 times the average volume) and last Friday the 14th almost 1.2 billion shares traded hands.
Somebody (or bodies) are really filling up their coffers, and who knows, it might even be exchange insiders and some big banks like Goldman Sachs (NYSE:GS) and JP Morgan Chase (NYSE:JPM). In fact, it wouldn't shock me to learn that Bank of America-Merrill Lynch (NYSE:BAC) might be doing some trading for their own accounts and their biggest clients just when the nervous nellies are hearing the ghosts of the "Fall of 2008".
Then there is the Financial Select Sector SPDR ETF (NYSEARCA:XLF) with an average daily volume of over 134 million shares. On August 6th, volume spiked to 236 million shares and the next day another 190 million shares traded hands. Again, some meaningful accumulation is going on usually a typically quiet period.
Yesterday, XLF volume dropped to 81 million shares and it appears today that volume will also remain light. I personally believe volume is a more important indicator than price is when it comes to who is "making the market" in the financial stocks and for what purpose.
Bank and financial stocks have had an amazing run. They've gone from the most oversold sector at the bottom of the market back in March, to the most overbought sector today.
But according to Jeff Clark, the editor of Advanced Income, that run is going to come to an end. "And the aftermath will be ugly."
Writing for The Growth Stock Wire (GrowthStockWire.com), Clark brought out some salient points.
Take a look at this chart of the Bullish Percent Index for the Banking Sector ((BPFINA))...

A bullish percent index is an indicator of overbought and oversold conditions. The BPFINA measures the percentage of banking stocks trading with bullish technical patterns. It can range between 0 and 100. The index is oversold below 30 and overbought above 70.

Back in March, BPFINA dropped below 5 – meaning fewer than 5% of all the stocks in the banking sector had bullish technical patterns. While not necessarily a buy signal, an oversold reading that extreme is a pretty good sign that the downside is limited.

Today, we're looking at the exact opposite situation. Last week, the BPFINA touched close to 90 – meaning 90% of the stocks in the financial sector are trading with bullish chart patterns. This is one of the most extreme overbought readings of the past decade.
Richard Wendling, who writes the Bear Facts Specialist Stock Report, uses a Summation Index to figure out the same overbought versus underbought factors.
Richard recently wrote that his summation index of financial stocks is overbought when it is a plus 2000, and currently resides at 7986, "nearly three times more than it should be and you [that is why we] have the makings for a major decline."
Now let's get back to Jeff Clark who is a big follower of the Volatility Index (VIX)---"often used as a measuring stick for fear among investors – is at its lowest level since last September. More important is the Bollinger Bands – a measure of volatility for the VIX – are also as narrow as they've been since last September."
So what, I say. Don't get your knickers in a twist, right? Jeff goes on to point out something powerful is a-brewing, "Take a look...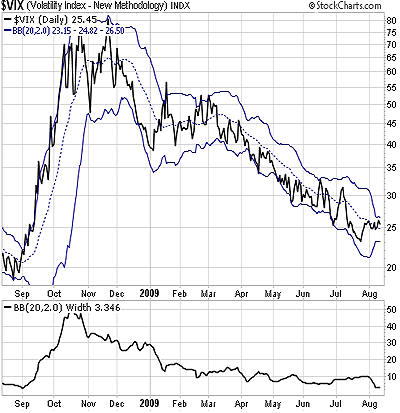 This is a chart of the VIX plotted along with its Bollinger Bands. The bottom chart shows the width of those bands.

The VIX typically declines as investors grow more complacent and less fearful with the stock market. You can see how the decline from elevated levels back in March has coincided with the rally in stock prices. Conversely, the VIX rallies as investors grow more fearful – as evidenced by the rocket shot higher in the VIX last September.

The current relatively low level of the VIX indicates investors are less fearful of a decline in stock prices.

But it's the narrow Bollinger Bands that grab my attention. You see, tight Bollinger Bands usually occur before a large-scale move in the chart. So the VIX is on the verge of a big move one way or the other.

It doesn't have to be to the upside. Indeed, a sharp decline in the VIX would widen the Bollinger Bands just as quickly as a sharp rise. However, with the VIX trading at its lowest level of the year, the odds favor a move higher. And a rising VIX usually means lower stock prices.
By the way, did you see what happened to Alcoa (NYSE:AA) when Goldman Sachs downgraded it to neutral and started upgrading Freeport-McMoRan Copper & Gold (NYSE:FCX)?
At last check Alcoa was down almost 5% on average volume, which might be a signal that the stock is getting ready for more accumulation before it is rallied higher and then shorted by the "The Smart Money" crowd.
Conclusion/Translation: The Financials and the broader market might have another move higher before it has any kind of significant correction. In fact, based on volume and the trading habits of the exchange insiders and the specialists, we may see another rally before the financial stocks finally greet "The Fall".
Some of us are considering the wisdom of buying some of the inverse ETFs like SKF, FAZ or SDS when the last of the Nellies start chasing the financial stocks and piling into the market, driving prices up to even more unsustainable levels.
Although you can make a lot of money if you are correct with these inverse ETFs, you can lose a lot quickly if your timing is wrong.
But if you read and re-read articles like this one you'll probably see that the downside possibilities for the financials and the major indices are becoming more prominent with each passing rally. That bodes well for SKF, FAZ, SDS and a few others you might think of.
Disclosure: I own some JPM and AA
Please Note: This article is to inform your thinking, not lead it. Only you can decide the best place for your money, and any decision you make will put your money at risk. Information or data included here may have already been overtaken by events – and must be verified elsewhere – should you choose to act on it. Please remember investments can fall as well as rise. And they will! - Advanced Investor Technologies LLC accepts no responsibility for any loss or damage resulting directly or indirectly from the use of this content.