When you read the financial commentaries this morning, you wonder why the USD will ever have another uptick. Warren Buffett says the "gusher of federal money" which was need to solve the financial crises, will create problems for our country and the dollar at a later date. The continued growth of the US deficit will make financing of the US debt more difficult. In anticipation of the dollar weakness, some of his insurance companies have been reducing ownership of US debt and buying large amounts of foreign bonds. Bill Gross, who runs the massive Pimco Total Return Fund, and one of his fund managers are both spokesmen for the dollar bears this morning. According to Buffett the massive amounts of "financial medicine" must be dealt with by Congressional action. Congressional action? It is hard to imagine Speaker Pelosi, Henry Waxman and that group dealing positively with any problem.
So why is the Euro not faring better this morning? Perhaps because this is an old story merely being repeated by new tellers, to traders that employ a lot of leverage and are focused on short term moves. Long term views and vision is great but it often causes the trader to stumble, trip and fall over today's events.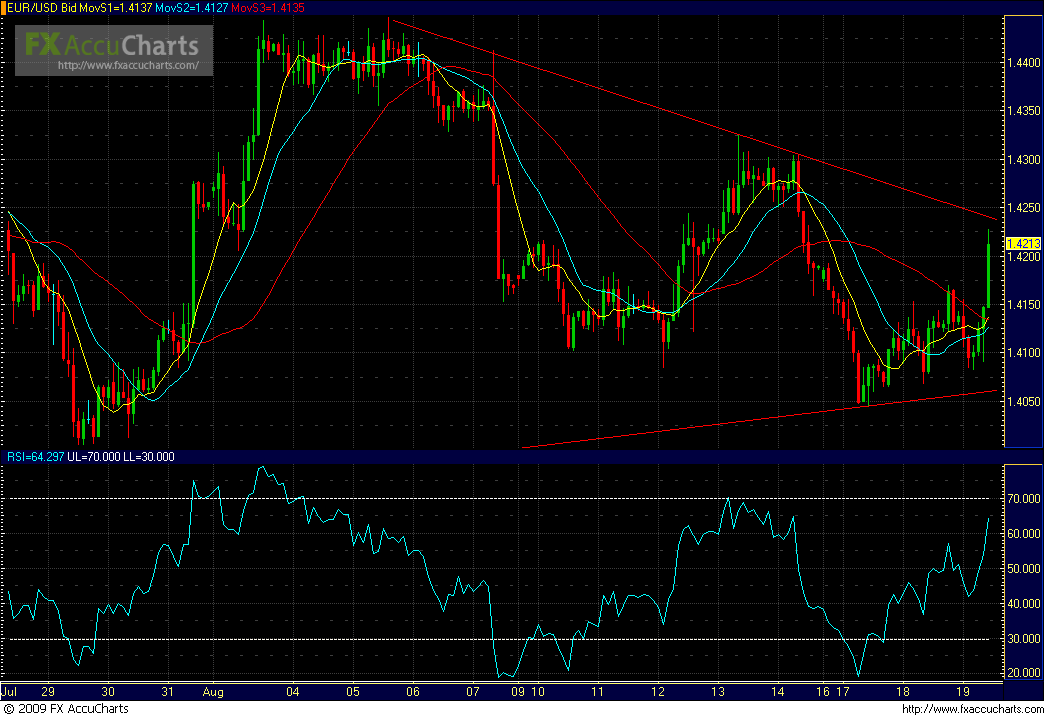 Our preference has been the short side of the EUR, and with the current trade at 1.4215, our open positions are losers. Currently stocks are a little lower, but if they mount a rally and the EURO is able to spend a little time above 1.4250, it is best to exit the trade. Euro open interest at the CME yesterday was up 4576 contracts.