Oncology misdirection and the man behind the curtain
Oncology is what I would call sexy biotech. New cancer treatments inspire hope for a better future for everyone. News stories on their progress with any given company can bring back memories of loved ones for relatives and friends of cancer victims passed. A new development or an imminent FDA approval can make current cancer sufferer's hearts race. And the investment community knows better than anyone that the first real commercially successful and effective cancer vaccine will be a blockbuster on the level of today's important but emotionally bland global best sellers, cholesterol-lowering statins.
But the emotional aspect of cancer immunotherapy can often blur the doings of the man behind the curtain, obscuring what is really going on under the hood of a company. This can obfuscate not only potential pitfalls, but opportunities as well. In the case of some oncology companies, while everyone is focused on a late stage cancer vaccine clinical trial, the real meat of the company and its future may lay somewhere else entirely. While an FDA approval for an immunotherapy is certainly big news, we've seen in the case of Dendreon (NASDAQ:DNDN) how commercial success does not necessarily follow FDA approval. In other cases, failure of a product candidate could prove to be overblown leading to a severely oversold stock price. In still others, news surrounding the developments of exciting treatments in the pipeline can serve to pull attention away to what is really unique about a given company's business model.
Here are three oncology companies that demonstrate this sort of misdirection due to the massive amount of attention being paid to the imminent success or recent failure of their respective star cancer treatments, as the case may be.
Vical (NASDAQ:VICL) - Melanoma vaccine is a misdirection from CMV
If you go to the Seeking Alpha quote page for Vical and expand all the news articles, you'll find 9 of them with the word Allovectin in the title. Allovectin is Vical's star pipeline candidate for metastatic melanoma. It is one among several cancer immunotherapies currently being developed utilizing the IL-12 immunoprotein that has been shown to activate the immune system against certain cancers. It's been getting all the attention lately because it's in the thick of a fully enrolled Phase III trial with an estimated completion date only a few weeks away.
But take a look at Vical's income statement and do some mixing and matching with its sources and you'll find the man behind the curtain. In FY 2011, Vical had an impressive total revenue of over $30M. $25M (page 16) of that came not from anything having to do with Allovectin, but from the much less known and less titillating TransVax in a licensing agreement with Astellas (OTCPK:ALPMY). Of last year's $17.5M in revenue, $10M came from the same agreement surrounding TransVax for finalizing the Phase III trial design.
And what exactly is TransVax? It's a vaccine against cytomegalovirus or CMV, a virus so benign that most people who have it show no symptoms whatsoever. It is virtually harmless for everyone except the immunocompromised, to whom it can cause serious damage. TransVax is designed to vaccinate against CMV for immunocompromised patients undergoing stem cell as well as solid organ transplants. All told, the deal with Astellas is worth a potential $130M (see previous link, same page) in milestone payments, a big number for a supposedly harmless virus. Success with TransVax will have good tidings for Vical's other CMV vaccine CyMVectin. This is in preclinical development being financed in house, no partners, and targeting pregnant women, an enormous market as 40% of all humanity is infected with CMV, and newborns (who are quite immunocompromised) are vulnerable to CMV infection from the mother during labor.
The implications are that as exciting as Allovectin is, it has been the TransVax collaboration that has put money in the bank for Vical, and the pregnant women market is orders of magnitude larger than the metastatic melanoma market. If Allovectin succeeds, it will of course be amazing for VICL. But if it fails, the resulting drop in the stock will present a great buying opportunity for those who understand what's going on with the CMV trials. And how many articles on Vical's Seeking Alpha quote page have the word CMV in the title? Just one. As opposed to Allovectin's 9. That's misdirection.
The science and prospects of TransVax
The Phase III trial for TransVax was announced by Vical back in April 2012. Enrollment began in late June of this year. This follows a statistically successful Phase II trial that was completed in 2010 with results being published in The Lancet Infectious Diseases journal also back in April 2012, results which I will describe below.
TransVax itself is made of what are known as DNA plasmids, which are circular self-contained DNA molecules that are separate from the main DNA molecule in a cell. The plasmids that make up TransVax encode two proteins located on CMV called CMV glycoprotein B and phosphoprotein 65. The idea is that the immune system gets used to attacking these two proteins and then goes after the CMV more easily.
The primary outcome for the Phase II trial was how many vaccinated patients had to initiate CMV antiviral therapy after blood stem cell transplantation from a donor vs. the control group. The antiviral therapy can be toxic, which is why priming the immune system here is important in order to avoid the potential toxicity. The study ended up testing 108 patients after logistical problems prevented Vical from completing enrollment in the donor/recipient pair groups (meaning giving the vaccine to both the donor before transplant and the recipient to see if that would work better than just the recipient). Of the 108, 74 were included in the end statistics, with 40 receiving vaccine and 34 placebo.
What researchers found was that 19 of 40 (48%) vaccine recipients eventually required the antiviral therapy, compared with 21 of 34 (62%) of the control group. While statistically significant, this yields a p-value of 0.145, which is still far above the 0.05 p-value the FDA generally requires for approval after Phase III. The fact that TransVax proved to be safe may mitigate that in Phase III, but nevertheless, Vical is going to have to significantly increase its Phase III patient base in order to generate the numbers needed for approval of TransVax.
Phase III is set up for that with an estimated enrollment of 500, and this time Vical is scrapping the paired donor/recipient arm to avoid future logistical problems. It can't afford for this patient base to be shrunk like last time. I would suspect that getting a donor with no health problems to consent to an experimental vaccine that is not even designed to benefit him could present some logistical problems.
With the Phase III trial estimated at a 2016 completion date, there is still much time before any CMV vaccine for pregnant women becomes relevant. But in the meantime, Astellas is still dishing out milestone payments on the way.
Aveo (NASDAQ:AVEO); looks bad, but it's not a lost cause
Aveo Pharmaceuticals has been a train wreck. Its main product candidate was tivozanib for renal cell carcinoma, rejected by the FDA. Most of Aveo's revenue since 2011 came from licensing and milestone payments involving tivozanib. $120M (page 89) of $165M in 2011 and $15M of $19M in 2012, with a maximum milestone payment possibility of a colossal $1.3B. (Page 17) That number, needless to say, never panned out.
Worse, it is now being sued in a class action lawsuit for allegedly misleading investors into thinking that tivozanib was a shoe-in for the FDA board. Reading its past SEC filings, I can see why. When the rumors started in May of the FDA's unhappiness with tivozanib, Aveo tanked 66%. Market cap shriveled to $132M. Considering Aveo currently has a surplus of $141M in assets over liabilities on its balance sheet, that number makes some sense if one assumes the company has nothing left but cash and hard assets. Investors seem to think that's all that's left of the company judging by how the stock is trading.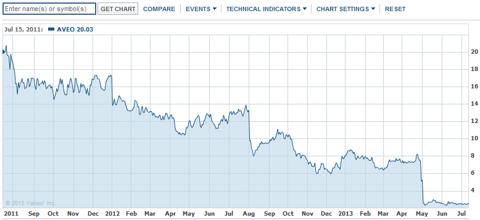 But just as cancer treatments on the verge of a breakthrough like Allovectin generate huge excitement that can miss the man behind the curtain, cancer treatments that have failed generate investor despondency that can also miss it. Aveo still has one ace up its sleeve after losing pretty much any trust investors may have once had in the company. That is, its Human Response Platform. This is a technology developed by Aveo that could have important, long lasting effects on preclinical cancer research. It enables tumors to be grown in mice in such a way that the tumors more closely genetically resemble human tumors growing in the body. (More about this below.) If investor trust in Aveo is truly gone, then at some point, some bigger better oncology company is going to buy the Platform, perhaps along with the rest of Aveo's assets and the shares will trade for more than just balance sheet cash.
Science and prospects of the Human Response Platform
Aveo is still a bit secretive about the technology behind the HRP, but the concept behind it is a simple one to understand. Traditionally, tumors are introduced into mice populations by xenograft, which is basically injecting human cancer cells directly into a mouse. There are several problems with this approach. First, the mouse's body may not recognize the tumor. Second, as the tumor was not grown organically, blood vessels connected to the tumor and the signals it sends out to the rest of the body are not patterned in the same way as a spontaneous human tumor. Third, in the traditional xenograft model, every cell of the injected tumor is a cancer cell. In human tumors, cancer cells are mixed with healthy cells. For all these reasons, preclinical trials for drug identification do not always, or even often, translate successfully from the preclinical stage into the clinical trial stage. There are just too many differing factors between xenografted tumors in mice and organic human tumors to get consistently reliable signals from the preclinical stage.
This is what the HRP is designed to improve. It deals with all three issues by enabling mice tumors to grow organically within the mouse upon the activation of certain oncogenes. The tumor then interacts with the mouse's body in a way more similar to that of a human tumor interacting with the human body. Blood vessels to the tumor are grown organically, and healthy mouse cells grow in parallel with the tumor.
The HRP is more than simply theoretical at this point. Collaborations with other companies licensing the HRP have already totaled $350M in non-dilutive capital for Aveo. Companies involved in these collaborations include Merck (NYSE:MRK), Astellas, and Biogen Idec (NASDAQ:BIIB). In order for Aveo to get itself out of its tivozanib-induced hole, it will have to continue pushing the HRP, and ideally not only license its use out to other companies, but carve itself royalties from any drug successfully marketed using the HRP. This would be akin to getting steady installments for decades instead of the lump sum for licensing rights. If the HRP can really hone preclinical trials to something more indicative of future clinical results, companies may be willing to pay a royalty to Aveo to shorten their clinical pipelines.
IPO excitement over Stemline (NASDAQ:STML), but for what reason?
Stemline is the new cancer company on the block. It has attracted attention with its novel approach of locating and attacking "cancer stem cells" or CSC's, the definition of which is quite elusive and controversial in the oncological community. Cancer stem cells are theorized to be the ones that produce new cancer cells, so destroying them destroys a tumor's ability to grow. Stemline's immunotherapy treatments are in Phase I/II trials for a spread of 7 different cancers, and the idea of going after CSC's is new and innovative. According to Stemline, CSC's overexpress interleukin-3 receptors, which are vulnerable to IL-3 protein that is produced by the human immune system. SL-401, its main product candidate, is targeted to the IL-3 receptor and thus targets CSCs.
Data behind SL-401
So far, Stemline has preliminary data for Phase I/II trials for acute myeloid leukemia (AML), Myelodysplastic syndrome (MDS), and Blastic plasmacytoid dendritic cell neoplasm (BPDCN). The results are encouraging. Disease stabilization occurred in 46% of relapsed AML patients, 43% of MDS patients, and 67% of BPDCN patients. This includes 2 complete responses for relapsed AML out of 59 patients, and 2 complete responses for BPDCN patients out of 3 for a cure rate of 67% for BPDCN specifically, though granted 3 patients is a very small base. The full table can be seen here, page 11.
But once again, the man behind the curtain is somewhere else. It's in the business model. Search for Stemline at Clinicaltrials.gov and you won't find anything despite several trials currently being conducted. That's because Stemline isn't sponsoring any of the trials for its product candidates. Scott and White Hospital and Clinic is. Stemline only pays the milestone payments for Scott and White to get its pipeline products through the FDA.
The reason this is so unique is that usually, what you see with a startup cancer company is massive cash hemorrhaging and a desperate race against the cash clock to get Big Pharma to finance the bleeding through milestone payments and licensing. With Stemline, it's the other way around. Stemline pays the milestone payments and Scott and White are picking up the rest of the regulatory tab. You could say that Stemline functions as a sort of publicly owned venture capital oncology company.
You can see how well this strategy is working when you consider Stemline's average quarterly cash burn rate of just above $2.5M and accumulated deficit of only $12.7M in 10 years since Stemline was founded in 2003. By paying only the milestone payments and leaving the rest up to its partners, Stemline won't have to raise all that much capital comparatively to see one of its product candidates through the pipeline. Stockholders seem to believe in Stemline, judging by the amazing price action so far. Is it because of the hype and hope over cancer stem cells? Or is it the business model that's attracting investment?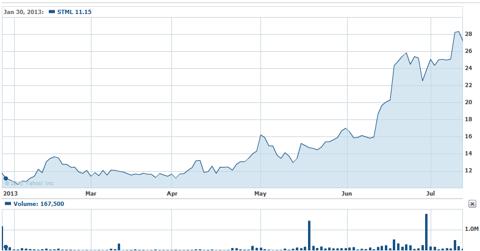 Bottom line, cancer is a very emotional subject that can cloud an investor's mind. As exciting as the field of oncology is, it is important not to overreact superficially to any specific development be it imminent success or ignominious failure. The real value of a company can sometimes be elsewhere entirely. For shrewd investors who can see the man behind the curtain, this provides opportunities both to pick up undervalued stocks on the cheap and to keep their cool when something big happens, good or bad, and to keep things in perspective, something truly valuable and in short supply in the modern day market.
Disclosure: I have no positions in any stocks mentioned, and no plans to initiate any positions within the next 72 hours. I wrote this article myself, and it expresses my own opinions. I am not receiving compensation for it. I have no business relationship with any company whose stock is mentioned in this article.