One of the main market stories in the middle part of the year has been the sustained rally in oil prices. The initial upside was helped along by political tensions in the Middle East (and the possibility of another tumultuous Arab Spring), supply reductions, and evidence of increased demand in major consumption markets. But while it can be argued that some of these oil-bullish elements have been removed from the environment, prices have shown little in the way of meaningful corrective pullbacks from their highs. This is a strong indicator of where the market is at the moment, and continued strength in oil prices supports the outlook for some of the sector's key ETF instruments.
When looking at the broader outlook for the sector, some newer developments should be considered as well. Specifically, we have seen a series of commentaries from Federal Reserve Chairman Ben Bernanke, which suggest that the current program of quantitative easing could continue at its current pace ($85 billion per month in asset purchases). This reverses some of the prior expectations that the Fed would start cutting back on these programs in September, and this has put downside pressure on the U.S. dollar (which is inversely correlated to oil prices). Moreover, the Chinese government has reiterated its commitment to stimulating its economy and helping it to achieve at least a 7% growth rate for 2013. China and the U.S. are the two largest oil consumers in the world, and these factors will continue to be supportive for market valuations going forward.
ETFs Positioned for Further Upside
Over the past three years, WTI crude has seen prices rise of 25%, but most of the ETFs that are tied to sector-related assets have not seen similar performances. So, for investors looking for instruments with price movements that more closely track the fluctuations in oil itself, the best choice can be found in the United States Oil Fund (NYSEARCA:USO), which is the biggest ETF that is based on changes seen in crude markets (totaling close to $850 million in assets under management). The fund charges a management expense ratio of 0.45%, making USO a good option for investors that lack oil exposure (or are looking to hedge open positions). Holdings in USO are seen with short-term WTI crude contracts (in NYMEX AND ICE markets), with values reflective of daily NAV fluctuations over the previous 30-day benchmark average.
A different type of option can be seen with the most commonly traded energy fund, the Energy Select Sector SPDR ETF (NYSEARCA:XLE). The XLE portfolio is much better diversified and gives investors exposure to a much broader collection of companies. The three biggest holdings in the fund are Exxon Mobil (NYSE:XOM), at roughly 17%, Chevron (NYSE:CVX) at roughly 15%, and Schlumberger (NYSE:SLB) at 6.6%. The outlook for these companies is strong. Schlumberger is the world's largest oil field service supplier, and its most recent earnings report was favorable at $1.15 per share (excluding special items). Revenues were higher by 8% (at $11.18 billion) as the company's extensive foreign exposure remains supportive. Schlumberger has posted earnings at-or-above market expectations for the last five quarters, and these trends look set to continue. At the same time, earnings expectations at Exxon continue to be favorable as well. Exxon stock is supported by attractive valuations, reliable financial position, strong returns on equity, impressive gains in net income, and sustainable debt levels. These factors support stock in Exxon itself and the prospects for XLE into the late parts of this year.
Chart Perspective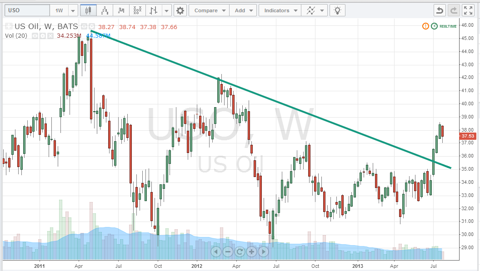 USO is showing some important evidence of trend reversal after breaking its series of lower highs in the weekly charts. This latest rally still have significant upside potential, however, as we are still well off of the 2011 resistance levels at 45.50. Total upside here is still massive, making the current activity attractive for entry points.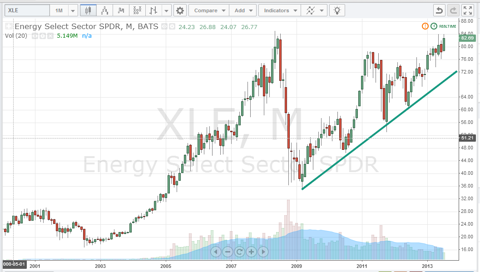 XLE is looking constructive on long-term time frames, but we are seeing some resistance at 83.90 that poses an obstacle for the overall bullish bias until removed. At this stage, it is better to wait for dips into the support levels seen at 81.20, as entries here will mean downside risk is limited, given the strong series of higher lows on the weeklies.
Disclosure: I have no positions in any stocks mentioned, and no plans to initiate any positions within the next 72 hours. I wrote this article myself, and it expresses my own opinions. I am not receiving compensation for it (other than from Seeking Alpha). I have no business relationship with any company whose stock is mentioned in this article.