By Paul Carton
Co-written by Jean Crumrine

ChangeWave's latest corporate software survey shows business purchasing continues to improve even as the pace of the recovery slows. Simply put, the uptick in spending for the next 90-days is not as pronounced as the rate of improvement we saw in April.
But the good news is that for the third software purchasing survey in a row we're seeing clear improvement – particularly in the Virtualization, Data Storage, and Business Intelligence software spaces.
A total of 1,768 respondents involved with software purchasing in their company participated in the July 13-22 ChangeWave survey.
The Recovery Continues – But at a Slower Pace
Better than one-in-ten buyers (12%) now say their company will spend more on software over the next 90 days – 1-pt better than in our April survey. While 22% still say they'll spend less – that's a 5-pt improvement over previously and the best reading in 18 months.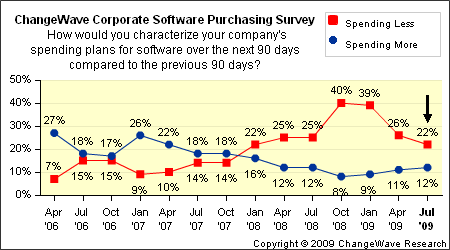 In another positive, for the second consecutive survey we're seeing an upswing in corporate capital budgets.
A total of 9% say their cap budget has actually increased over the past 90 days – 3-pts better than previously. And just 30% say their cap budget has adjusted lower – 6-pts better than in April and a resounding 16-pt improvement since January.
At the vendor level, Microsoft (NASDAQ:MSFT) shows signs of strength going forward in the corporate software market, almost certainly due to the upcoming October 22 release of its new Windows 7 Operating System.
A recent ChangeWave Corporate PC survey of 118 corporate Beta testers trying out the new Microsoft OS points to relatively high satisfaction levels for Windows 7. And our positive corporate software results reinforce that Windows 7 could end up providing a major sales boost for Microsoft this fall and increase its prospects for a profitable second half of the year.
Of course, only about 25% of Microsoft's total revenue comes from the Client Division which makes the Windows operating system, but the increased likelihood of a highly successful Windows 7 rollout should be welcomed by the Redmond, Washington behemoth – particularly after the haircut it took in its most recent earnings announcement.
Two other companies showing momentum in our survey going forward are IBM (NYSE:IBM) and SAP (NYSE:SAP).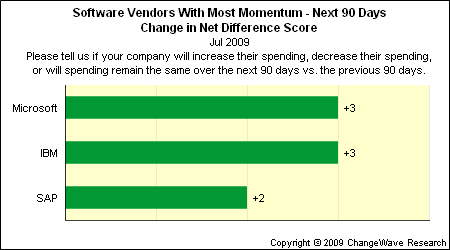 Our findings suggest that at this point in the business cycle, it's the largest-sized software vendors that are outperforming – often at the expense of their smaller counterparts.
Leading Software Categories
A key focus of this survey is on corporate spending increases (and decreases) within specific software categories, and in a further encouraging sign, there are three software categories now showing a projected increase in spending over the next 90 days. Here's a look:
A total of 17% of respondents say their company is increasing its Virtualization software spending for the next 90 days while only 12% say it is decreasing (Net Score = +5) – a net 6-pt improvement over the previous survey in April.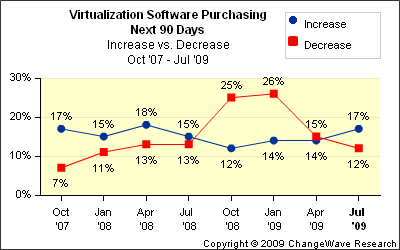 In addition, Data Storage software spending has registered an uptick in our latest survey, with 16% of companies saying they'll increase their spending on data storage over the next 90 days and only 11% decreasing – a net 5-pt improvement.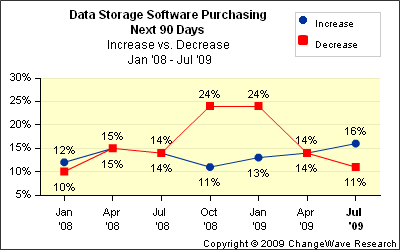 A total of 14% of respondents also say their company is increasing their Business Intelligence software spending going forward while just 12% say it's decreasing – a net 7-pt improvement.
There is also a fourth category on the verge on turning positive: Customer Relationship Management software (even; up 5-pts). And there are two other categories that, while still negative, are showing improvement – Document/Enterprise Content Management (-3; up 8-pts) and Enterprise Resource Planning (-5; up 6-pts).