"GM 2Q profit beats estimates; N. America grows" was the headline concerning General Motors' (NYSE:GM) earnings released on the morning of Thursday, July 25th. Traders buying pushed the stock to a new all-time high (since coming out of bankruptcy) of $37.71 during the first few minutes of trading. Then, it was quickly sold into, as shown below.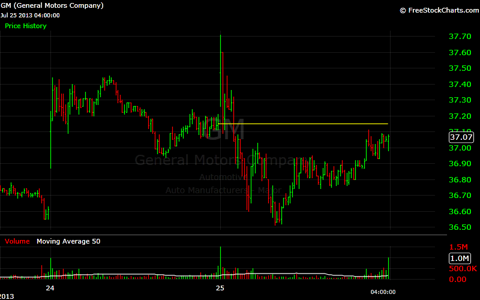 Why might investors be selling GM now? Because automotive operating income dropped compared to a year ago, as shown in the table below

One can also look under segment reporting in the earnings release and find GM North America (GMNA) sales grew 2.25% quarter over quarter (Q/Q), or $516 mm. However, by looking at the financial receivables table, $297 mm, or 57.6%, of this increase was by providing financing to customers with credit scores under 599. Financial receivables under 599 grew 3.56% Q/Q, and scores less than 540 grew 5% Q/Q.
Looking at the year over year (Y/Y) figures GMNA grew sales $1,943 mm, or 9% in 2013 compared to 2012; and income grew 4.5%. But again, subprime credit receivables under 599 grew $1,376 mm and made up 70.8% of the increase in GMNA sales. Receivables under 599 grew 18.9% Y/Y, and the subsection under 540 grew 26.9% Y/Y. It appears GM is still dependent on subprime lending for growth in the North American market as I have written before.
The sell off after "bullish" news has, to traders historically, meant all the good news was priced into the security and is a potential sell signal.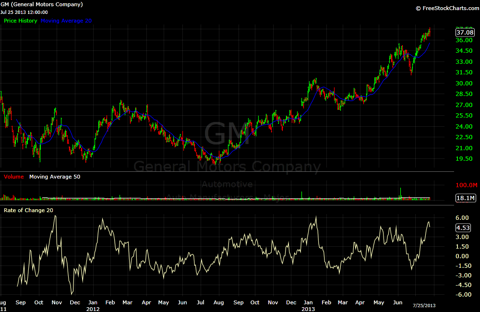 GM having declining operating income in a supposedly recovering global economy is not a bullish sign. I took the slipping operating income along with the "poor" price reaction as an indication of an edge to the downside. GM ran up the last month into the earnings announcement, as shown in the chart above. One can see how the rate of change (20 day) has regressed towards the mean since GM started trading. Hence, I put on a bearish options strategy today, looking for a pullback towards the mean.
Disclosure: I have no positions in any stocks mentioned, and no plans to initiate any positions within the next 72 hours. I wrote this article myself, and it expresses my own opinions. I am not receiving compensation for it (other than from Seeking Alpha). I have no business relationship with any company whose stock is mentioned in this article.
Additional disclosure: I am long and short put options in GM.