The Conference Board's Leading Indicators Index rose 0.6% in July, its fourth consecutive monthly increase. Though the increase was slightly less than expected, it clearly suggests that the recession is bottoming.

Aiding the index were improvements in the interest rate spread, initial jobless claims and average weekly manufacturing hours.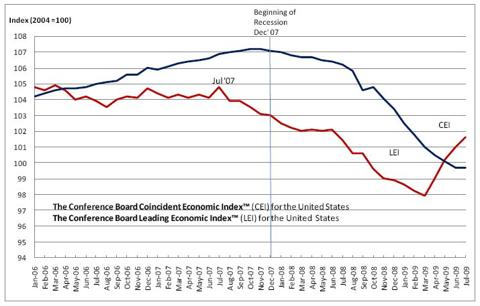 There is little doubt that the economy is moving towards a recovery, but there is a great deal of uncertainty concerning the type of recovery. Car sales this quarter have been artificially boosted by "Cash For Clunkers." First-time homebuyers are eligible for a sizeable tax credit. Soon, rebates will be available for old appliances.

But what happens when these subsidies end? Will Ford (NYSE:F) be able to maintain its current sales rate? Can Home Depot (NYSE:HD) sell more high-efficiency washers and dryers when the rebates have been used up? How many buyers will sign contracts with D. R. Horton (NYSE:DHI) once there are no more tax credits?

It's a question worth asking because right now the government is artificially boosting growth. But soon some of the stimulus packages will expire -- particularly those most geared at consumers with money to spend. And though there will be additional stimulus spent in 2010 on various municipal projects, they won't necessarily motivate consumers to visit car lots or appliance store showrooms.

Furthermore, even with the current stimulus programs, jobs are still being shed. Initial jobless claims rose last week, as did continuing claims. In other words, though the economy is relatively better, it still feels like a depression to many Americans (see "New Jobless Claims Disappoint").

The recovery may be coming, but it won't be a cause for celebration.