Frontier Communications (NYSE:FTR) has always been one of the more high-risk telecom stocks. In 2010, Frontier made a fateful decision to purchase a large chunk of Verizon's (NYSE:VZ) legacy wireline assets. In hindsight, this decision by the company was probably not a wise one as the stock has since lost nearly 50% of its value. Frontier was the first among its peers to lower its dividend and instead focus its cash flows towards lowering debt. Frontier currently offers a $0.10 per share quarterly dividend and yields about 9.40%.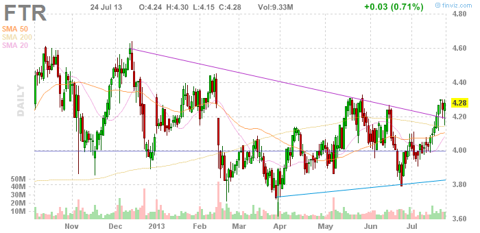 Overview
There is little doubt that Frontier's legacy wireline business is in secular decline. For the year, Frontier has seen steady quarterly losses in both residential and commercial customers. In Q1 2013, Frontier lost 27,8000 residential customers and 5,100 commercial customers, for annualized losses of 6% and 7%, respectively. However, both of these metrics are improvements from the 64,000 residential customers, or 9.0%, and 7,800 commercial customers, or 9.4%, loss in Q1 2012.
Frontier has been attempting to stem these declines by focusing on other revenue streams, such as broadband internet and video TV services. In addition, Frontier has agreed to expand broad availability to at least 85% of the households it acquired through the Verizon transaction. In Q1 2013, Frontier added 28,200 net broadband subscribers, which is more than double the number it added last year. This is a positive trend for Frontier as it diversifies away from legacy wireline revenues.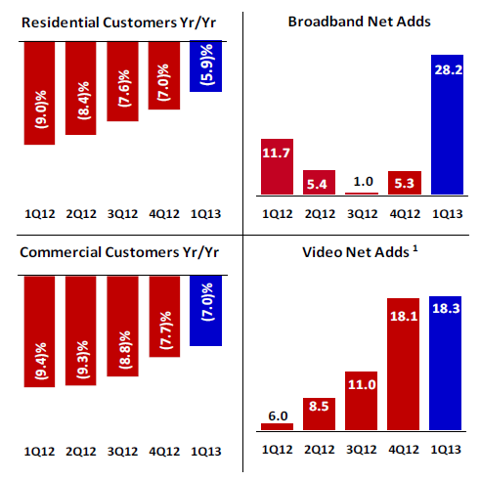 Another important metric for Frontier is its average revenue per customer, or ARPC. Frontier's ARPC for both residential and commercial customers has been trending higher since 2012. In Q1 2013, Frontier achieved a 2% boost to residential ARPC and a 4% boost to commercial ARPC from year ago levels. This metric, alongside Frontier's total customer numbers, is probably the most important metric in determining Frontier's profitability.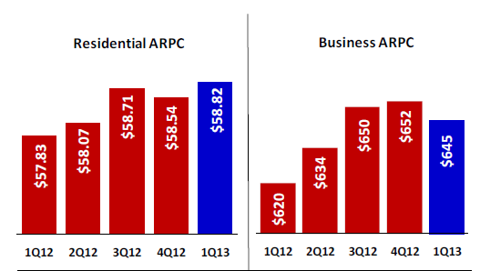 Frontier's declining customer base has directly led to it having lower revenues. For Q1 2013, Frontier's revenue totaled $1.06B, a decline of $48M, or 4%, from the $1.11B for Q1 2012. This decline was about evenly mixed between residential and commercial revenues that saw declines of 4% and 5% respectively. Since mid-2010, Frontier has seen about a 15% decrease of its revenues.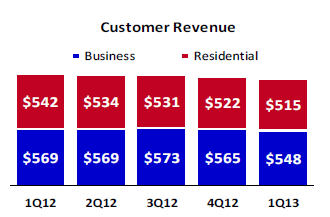 Free Cash Flow Trends and Dividend Sustainability
Due to the large amount of depreciation associated with their operations, telecom stocks often pay much larger dividends than would be implied by looking at their earnings. The best metric to determine Frontier's dividend safety level is by looking at its free cash flow, or FCF. Do note that Frontier uses its FCF not only for dividends payments, but also for debt repayments. As the company has a large amount of debt, it needs to generate FCF well in excess of its dividend level.
First, let us look at Frontier's FY 2013 guidance. Frontier anticipates that it will generate between $825M to $925M of FCF in 2013. Using the midpoint of this range, which is $875M, and Frontier's current annualized dividend payments of around $400M, we arrive at an estimated FCF payout ratio of 46% for FY 2013.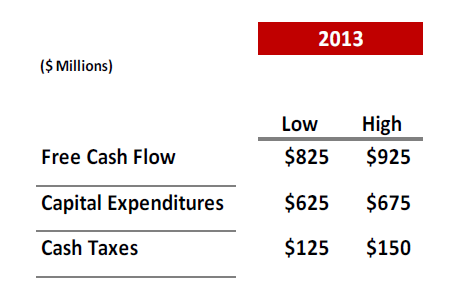 When looking solely at the last twelve months, Frontier's FCF payout ratio was actually a bit lower. Frontier generated only $762M in FCF in the past 4 quarters. Using this number, we arrive at a TTM FCF payout ratio of around 53%.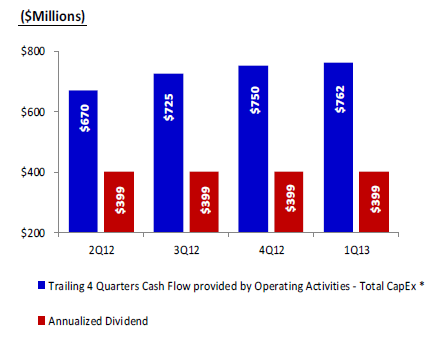 Both of these FCF payout ratios are fairly healthy. However, it is sometimes good to look at FCF on a quarterly and per share basis. By doing this, we cancel out the effects of increase share counts and other noise. Since lowering its dividend in late 2011, Frontier's FCF has easily covered the new dividend level. In addition, Frontier's FCF trend has stabilized recently, which is quite a difference from previous quarters. Frontier roughly generates $0.20 per share of FCF per quarter, which is about 50% of its current dividend of $0.10 per share. These charts basically tell us that Frontier will most likely generate over $400M in excess FCF per year. These are funds that Frontier will need to use for debt repayments.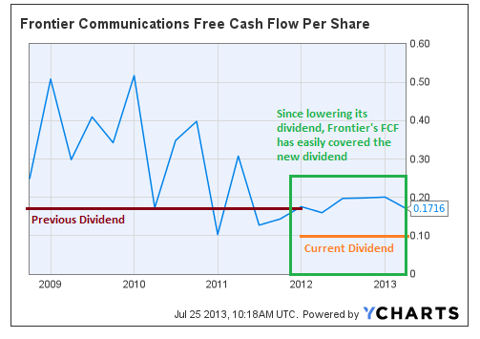 Frontier's Major Risk Factor: Massive Debt Load
While I do consider Frontier's current dividend to be well covered by FCF and fairly safe, there is still the issue of debt. Frontier simply has way too much debt. As of Q1 2013, Frontier's LT debt stood at over $8.4B, nearly twice its current market cap. In addition, Frontier's debt to EBITDA ratio stands at over 3.8X, well above average for a typical telecom and above its long-term goal of a 2.50X leverage ratio.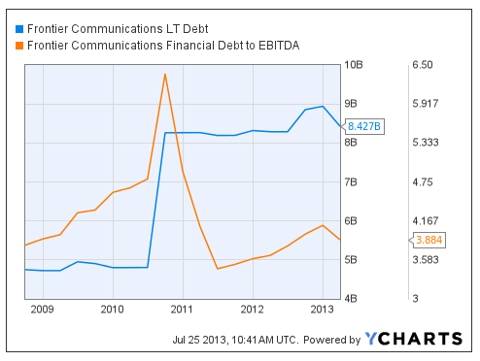 However, Frontier has taken steps to tackle its debt burden. In April 2013, Frontier issued $750M in senior notes due 2024. With the proceeds from the debt offering and cash on hand, Frontier paid off over $900M in debt during Q1 2013. The debt Frontier paid off included $503M in notes due during the quarter and partial tender offers for notes due in 2015 and 2017. As a result of these transactions, Frontier significantly reduced its need to refinance or issue any debt short to medium term. Using the above estimates of over $400M in annual excess FCF, Frontier should be able to handle its annual debt maturities through at least 2017.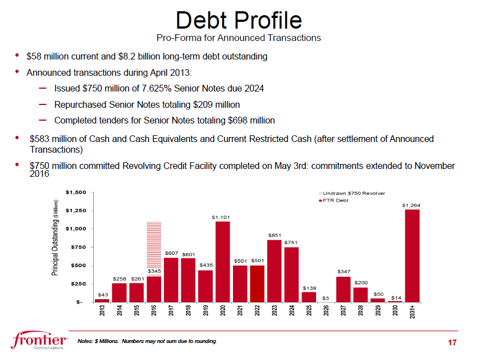 Broadband: A Growth Area for Frontier
During the Q1 2013 conference call, Frontier's CEO Maggie Wilderotter mentioned that Frontier still has major growth opportunities in broadband. The company expects to connect 130,000 homes this year, 55,000 of which are subsidized by the Federal Connect America Fund.
In addition, Frontier plans to grow its broadband market share in areas where it serves. Frontier has over 40% market share in its legacy, non-Verizon markets. In its acquired Verizon markets, this market share is much lower. Frontier has plans to increase its market share in its acquired assets. If it is able achieve the same level of penetration, it would be a major boost to Frontier's revenues.
Another area for organic growth for Frontier is by shifting customers towards higher speed internet. Frontier has been spending capital to boost the speeds across its network. As these services usually have higher prices and margins, Frontier should see an incremental boost to revenues as customer switch over to faster speeds.
The vast majority of our existing and new customers are being served today with only a basic speed tier. Yet over half of our footprint currently has the capacity for higher speeds of 12 or 20 megabits per second and that capability is continuing to increase. Therefore, our opportunity in broadband revenue lift is about driving penetration and market share substantially higher and migrating both existing and new customers to higher speed tiers.
By repaying over $900M in debt during Q1 2013, Frontier has substantially lowered its risk-profile. However, this is not to say that Frontier is a low-risk stock. Frontier faces major challenges, the largest of which is the secular decline of its core wireline business. As these legacy assets require little maintenance capex, Frontier will need to use the resulting cash flows to lower debt while also paying out its current large dividend. While its current yield is attractive, I see little to no upside or capital appreciation potential in Frontier as the company will likely see steady revenues decline in the years to come.
Disclaimer: The opinions in this article are for informational purposes only and should not be construed as a recommendation to buy or sell the stocks mentioned. Please do your own due diligence before making any investment decision.
Disclosure: I have no positions in any stocks mentioned, and no plans to initiate any positions within the next 72 hours. I wrote this article myself, and it expresses my own opinions. I am not receiving compensation for it (other than from Seeking Alpha). I have no business relationship with any company whose stock is mentioned in this article.