Apple (NASDAQ:AAPL) announced financial results for its fiscal third quarter after the close on Tuesday. The results were overall better than expected, being near the higher end of guidance for revenues and earnings and beating analyst expectations for both. The biggest surprise was a much higher-than-expected 31.2 million iPhones sold in the quarter, while iPads sold under expectations. Another surprise was the rate at which Apple is buying its own shares - $16 billion worth over the course of last quarter. That is close to a quarter of a billion dollars each trading day. Apart from that, it wasn't the most interesting quarter and it was not expected to be. Apple investors are now in a wait-and-see mode until the fall. The coming months will reveal what new hardware Apple will have to offer for the holiday quarter as well as how iOS7 and OS X Mavericks is received by users.
A Lack of News Maintains a Negative Narrative
Apple's stunning share price drop since its peak in September of last year has reinforced a number of negative views on Apple. They range from internal ones - how the company is failing to innovate, has no leadership, shows contempt for shareholders with its cash hoarding (this criticism has now mostly been muted), to external ones - a challenging competitive environment as well as historical observations about how precarious a leadership position in consumer electronics can be.
My view is that these worries are largely misplaced or exaggerated. Apple is currently going through a product release drought that will soon end. At the same time, the company is suffering from comparisons with 2012's extraordinary numbers; the extremely high gross margins of last year should been seen as an anomaly.
Why Apple will remain successful
Apple's focus is on making the best products possible. Based on objective indications, that is exactly what Apple does. Both the iPhone and iPad have always come in first in the J.D. Power satisfactory rankings in their respective categories. Users of iPhones and iPads are more engaged with their devices than users of competing products, based on both web traffic and app purchases. While Android has gained a lot of ground in terms of market share, it does not exactly mean that those gains have come at Apple's expense as there is no indication that Apple users are leaving iOS for competing products. A more plausible explanation for loss of market share is that many first-time buyers of smartphones and tablets are buying cheaper products. Some even think that lower priced smartphones and tablets will act as a "gateway drug" for Apple, as some people will want to upgrade their devices in the future.
Apart from the lead Apple maintains in quality and user experience, there are other reasons to think consumers will be reluctant to abandon the brand. As people get in deeper with the ecosystem, by acquiring a greater number of devices, storing their photos, music, and movies in iCloud, etc., they will become more reluctant to switch. New products and services coming from Apple in the near future, such as iTunes Radio and integration with cars, lock people in further. To persuade Apple users to switch, competitors' products will not only have to become better than Apple's; they will need to be much better. No other company has as many components in place to provide a good user experience with hardware, software, and services as Apple does, making this a very hard task to achieve.
Case study: iPod
iPod is still a good product line, but it is a more important part of Apple's history than its future. iPod was introduced in 2001, played a big role in the company's revival, briefly overtook the Mac as Apple's biggest revenue generator in 2006 and peaked in unit sales in 2008. Since then its sales have been declining and it now only contributes a trivial percentage to Apple's total revenues.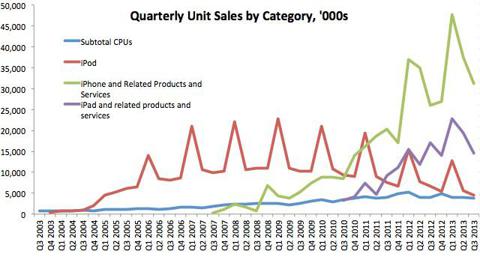 After the first few years of explosive growth, the iPod enjoyed a few more years of more moderate growth before losing out to a competing product. That competing product happened to be Apple's iPhone. What is informative here is that in spite of getting the most formidable challenge imaginable, the iPod did not die overnight. It gives an indication that iPhone and iPad are unlikely to fade quickly, even if competition is heating up. iPhone and iPad are transitioning from the very rapid growth stage to a stage of moderate growth with a strong seasonal element. In this stage unit sales become increasingly predictable.
Share buyback
Apple has shown admirable discipline and judgment in its allocation of capital. The company has avoided making large acquisitions at excessive prices, as so many large companies do. On the contrary, the calls for Apple to stop hoarding cash had become quite loud by the time Apple announced its big buyback program one quarter ago. Considering that Apple's $60 billion buyback program was due for completion by the end of 2015, it was pleasantly surprising to see $16 billion spent in just one quarter. At this pace, it will not take long for the falling number of outstanding shares to have a meaningful effect on earnings per share. The number of shares was reduced by close to 4% in this quarter alone.
Conclusion
Apple's share price implies a decaying future, but there is little evidence that such a future awaits the company. Apple is very different from such fallen angels as BlackBerry (BBRY) or Sony (NYSE:SNE). These companies never had the ability to tie users into an ecosystem the way Apple does and were much more vulnerable to competition. In this regard it would be more apt to compare Apple to Microsoft (NASDAQ:MSFT), a company that can see new competitors rise, make mistakes, and still do well financially (Windows Vista being one case in point).
For every threat Apple faces, it has just as many opportunities. Tim Cook, who does not strike me as a man of hyperbole or cockiness, seems very confident in the company's product pipeline. Apple's management knows that the company's shares are on sale for the time being and is taking advantage of the opportunity while it lasts. You should consider doing the same.
Disclosure: I am long AAPL. I wrote this article myself, and it expresses my own opinions. I am not receiving compensation for it (other than from Seeking Alpha). I have no business relationship with any company whose stock is mentioned in this article.