Advertising must have some influence as I have 'Canon Can' from their UK advertising campaign repeating itself in my head as I wrpte this. Global awareness is not a problem for Canon (NYSE:CAJ) but they have many other issues. Following the numbers release on Wednesday after the Tokyo close, the stock has fallen quite sharply.
The corporate presentation document attached to the results had many interesting insights. Q2 actually did not look a disaster with the company posting year-on-year single digit gains on a number of important financial criteria.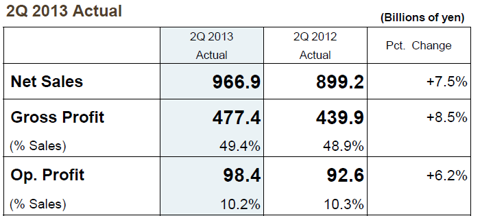 Look more closely though and things start to fall apart as a positive FX impact massively outweighs the underlying business.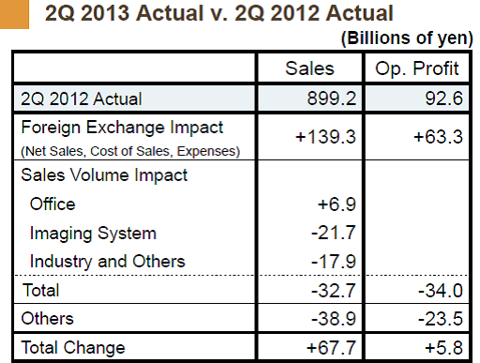 And on pricing life is grim too. You can see that FX impact again -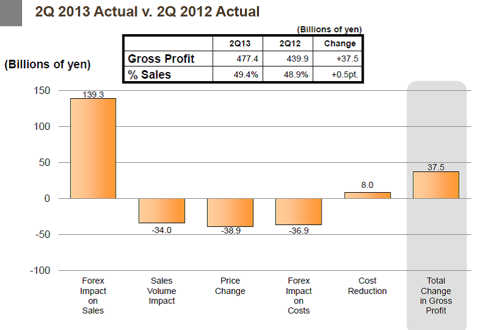 In terms of the implication for the rest of the year, the negative revisions are coming out of the operating business not the FX rate. Now you can understand why the shares are down today. There is a 16% fall in operating profit hopes…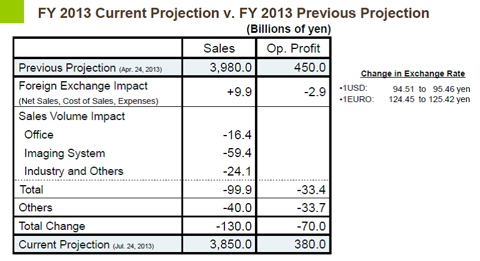 So Imaging Systems are leading the decline and that's led by cameras, especially compact digital cameras (industry-wide demand there down nearly 30% year-on-year). Should that be a complete surprise in a smartphone camera world? Factored into these numbers was that the company lowered its 2013 volume assumption on the compact digital camera market from 70.0m units to 66.0m units, and lowered its compact digital camera sales assumption from 14.5m units to 14.0m units. They also grumbled about pricing pressure.
In the other divisions, Office is around the same size now as Imaging Systems in terms of underlying projected profitability and the core copiers business there appears to be doing a better job in managing structural change. Elsewhere the Lithographic equipment/stepper business remained loss-making which contrasts with recent trends showed by industry leader ASML (NASDAQ:ASML). For the company's smallest division you can see above there was a pretty big operating loss revision.
Better news comes from the cash flow side where lower-than-anticipated investing meant that the projected free cash flow for FY13 went up. Additionally the company retains Y690bn cash-on-hand.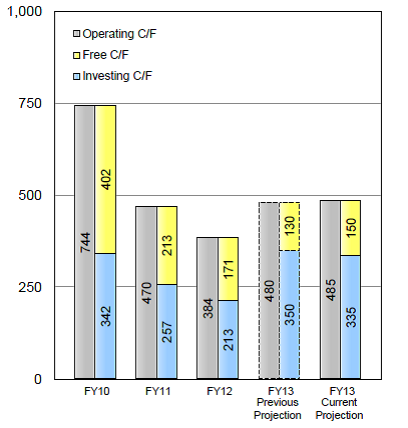 So a busted flush or a value investor's dream? The company's EV is around Y3600bn and using their projections they are generating around a 3.5% free cash flow yield which means the near 4% dividend is slightly uncovered…not the biggest issue given their cash pile but should be noted.
So today the company trades on about x9.5 EV/ebit FY13e. That would be cheap for a steady state business but you cannot call Canon that today. A much weaker yen would help with the numbers but non-yen holders would lose on the FX translation of the share price. Ultimately though you have to be a believer in the operating business. Office is ok but Imaging and Industrial/Other remain tough.
The right sort of multiple today to buy the share today is around x8 EV/ebit which is more like a Y2750 share price for the Tokyo listing or call it c. $30 for the US listing. We have been there before during the second half of 2012 albeit induced by a higher yen exchange rate.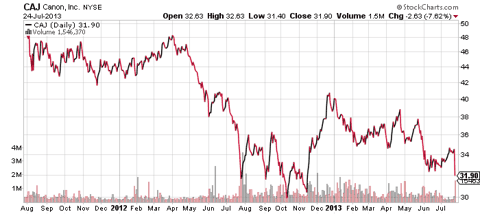 You may own a Canon product but, at least at the moment, you should not own Canon shares.
Disclosure: I have no positions in any stocks mentioned, and no plans to initiate any positions within the next 72 hours. I wrote this article myself, and it expresses my own opinions. I am not receiving compensation for it. I have no business relationship with any company whose stock is mentioned in this article.