We continue to see a move by natural gas and oil companies to utilize the MLP structure to create value for investors. It is a move which has benefited many shareholders over the past few years and does a good job of separating slow growth assets which generate a lot of cash flow from those which generate little if any cash but hold the promise of generating significant capital gains as they are developed.
Yesterday highlighted the continuation of this trend and that even with the added scrutiny of the industry and its practices that we shall continue to see MLPs created.
Chart of the Day:
Our attention in the metals market is turning to Palladium as traders have bid it up over the past month and we are quickly approaching levels of resistance.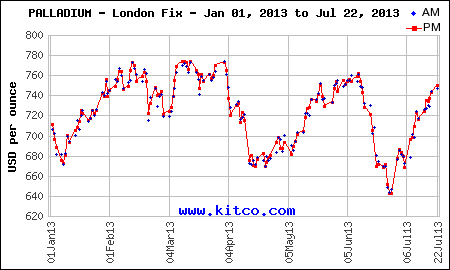 Source: Kitco
Commodity prices this morning are as follows:
Gold: $1321.50/ounce, down by $6.90/ounce
Silver: $19.89/ounce, down by $0.264/ounce
Oil: $104.55/barrel, down by $0.94/barrel
RBOB Gas: $3.0202/gallon, up by $0.0032/gallon
Natural Gas: $3.619/MMbtu, down by $0.025/MMbtu
Copper: $3.116/pound, down by $0.0695/pound
Platinum: $1428.50/ounce, down by $19.40/ounce
Infrastructure
The big news yesterday was that Oneok (NYSE:OKE) will spin-off its gas-utility business which serves 2 million customers in the states of Oklahoma, Kansas and Texas (press release available here). The spin-off will result in shareholders getting shares, the number of which has not yet been determined, in the company which will be called One Gas, Inc. The new entity will make a one time cash payment to Oneok of over $1 billion to help repay debt but will not be loaded up with debt before the spin-off.
Oneok will be able to then raise its distributions moving forward because the utility spin-off will result in extra free cash flow being available for distributions to unitholders. It is expected that this move will enable the company to bring its payouts in-line with peers. Also announced yesterday is that the Q2 distribution will be $0.715/unit, which is up by $0.005/unit. The company's shares rose over 25% on the news of the spin-off to close at $53.77/unit with volume hitting 15.8 million shares.
The was coming off of 52-week lows hit not too long ago before yesterday's huge move higher which pushed shares to new all-time and 52-week highs.
Source: Yahoo Finance
Oil Field Services
Halliburton (NYSE:HAL) shares are quoted higher this morning after the announcement released once the market closed yesterday that the company has resolved the Department of Justice's investigation into the Deepwater Horizon tragedy. The company plead guilty and paid the maximum allowable fine for destroying documents relating to the spill, a fine equaling $200,000, and separately made a contribution of $55 million to the National Fish and Wildlife Foundation. Obviously the two are connected, but our opinion is that the company was let off the hook with that settlement, especially in light of the SAC Capital investigation.
The company does now have to deal with the Department of Justice on their investigation of the pressure pumping services used for the hydraulic fracturing process. The investigation is looking into potential antitrust issues, but we doubt anything serious comes out of this investigation.
Oil & Natural Gas
Shares in CONSOL Energy (NYSE:CNX) rallied 7.74% yesterday to close at $30.49/share after the company reported their quarterly results. The excitement was hardly due to the results, which saw the company only meet the revenue consensus. The excitement was caused by the company saying that they are looking into alternative structures which will benefit shareholders over the long-term as the company continues to sell assets and reinvest the proceeds in higher margin areas. The company has most of its exposure to the coal industry, but in recent years has spent considerable time and effort developing acreage for natural gas, and more recently NGLs. This represents less than 20% of the company's business but if they are serious about using an MLP structure then our guess is that they would focus less upon coal and more upon the assets which are working in their portfolio. The company's conference call transcript is located here.
When it comes to the natural gas business is it possible to find many more names better than Range Resources (NYSE:RRC)? The answer is no. The company reported another solid quarter earlier this week and we wanted to spend the time to properly look over the results and go through the conference call before commenting. Yesterday's 7%+ move in the shares confirms our bullishness and highlights the positive things that the company had to say. First they plan to grow production by 20% each year while simultaneously growing cash flow at a higher rate. The company has the prolific Marcellus Shale to fall back on and the same acreage has multiple production zones that the company can drill. Investors can expect drill costs to continue to decrease and efficiencies to continue to rise as rig times shall decrease. There is a lot to like here and we continue to believe that if investors really want a name to play natural gas then Range Resources is one of the few solid plays out there.
This is one of the few names with considerable natural gas exposure which has held up strongly. There are only a handful of similar companies we can think of with a comparable or better looking chart than this one.
Source: Yahoo Finance
If readers were looking for more risk in order to get a larger potential reward, as we know many of our readers employ this type of investing based on past comments, then we would throw out Rex Energy (NASDAQ:REXX) as a smaller name with some really nice potential upside. The shares are once again trading near their 52-week high and with their latest results we would argue that the shares could go higher as they continue to drill out their Utica acreage.
We have had a strong move in Rex shares this year, but with the Utica proving to be a solid play there appears to be further room to run.
Source: Yahoo Finance
The initial production rates from South Warrior were quite impressive and we suspect that investors will be surprised when the company releases their quarterly results on August 6th and then holds their conference call on August 7th. As we have stated before, these laterals are not nearly as long as those drilled by the players in the heart of the play and thus you have to account for that when looking at the production. We really think that the production rates are turning out great here and shall only get better as the company refines their drilling techniques and better understands the geology. We continue to like this name on pullbacks.
Disclosure: I have no positions in any stocks mentioned, and no plans to initiate any positions within the next 72 hours. I wrote this article myself, and it expresses my own opinions. I am not receiving compensation for it (other than from Seeking Alpha). I have no business relationship with any company whose stock is mentioned in this article.