Let me quell any criticism now by saying this - I am an amateur investor so take this for what it is worth. The more I look at where we are now, I think today might mark the end of this summer rally and the beginning of the impending correction. I could very well be wrong, but here's what stands out to me.
Most notably, both the S&P 500 and the Nasdaq appear to have run into resistance at their major trendline tracing back to the highs of 2007. I personally don't see what catalysts we have in the near future that would propel us over this trendline. Earnings season is wrapping up, economic data appears to be mixed but roughly in-line, and we are approaching what is historically a rough month. Take a look at the two charts below; I've drawn the major trendline over the past three years.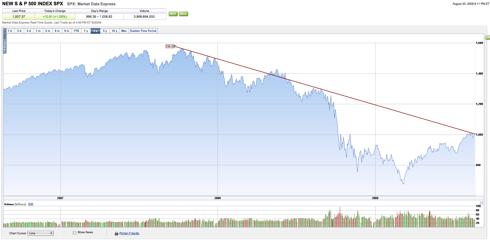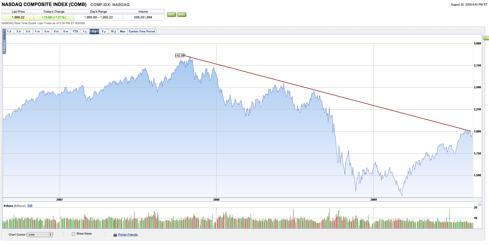 If you look more closely at how the market has performed over the last two weeks, you can see we have been making a series of lower highs/lows. I think today specifically will determine the direction of this market because each move lower has begun with a Friday selloff for the past two weeks. I think today's direction will be largely influenced by Asian markets and the existing home sales number. The 20 day chart below shows the SPDR right at the top of this downward trend.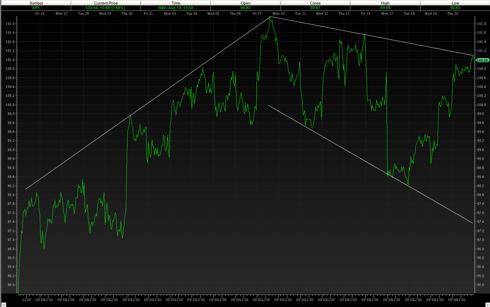 They showed a graph on Fast Money the other night, showing how the US markets have actually lagged behind the Shanghai Composite. After both of our markets made a bottom in Oct/Nov last year, the Shanghai Composite has continued to move higher while the US markets made a lower bottom in March before moving higher. In the past two weeks, the Shanghai Composite has pulled back around 20%, where it has been flirting with bear market territory.
Clearly there are vast differences between these two markets, but it's worth noting that Chinese demand for commodities has played a massive role in the recent global recovery. The Chinese also happen to also be the largest buyer of US treasuries, making them the financier of our economic stimulus package. For better or worse, our economies are intrinsically linked. While US markets have shaken off most of the recent bad news out of China, should things continue to worsen I don't see how it couldn't affect US markets. The chart below shows how the SPDR performed against the Shanghai Composite over the past year.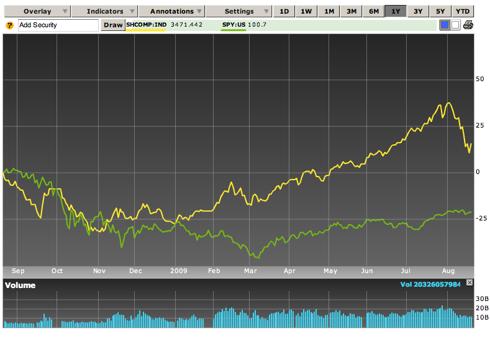 Lots of traders have also been calling out the fact that the Volatility Index VIX has been trading close to its lowest levels and in a very narrow Bollinger Band channel. While this simply signifies a larger impending move in the VIX is possible, given the recent market highs one would think this is a bearish indicator.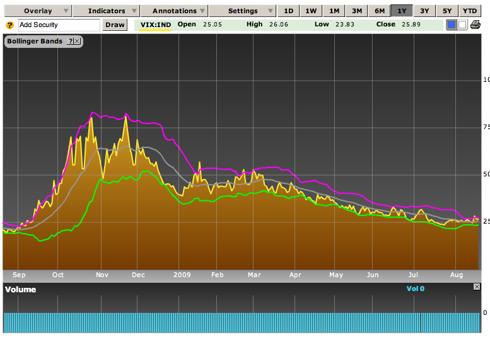 The final thing scares me a decent amount and is purely skeptical. The past two days we have drifted higher on very light volume. We continued that streak yesterday, but five stocks made up 25% of all US volume. Those stocks are Citigroup (NYSE:C), Bank of America (NYSE:BAC), AIG, Freddie Mac (FRE), and Sirius XM (NASDAQ:SIRI). This is purely my opinion, but to me that signals that most stocks have had phenomenal runs over the past six months and people are now fishing for the riskiest of returns. Bob Pisani on CNBC put it best after AIG's 20% run yesterday, "remember…these guys still owe the US government $182 billion".
I realize this is going out on a limb to call the correction as starting today. There are a lot of factors at play right now signaling to me that while there might be a lot of money on the sidelines, maybe it's best kept there. I see a lot more potential for downside, than I do catalysts for upside.
Disclosure: Short SPY, Short C