Looks like the Data Domain acquisition burnt a big enough hole in Net App's (NASDAQ:NTAP) profits last quarter. Two quarters back it had to take a $128M impact related to its 'discount' practices as part of the GSA agreement with the federal government and this quarter (Jul09) it has taken a $41M hit after the termination of the Data Domain acquisition. While the $128M is non-cash and is a "reserve" created for future expenses, the merger costs have hit the bottom-line and the cash balances right away. These one-off charges are not small change for a company with ~$100M in quarterly profits (when things are normal, if I may add!!!).

Source: Gridstone Research
But frankly, in my opinion, Net App did well to restrict the loss to banker's fees and other acquisition costs, in the Data Domain acquisition, as it would have ended up with a very expensive acquisition otherwise (see earlier article " EMC's Data Domain Acquisition: A Sign of Desperation"). Looking at the Jul09 qtr results, Net App seems to have done much better than EMC Corporation (EMC), its primary competitor.
Revenues: NTAP Vs EMC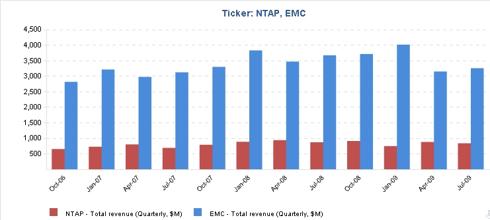 Source Gridstone Research
NTAP has clocked a lower top-line decline than EMC and the difference is quite substantial.
YOY Revenue Growth: NTAP Vs EMC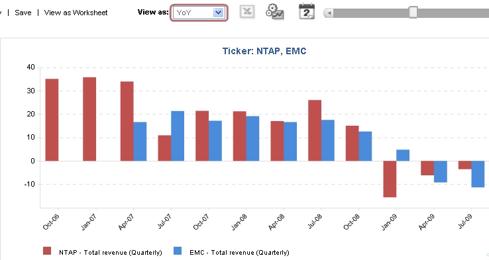 Source Gridstone Research
In fact excluding currency impact, NTAP has actuall done had flat revenues, which is quite good given the current environment in hardware spending.
Excerpt from Jun09 Qtr Earnings Transcript:
...Overall, on a constant currency basis we were nearly flat year-over-year despite a traditional Q4 to Q1 seasonal decline, two of our three major geographies were actually up sequentially.
One reason could be that NTAP is stronger in the mid-range and low-end storage products categories and these have held up better than high-end storage, an area where EMC has a significant lead over NTAP. The better performance from Q4 to Q1 is a clear indication that clients who had deferred capex plans for storage requirements are starting to give out orders.
YOY Change In Product Revenues - NTAP Vs EMC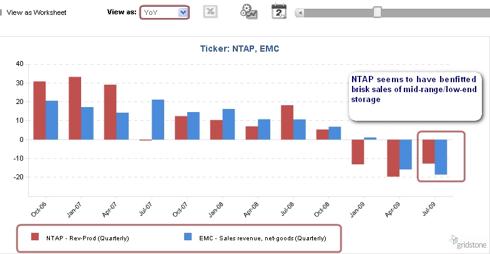 Source Gridstone Research
Also while unit shipments were down only 7%, the product revenue has declined much more, another data point which shows that high-end storage sales has been hit more severely.
Excerpt from Jun09 Qtr Earnings Transcript:
...From a platform perspective almost 60% of our revenue continues to come from the mid range with the low end and the high end each contributing about the same percentage of configured systems revenue. Units shipped were down about 7% year-over-year with the largest percentage of decline coming from high end systems, typical of the other storage vendors as well.
The markets have however been disappointed with the management's refusal to give 2Q guidance, citing the uncertainty over deal closings. But NTAP has given enough evidence and indications that it will be very prudent in cost controls and operational efficiency. It has committed to at least a $20-25M reduction in operating expenses (non-Gaap basis) in Q2 over Q1.
Since NTAP has a better gross-margin structure compared to EMC, clearly the OpEx efficiency drive will make it more competitive and place it in a stronger position against EMC.
Gross Margins - NTAP Vs EMC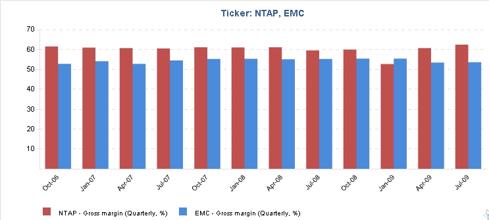 Source Gridstone Research
With corporate budgets being still constrained (though capex spending is not frozen), Net App's strength in lower priced storage products might work to its advantage in the medium-term. The better gross margins that NTAP enjoys gives it more flexiblity to garner market share from EMC. NTAP might have lost Data Domain to EMC, but it looks set to gain the growth momentum from the industry leader.
Disclosure: No Positions