On its earnings call yesterday Southwest Airlines Co. (NYSE:LUV) reported its results for the quarter ended 2013-06-30. This peer-relative analysis looks at the company versus the following peer set: Delta Air Lines Inc. (NYSE:DAL), United Continental Holdings Inc. (NYSE:UAL), Alaska Air Group Inc. (NYSE:ALK), US Airways Group Inc. (LCC), AMR Corp. (AAMRQ.PK), JetBlue Airways Corp. (NASDAQ:JBLU) and SkyWest Inc. (NASDAQ:SKYW). The table below shows the preliminary results along with the recent trend for revenues, net income and returns.
| Quarterly (USD million) | 2013-06-30 | 2013-03-31 | 2012-12-31 | 2012-09-30 | 2012-06-30 |
| --- | --- | --- | --- | --- | --- |
| Revenues | 4,643.0 | 4,084.0 | 4,173.0 | 4,309.0 | 4,616.0 |
| Revenue Growth % | 13.7 | (2.1) | (3.2) | (6.7) | 15.7 |
| Net Income | 224.0 | 59.0 | 78.0 | 16.0 | 228.0 |
| Net Income Growth % | 279.7 | (24.4) | 387.5 | (93.0) | 132.7 |
| Net Margin % | 4.8 | 1.4 | 1.9 | 0.4 | 4.9 |
| ROE % (Annualized) | 13.0 | 3.4 | 4.5 | 0.9 | 13.1 |
| ROA % (Annualized) | 4.6 | 1.2 | 1.7 | 0.3 | 4.9 |
Valuation Drivers
Southwest Airlines Co. trades at a lower Price/Book multiple (1.5) than its peer median (2.7). The market expects more growth from the company than the median of its chosen peers (PE of 26.6 compared to peer median of 16.9) and to improve its current ROE of 5.5% which is around peer median. The company's asset efficiency (asset turns of 0.9x) and net profit margins of 2.2% are both median for its peer group. Its net margin is similar to its five-year average net margin of 2.0%.
Leader among peers but decline in relative operating performance
The company enjoys both better than peer median annual revenue growth of 9.1% and better than peer median earnings growth performance 136.5%. Southwest currently converts every 1% of change in annual revenue into 14.9% of change in annual reported earnings. We view this company as a leader among its peers.
Southwest's current return on assets is around peer median (2.0% vs. peer median 1.8%). This contrasts with its higher than peer median return on assets over the past five years (1.7% vs. peer median -1.3%), suggesting that the company's relative operating performance has declined.
The company's gross margin of 22.1% is around peer median suggesting that Southwest's operations do not benefit from any differentiating pricing advantage. In addition, Southwest Airline's pre-tax margin of 3.6% is also around the peer median suggesting no operating cost advantage relative to peers.
Superior Growth Prospects
Southwest Airlines Co. has grown its revenues faster than its peers (18.2% vs. 10.8% respectively for the past three years). The market also sees relatively higher long-term growth prospects for the company, giving it a better than peer median PE ratio of 26.6. Overall, we classify the company's growth prospects as superior relative to its peers.
The company's annualized rate of change in capital of 4.1% over the past three years is higher than its peer median of -1.9%. This investment has generated an above peer median return on capital of 3.6% averaged over the same three years. Evidently, the relatively high capital investment was successful given the relatively strong growth in its returns.
Possible understatement of income?
Southwest's net income margin for the last twelve months is around the peer median (2.2% vs. peer median of 2.2%). This average margin and relatively conservative accrual policy (12.1% vs. peer median of 8.2%) suggests possible understatement of its reported net income.
The company's accruals over the last twelve months are positive suggesting a buildup of reserves. In addition, the level of accrual is greater than the peer median -- which suggests a relatively strong buildup in reserves compared to its peers.
Trend Charts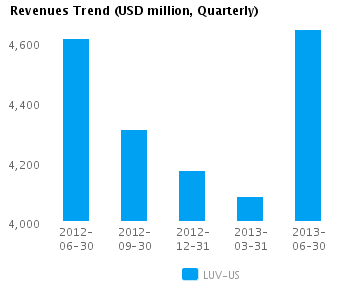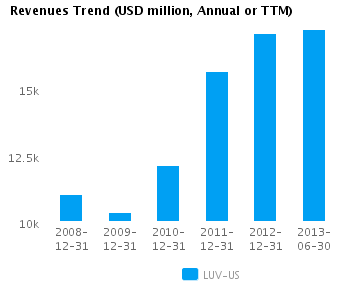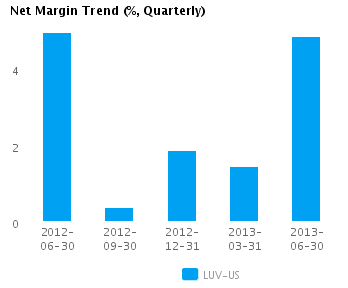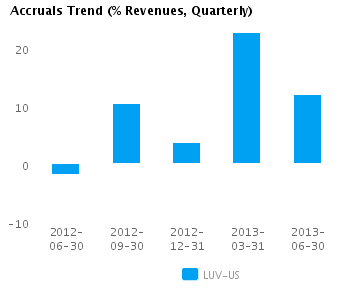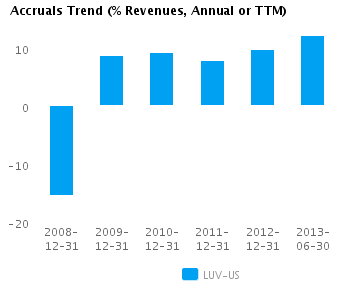 Company Profile
Southwest Airlines Co. provides scheduled air transportation services in the United States and near international markets. The company operates Southwest Airlines, a domestic air carrier in terms of originating passengers boarded; AirTran Airways, operates fleet of airline services, using Boeing 717-200 aircraft and Boeing 737-700 aircraft, throughout the United States and to select international locations. Southwest Airlines was founded by Herbert D. Kelleher on March 15, 1967 and is headquartered in Dallas, TX.
Disclosure: I have no positions in any stocks mentioned, and no plans to initiate any positions within the next 72 hours. I wrote this article myself, and it expresses my own opinions. I am not receiving compensation for it. I have no business relationship with any company whose stock is mentioned in this article.