As I sat there in my friend's car, I watched in amazement at the detail and usability offered by her Garmin (NASDAQ:GRMN) GPS Nuvi Navigation system. I remember asking myself how nice it'd be to have one, and after a quick Google search, I found that the GPS system I was looking at could be had for the modest sum of $50 second-hand. Then, I reminded myself, "I love my Nexus 7, and I love Google Maps, so why do I need this?" I pondered longer, eventually ending up, as I usually do at least once or twice in a day, back at Google Finance looking up a ticker. Surely enough, my theory that the proliferation of the smartphone meant the demise of GPS had come to light, or so it would seem based on the stock price. Here is a chart of GRMN's stock price from the date of the initial iPhone release.

The graph is unsettling, though most of the precipitous decline in price has had as much to do with the global recession as it has with smartphones and chatter on the street has been of nothing but doom and gloom! Though I initially held the same opinion, first impressions, at least in this case, are not everything.
In this article I will explain to you why I think the fear in the GPS market is overstated in theory. I will then elaborate on why you should consider holding GRMN in a long-term equity portfolio.
The Numbers Just Don't Add Up
To test the theory of the ultimate demise of Garmin coinciding with the proliferation of the smartphone, I want to show you a graph depicting recent smartphone growth.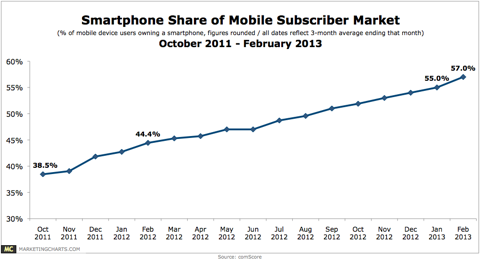 Smartphone market penetration has absolutely skyrocketed in the last 3 years, and with this we would expect to see an equal decline in earnings for GRMN, in proportion to their auto segment. However, the decline in earnings GRMN has faced in their Automotive segment, however disastrous as it may seem, has not matched up against the exponential growth in smartphone usage in the last 3 years. Why is this? If the short case is compelling, we should see that the immediate second that a consumer begins to use the data plan on their new smartphone, they essentially cease to exist as potential clients, right? Wrong, for a couple of reasons; here are several reasons why smartphones will never entirely replace GRMN's Auto GPS systems.
Easier to Use
I hate to complain about something that is already so convenient, but Garmin Nuvi systems are leaps and bounds easier to use for driving navigation than smartphones. Google Maps is extensive and accurate, but when you are driving through an unknown city and you receive a phone call from your Aunt Bessy and you accidentally miss that turn it can be very, very frustrating. If you don't have a car dash kit for your smartphone, dealing with the issue by hand makes things worse.
Affordability
It would be interesting to see the cost of consistent Google Maps use over the course of a single year in terms of data usage on a cell phone provider's billing statement. I hardly think it would approach the price of a Garmin system, but the fact that owning a Garmin system entitles one to lifetime updates for a fraction of the cost of any smartphone is a compelling enough reason to go out and buy one.
The Principle of it All
This is what matters more than anything else, in my honest opinion, much like the defense given by a prospective homebuyer who knows that he could probably spend less renting than he would owning a home, is "the principle" of it all. Working professionals enjoy their high tech toys, and dropping $100 on a navigation system that separates church and state - your phone from your navigation system - all the while entitling you to ownership over map updates for the rest of your life is a valuable thing to many people.
In any case, I think that we can attribute the less rapid - though severe - decline in earnings to the aforementioned reasons, when compared to the increase in smartphone adoption. At the end of the day, I believe that the fear is over-hyped. So how do we proceed from here as investors? Let's delve into a more financial discussion.
The Investment Case
Garmin is one of the top 5 most heavily shorted stocks on the market, and has been beaten down by a negative fundamental outlook amongst the investment community, however having previously explained why the automotive fears are overstated, the company presents itself as a currently undervalued and highly liquid cash generating investment.
The Balance Sheet
Garmin's balance sheet is superb, the company is amongst the leanest on the market today. The company's book value has grown consistently, with ~ $18/s in book, while having zero debt. In addition, the company has ~$5/s in cash and equivalents on hand. No debt means that the company is free to navigate the market without obligations and that management can make decisions with a clean mind and a clear slate.
The Income Statement
Garmin currently produces a materially significant amount of income, despite the recent downfall in the automotive department. In the most recent year, the company produced $2.77 in EPS, more than enough to cover the dividend. This number is actually up from the previous year's EPS, despite the fact that revenues declined! Garmin has made a great point of improving margins, and this speaks further to the value case.
The Dividend
Garmin currently pays a 4.84% dividend, and this number is not going down any time soon. Their payout is significantly covered by their EPS, and in the event that EPS drops further, the company has enough in cash on hand to return capital to investors as it deems necessary and prudent.
The Product Pipeline and Hope for the Future
Here is where I think things get exciting. Many people are unaware of some of the industries in which Garmin is involved. I could not write an adequate article as a long-term value investor on Garmin without pointing out the company's diversity. Garmin generates a significant amount of its cash flow not only from automotive systems, but outdoor, fitness, marine and most importantly aviation. In September of 2012, Garmin acquired Nexus Marine AB, a designer and manufacturer of sailing and yachting instrumentation, further diversifying its business segments.
I think the key to sustaining a presence in the Auto sector is to promote new products, built into the dash, through partnerships with automotive brands. Garmin has developed an amazing HUD device, offering the kind of specialized innovation that you simply don't get from a smartphone. In addition, Garmin has partnered with Mercedes Benz on future navigation systems. The management team at Garmin recognizes the need to adapt, and I think that these are very appropriate steps in the right direction.
Lastly, I think the greatest development in the future for Garmin comes in the way of aviation. Though I philosophically am opposed to many of their uses, Garmin stands to profit from the future explosion in drone development. Case in point, the company is already collaborating with Northrup (NYSE:NOC) on unmanned drone projects, and this is a sphere that is set to boom.
Closing
Hopefully, this article has provided a compelling contrarian view on one of the most heavily shorted stocks in the market today. After attempting to offer my theoretical justification for the existence of specialized car navigation providers, and my reasoning as to why the auto crisis is overstated, I attempted to bring us down to earth in regards to the financials. Garmin is backed by an exceptional balance sheet, solid earnings and high liquidity with zero debt obligations. The dividend is a solid 4+%, which I believe offers enough incentive to park cash in this company as it rides out the storm and moves on to newer, bigger and better things, like HUDs, exotic German brand partnerships, and most importantly unmanned drones and partnerships with government contractors. I would advise slow accumulation of shares via dollar-cost averaging, all the while collecting the dividend. While you're at it, there are some attractive covered call premiums out there for those interested in such a trade. Garmin is down, but it certainly isn't out yet.
Disclosure: I have no positions in any stocks mentioned, and no plans to initiate any positions within the next 72 hours. I wrote this article myself, and it expresses my own opinions. I am not receiving compensation for it (other than from Seeking Alpha). I have no business relationship with any company whose stock is mentioned in this article.