Editor's Note: This article covers a micro-cap stock. Please be aware of the risks associated with these stocks.
Over the last few days I've spent significant time studying the mechanics of Axion Power International's (OTC:AXPW) recent financing transaction in an effort to determine whether the behavior of the investors who bought convertible debt in that offering might be predictable. I probably should have done the analysis a couple of months ago but I was as disgusted with the offering as everyone else and decided the wisest course would be to sit back and watch events unfold.
This week, Axion's business and its recent financing were the subject of two high profile articles by my friend and colleague Tom Konrad. Tom's first article, "Axion Power's Potential For Explosive Growth," was published on the Forbes.com website on July 23rd and his second article, "Axion Power, Is There A Light At The End Of The Pipe?," was published on July 25th.
In both articles Tom was bullish about Axion's technology and business prospects, but bearish about the risks to existing stockholders arising from the recent financing transaction which is technically classified as a "private investment in public equity" or PIPE.
While Tom and most Axion stockholders worry that the PIPE investors have an incentive to drive the stock price to absurdly low levels, I think the deal structure gave investors an incentive to depress the price through the end of July and then let the price seek its own natural level.
The placement agent for Axion's PIPE transaction was Maxim Group LLC, a well-regarded New York brokerage house that's very active in the PIPE market. The documents are tight, complex, internally consistent and very well written. Unfortunately, the contract details bury the business deal in reams of deathless prose.
Since every analysis of contract terms involves assumptions I'll state mine:
First, I don't believe the PIPE investors follow a buy and hold strategy. Instead I believe they want to receive a block of shares every month and promptly sell those shares at a profit. If the PIPE investors were shopping for groceries, they wouldn't buy green bananas.
Second, I don't believe a 15% conversion price discount from volume weighted moving averages is a big enough return to satisfy the typical PIPE investor. While PIPE investors are obsessive about insuring a return of capital, their ultimate goal is market-beating returns on capital.
A cursory review of the PIPE documents shows that the notes Axion issued in the PIPE are payable in nine monthly installments of $1 million, plus interest, and convertible into common stock at an initial conversion price of $0.264 per share. So in a perfect world Axion would issue roughly 3,788,000 shares per month to satisfy its repayment obligations.
As you drill down into the documents, however, you discover that the conversion price will be adjusted for market conditions and the effective conversion price on every installment date will be the lowest of:
The initial conversion price of $0.264;
85% of the average trading price on the day before the installment date; and
85% of the average daily trading price for the 20 lowest trading days in the 40-trading day period before the installment date.
These alternative market linked conversion prices are the terms that give rise to the frequently misunderstood "death spiral" that all investors dread. In effect, if the stabilized trading price of Axion's stock is less than $0.3105, then the number of shares required to pay an installment will increase to ensure that the PIPE investors get both a return of capital and a return on capital.
In a falling market like the one Axion has been in since the day the PIPE was announced, the variable conversion price terms can have a self-perpetuating negative impact on the stock price because the number of shares needed to pay an installment increases as the price declines and forcing a larger number of shares into the market exacerbates the supply and demand imbalance and drives the price down even further. If you add a little aggressive selling behavior to the mix the dynamic can get very ugly very quickly.
In my view the most intriguing aspect of Axion's PIPE is not obvious to most stockholders and many analysts. While the contract terms call for an Initial Installment on July 8th followed by eight Monthly Installments on September 1st through April 1st, they also require a pre-payment 20 trading days before every installment due with a true-up on the installment date. In effect, the bulk of the stock issuable in connection with an installment must be delivered to the investors a month before the installment date.
In an effort to model the impact of the pre-payment and the true-up for the July installment, I've used the numerical average of the high, low and close prices for Axion's stock during the relevant 40-day look back periods. Based on those numbers I believe Axion issued roughly 4.77 million prepayment shares on June 7th and an additional 2.90 million true-up shares on July 8th for a combined total of 7.67 million shares; a number that does not compare favorably to the 3.79 million shares that would have been issued in a perfect world.
If you want to know why Axion's stock price tumbled from $0.26 the day before the PIPE was announced to $0.16 by the end of June, there's your answer.
If we consider Axion's recent price history from the perspective of the PIPE investors, the first installment was a modestly profitable trade. They received 4.77 million prepayment shares on June 7th and sold them over the next 20 days. The average trading price during that period was $0.183, so if the investors only managed to meet the averages, they recovered roughly $873,000 before the installment date and received additional shares with a market value of roughly $465,000 on the installment date, for a combined total value of $1.34 million on a $1 million installment. If they can duplicate that trick every month for the next year, the PIPE investors stand to make about 30% to 40% on their money, which would be great for an individual investor but middling to poor for a professional fund manager who needs to cover losses on unsuccessful investments with gains on successful ones.
As near as I can tell, the real game flows from the interaction of the 20-day prepayment and the 40-day look back period for calculating the conversion price. To keep the analysis simple, I'll change the facts slightly and assume that the first installment was due on July 1st, subsequent installments are due beginning September 1st and each month has 20 trading days. Based on those simplified assumptions, the following table shows the various dates that the PIPE investors are entitled to additional shares of stock and the relative magnitude of the required share issuance on each payment date.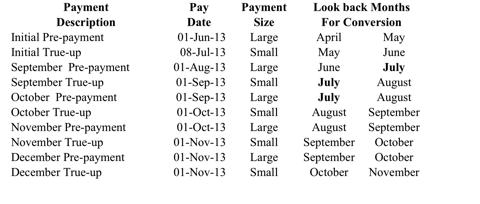 If you study the table for a minute you'll notice that starting in July each trading month impacts two large stock issuances and one small one. While everybody knows that fund managers would never alter their trading behavior to maximize their profitability, it's clear to me that a dreadful stock price performance in the month of July could be very beneficial to the PIPE investors if they planned to sell less aggressively in the future.
Axion's monthly average trading price was roughly $0.257 in April and May, $0.204 in June and $0.157 in July. While the price dropped like a rock during June, it's been pretty stable since it hit the $0.16 level in late June. If the price holds in the $0.16 range, I'd expect Axion to issue about 15.2 million shares over the next 35 days including:
7.6 million shares for the September pre-payment;
A small number of shares for the September true-up; and
7.6 million shares for the October pre-payment;
It's a thoroughly depressing number for those of us who hoped Axion would be able to get by with issuing half that number of shares.
If the PIPE investors are content with making 20% to 30% on their money they can continue pressuring the market, which would result in further price erosion. If they want to earn market crushing returns, however, all they have to do is throttle back on the selling and let the price seek its natural level.
At $0.16 a share the 15.2 million shares the PIPE investors will get over the next month or so have a value of $2.43 million. If they ease up just a little and the price rebounds to $.20, those same shares will have a value of $3.04 million. If the price rebounds to its April-May average of $0.257, those same shares will have a value of $3.9 million. Last time I checked a 100% return was better than a 20% return.
Through the end of 2009 Axion was a sleepy little R&D company and its stock, like high-end real estate, traded by appointment. Over the last three and a half years Axion has had the price chart from hell as average trading volume ramped from 30,000 to 400,000 shares; the average price fell from $1.15 in the first quarter of 2010 to $.24 in the second quarter of 2013 and the average market capitalization fell from $100 million in the first quarter of 2010 to a pro-forma level of about $30 million after giving effect to the PIPE conversions.
The following graph plots Axion's 10-day volume weighted moving average stock price against its 50-day moving average volume from January 1, 2010.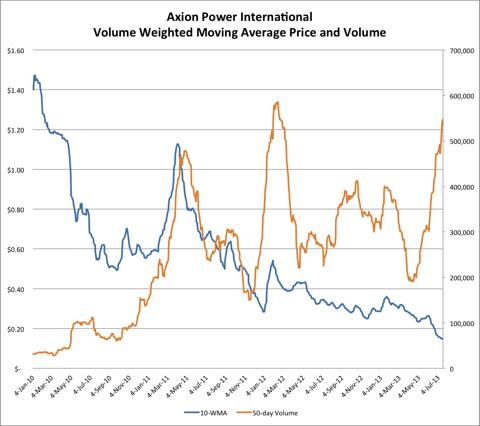 If that price graph is the only information you consider, Axion looks like a seriously troubled company. If you dig into the SEC filings, press releases and other publicly available information a strikingly different picture emerges because while the stock price and market cap were falling the business fundamentals were improving by leaps and bounds. The big events since January 2010 include but are not limited to:
In June 2010 Axion announced that its PbC battery had been selected for an electric locomotive development program with Norfolk Southern (NYSE:NSC). While a development partnership with a first tier transportation company would be enough to send most micro-caps soaring, the news barely registered on Axion's price chart.
In September 2010 BMW took the podium with Axion at the European Lead Battery Conference for a joint presentation where BMW publicly embraced the PbC technology before Axion was able to deliver a commercial PbC product. The message to the global battery industry was "this is the kind of performance we need for our new generation of vehicles." Once again, news of a development relationship with a first tier automaker barely registered on the price chart.
In March of 2011, Axion announced it had entered into a toll-manufacturing agreement with a leading battery manufacturer that was going to buy batteries made by Axion and re-brand them for sale under the buyer's label. While the expected revenue of $3.5 to $8 million a year isn't huge, it was a modest start that boosted the price for a couple weeks before the decline resumed.
In Axion's 2010 year-end conference call, investors were told that a major US automaker had joined Axion as a partner in a DOE grant application. While the hoped for grant wasn't awarded, a curious stockholder filed an FOIA request for the application and we learned that Axion's domestic OEM partner was General Motors (NYSE:GM). Even that news didn't register on the price chart.
In the fall of 2011, Axion announced that its PowerCube had been tied into the PJM grid as the first behind the meter battery based frequency regulation resource in the country. Once again, news of a revolutionary advance in the state of grid-connected energy storage systems didn't register.
On February 1, 2012, Axion announced that it had completed a $9.4 million direct public offering that was priced at $.35, a discount from the January 30th closing price of $.62 but a significant premium from the December 2011 low of $.27. The market's response was a sharp price decline.
In Axion's 2012 conference call investors were told the toll-manufacturing contract that generated $6.4 million of revenue in 2011 was extended for another year.
In April 2012, Axion announced that the laboratory phase of its development project with Norfolk Southern had been successfully completed; NS had ordered $475,000 of batteries for a prototype switching locomotive and NS planned to order another million dollars of batteries for a prototype long-haul locomotive.
In its Q2-12 conference call Axion said that it had successfully completed a three-year testing program with BMW and was looking forward to fleet testing within six months. It also said that accelerated testing with a "Top 5" automaker from Asia was proceeding rapidly. The only two automakers that fit the description are Hyundai and Toyota.
In March 2013 Axion announced the commissioning of an automated process for the production of the carbon sheeting that's the heart and soul of its PbC technology. My back of the napkin calculations indicate that this one advance stripped about 80% of the labor content out of the PbC and will likely result in a price reduction in the $100 range.
In its Q1-13 Form 10-Q and conference call Axion disclosed that BMW had completed its testing program and was introducing Axion to several of its traditional battery suppliers in an effort to solve a sole source supply chain problem that would preclude the use of the PbC in BMW's main product lines.
In June of this year, Axion announced that it received an initial order for $200,000 of PbC batteries from my new client ePower Engine Systems which has built and tested a true series hybrid electric drive for Class 8b long-haul heavy trucks that delivers fuel economy of 7 to 8 mpg in the most common 55,000 to 65,000 pound vehicle weight classes and even higher economy with lighter loads.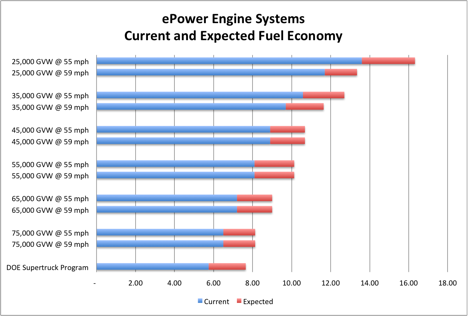 For three and a half years Axion has been a "broken stock" that suffered from a disastrous supply and demand imbalance. Its current market cap of $33 million is a 5% discount to the $35 million market cap it carried in the spring of 2009 when it had no product, no revenue and no visible industry relationships.
While the stock has been a dog in terms of market performance, Axion's business relationships and the PbC technology have developed at an extraordinary pace. I've been a securities lawyer for over 30 years and I've spent my entire career advising companies on corporate finance and business development matters. That means I write the deathless prose and dire warnings investors read in offering documents and SEC reports.
I've never seen a micro-cap that could speak publicly about advanced business relationships with several giants in their respective industries.
Since a big chunk of my personal fortune is tied up in Axion, I'm pretty obsessive about tracking the available information on who's been selling and who's been buying. The good news is that most of the pre-2013 stockholders who wanted to sell have already done so. The better news is the lion's share of the buying has come from retail investors who've followed my blog and invested with a three to five-year time horizon. If the PIPE investors lighten up on their heavy-handed selling because they want to earn 100% on their money instead of 20% to 30%, I expect to see a reversal in Axion's "broken stock" syndrome by mid-August.
Over the years I've studied a couple of spectacular trend reversals with other clients that had modest supply and demand imbalances. My first rodeo was with WRT Energy in the early '90s and the second was with Boots & Coots International Well Control in the late '90s.
In his two recent articles Tom Konrad suggested that Axion's stock price would probably hit bottom in November or December. If I'm right about the most profitable scenario for the PIPE investors, we're in the bottom of the trough today. Over the next few months I expect to learn whether my experience with relatively small supply and demand imbalances translates to huge imbalances.
Additional Disclosure: Author is a former director of Axion Power International and owns a substantial long position in its common stock. He has recently accepted an engagement to serve as legal counsel for ePower Engine Systems in connection with certain business planning and corporate finance activities.
Disclosure: I am long OTC:AXPW. I wrote this article myself, and it expresses my own opinions. I am not receiving compensation for it (other than from Seeking Alpha). I have no business relationship with any company whose stock is mentioned in this article.