By Jeff Pietsch
After a rough start to the week on Asian market weakness, U.S. equities shook off declines for another heady week of gains, with the S&P 500 (NYSEARCA:SPY) ending higher by another +2.2% for fresh 2009 highs. The largest gainer for the week was Mid-Cap Value stocks (PWP +3.3%), while Agricultural Commodities suffered a mild decline (DBA -1.6%).
(Click Image to Enlarge/ Glossary)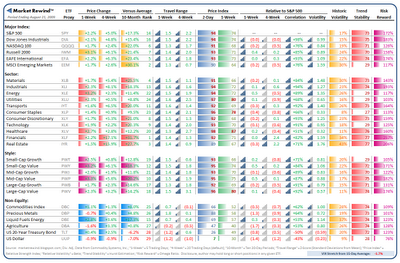 Week Thirty-Five of 2009 features a very busy economic and reporting calendars, including Second Quarter Preliminary GDP readings on Thursday, as follows:

Short-term oscillators are again headed into over-bought status virtually across the board after Friday's breakout -- but of course that has not mattered in months and it looks like Goldman Sachs' SPX 1,050 target will be in the cards soon enough. Nevertheless, I suspect that if those same oscillators run too much farther, it may tempt some brief profit taking. Enjoy your weekend!