Nationstar Mortgage Holdings (NYSE:NSM) is a ''high touch'' mortgage servicer and one of the largest non-bank residential loan servicers in the U.S with a pro forma servicing portfolio of around $435 billion. It offers mortgage servicing, origination and real estate services to financial institutions and customers. The company services more than 645,000 residential loans providing administrative functions. It offers the services on loans held by banks, government organizations, private investment funds and other owners of mortgage loans and securities. It generates revenue based primarily on the unpaid principal amount or unpaid principal balance, or UPB, of loans serviced.
In March 2012, Nationstar offered an IPO, where it managed to sell 16.6 million shares at $14 each raising around $233 million, though the target was $17 - $19 per share. Despite the company reporting a 45% year-over-year increase in revenue to $378 million in 2011, the stock opened at $14 per share. Maybe investors were not so confident about the future growth prospect of the company. However, this stock provided more than 120% returns during last year (March - December) and ended at $30.98 as on Dec. 31, 2012. Strong growth in servicing and origination volumes were the major drivers for Nationstar to provide such exceptional returns.

Source: Housingwire.com
In 2013, it has provided more than 39% of returns to its shareholders. Increased profitability initiatives that resulted in a rise in profit margins for the servicing segment backed these returns. Maintaining high level of margins in the origination segment was one more reason for the company to provide excellent returns. As discussed, Nationstar's impressive performance in the past one and half years motivates me to analyze the company further will it continue with the same returns in future? Let's find out what opportunities are available to the company that will ensure revenue growth.
Company making acquisitions to broaden portfolio
Last month, Nationstar closed the acquisition deal on Greenlight Financial, a direct-to-consumer mortgage originator. Through this acquisition, Nationstar will broaden the channels of distribution, which will boost its recapture and Home Affordable Refinance Program, or HARP, capacity. Greenlight uses TV, radio and other media outlets to promote its fast and convenient loan origination model, which will support Nationstar to promote its loan origination platform. Greenlight primarily originated in California, but should be opening to a national customer base as it currently has license to operate in 40 states, using a centralized platform. This acquisition makes sense for Nationstar because it provides a lower cost source. Greenlight's cost to originate mortgages is in the 1.50% - 2% range, compared to 2% - 3% for Nationstar's other channels. This will allow Greenlight to generate $8 billion of revenue annually and $0.70 accretive to annual EPS.
In February, Nationstar acquired Equifax Settlement Services, or ESS, a provider of insurance and settlement services. It serves some of the largest financial institutions and blue chip companies in the U.S. It rebranded the ESS platform as Solutionstar Settlement Services. Solutionstar contributed $33 million in the first quarter of 2013 and is planning to expand the Real Estate Owned, or REO, management business significantly because it expects property sale opportunities to rise with the closing of the Bank of America PLS servicing acquisition. Solutionstar completed over 2,300 REO dispositions in the first quarter of 2013. Solutionstar recently launched the Homesearch.com website, an online portal for homebuyers, sellers and investors, where they can conveniently complete sales transactions. Nationstar has set a target for $200 million in revenue in 2013 for Solutionstar with 15% of revenues coming from third party customers. Moreover, the management aims to expand Solutionstar's reach so that eventually only one-fourth of revenues are driven by Nationstar and three-fourths by third party activities.
Going forward, investors are expecting that Nationstar will probably spin-off Solutionstar replicating the spin-off of Altisource Portfolio Solutions (ASPS) by its fierce competitor Ocwen Financial (OCN). The stock price for Altisource has moved up by a massive 500% since Ocwen spun it off in August 2009.
I think there are three primary drivers that will support Solutionstar to perform as Altisource did for Ocwen:
1. Obtaining the majority of Nationstar's service related fees currently paid to third parties will bring in additional revenue.
2. Capitalizing on the opportunity to capture third party business will result in a rise in the customer base.
3. Nationstar will observe smoothness in operations by expansion of process solutions including back office services and loss recovery from Equifax.
Mortgage service rights will bring additional revenue
In January, Nationstar bought residential mortgage servicing rights, or MSR, worth $215 billion from Bank of America (BAC), which also included $97 billion in agency Unpaid Principal Balance, or UPB, closed in the first quarter of 2013. In addition, Nationstar closed on $43 billion in private label securitization, or PLS, UPB in July, and the remaining will be closed throughout third quarter of 2013. More than 47% of the Bank of America servicing portfolio consists of UPB that includes loans by Fannie Mae (OTCQB:FNMA), Freddie Mac (OTCQB:FMCC) and Ginnie Mae. The remaining 53% of the servicing portfolio includes loans in PLS. This acquisition will allow Nationstar to add more than 1.3 million customers to the current customer base of 1.2 million. The purchase price for these mortgage servicing rights, or MSRs, from Bank of America is around $1.3 billion. Let's find out how this will affect Nationstar's servicing fee revenue.
Expected revenue from servicing fee in 2013
| | | | |
| --- | --- | --- | --- |
| $ in millions | 2011 | 2012 | 2013E |
| Total UPB | 106,586 | 207,800 | 444,800 |
| Average UPB | NA | 153,193 | 326,300 |
| Service fee charged on average UPB (% Rounded off) | NA | 0.29 | 0.29 |
| Total revenue from servicing fee | NA | 456 | 946 |
Note: Nationstar closed another $22 billion in servicing UPB from Taylor Bean separately in April this year, which I have added in the estimating figures for 2013.
In the above table, I have calculated the expected minimum servicing fee from total UPB the company will close and has closed this year. Nationstar will have approximately $444,800 million of total UPB, as it will close $215,000 million of UPB from Bank of America and $22,000 million from Taylor Bean, in addition to the $207,800 million UPB it closed in 2012.
The previous year's service fee average was 0.29%. I have assumed that it will continue with the same in 2013. It calculates revenue from service based on average UPB, which will be $326,300 million this year. This gives us to the total revenue from servicing fee of $946 million, which is an incredible 107% year-over-year increase.
Strong product pipeline
Bulk servicing sales will continue this year and next year as large financial institutions, including Bank of America, continue to reduce non-core assets to focus on serving and cross selling to their most profitable customers. Moreover, capital constraints from Basel III regulations which stress the strengthening of a bank's capital requirements by increasing bank liquidity and decreasing non-core assets. This should further force financial institutions to offer servicing in bulk over the next three years. With more than $465 billion of UPB sold over the past two years, the industry is estimating an offering of around $600 billion of UPB this year and a sale of $1 trillion in the next three years.
I believe Nationstar has an excellent opportunity to gain from the estimated rise in UPB sales. The company currently services $425 billion in UPB, with a pipeline of roughly $300 billion for this year and an aim of being a $500 billion servicer by 2014. It is currently focusing on the recent Bank of America $215 billion UPB acquisition discussed above, but it expects deals over the next year to be smaller in nature and are likely to be in the range of $10 - $20 billion.
Additionally, Nationstar will prioritize organic growth in flow servicing, which will be in the range of $25 - $50 billion annually. I assume that the company will continue to maintain the high revenue level even in the absence of bulk servicing. I base my assumption on the decreased delinquency for UPB, which was 13.8% in the first quarter of 2013, down from 15.3% in the fourth quarter of 2012. This decrease signifies Nationstar's continued focus on improving portfolio performance, which will lower servicing costs and reduce the effect of reduction in bulk servicing.
Conclusion
The company has provided EPS guidance for this year in the range of $4.05 - $4.75 and a range of $6.45 - $7.50 for next year, which was $2.40 last year. I believe that Nationstar will be able to achieve almost double the EPS guidance because it has an array of opportunities lined up throughout this year and next year. The Greenlight and Equifax acquisitions put the company in a better position to generate revenue and provide maximum returns to shareholders. I expect that it will match up to the performance of Altisource due to Nationstar's added advantage from the acquisitions. The MSR acquisition from Bank of America has obviously opened the gates to success for Nationstar, as it will observe a huge jump in the earnings from closing the remaining UPB. All these activities resulted in creating a very strong product pipeline that will allow the company book profits in these two years.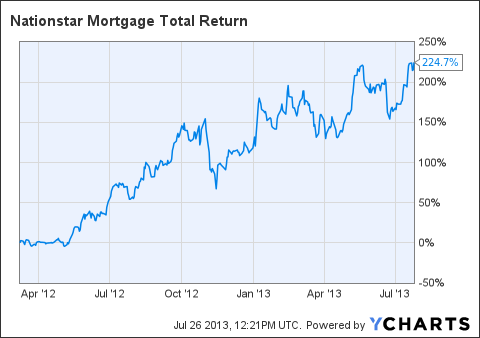 NSM Total Return Price data by YCharts
Moving on to the stock price performance, all the above stated factors will bring an upside momentum to the stock price throughout 2014. Moreover, the company will announce its second quarter results on August 6, 2013, after which the stock price should observe a further upside. As discussed earlier, the exceptional performance of this stock in the past allows me to conclude that the company's current activities will propel the stock price in the upcoming time.
Therefore, I recommend a buy on this stock.
Disclosure: I have no positions in any stocks mentioned, and no plans to initiate any positions within the next 72 hours. I wrote this article myself, and it expresses my own opinions. I am not receiving compensation for it (other than from Seeking Alpha). I have no business relationship with any company whose stock is mentioned in this article.