By Jason Napodano, CFA
On Thursday, July 25, Neurocrine Biosciences (NASDAQ:NBIX) announced that top-line data from the Phase IIb Kinect-1 study of the VMAT-2 inhibitor NBI-98854, for the treatment of tardive dyskinesia (TD), will be released in early September, 2013. Top-line data from a related study, Kinect-2, will be released in the fourth quarter of 2013. The Kinect-1 study is examining the safety and efficacy of NBI-98854 in 120 patients with schizophrenic or schizoaffective disorder with neuroleptic-induced tardive dyskinesia. The Kinect-2 study is being conducted in a broader population, including those with schizophrenia, schizoaffective disorder, mood disorders, and gastrointestinal disorders.
As outlined in greater detail below, we expect positive results from both of these trials based on the previously reported Phase IIa results and the prior demonstration of activity in TD for tetrabenazine. Tetrabenzine is a mixture of isomers that is believed to exert an anti-TD effect through inhibition of the VMAT-2 transporter. NBI-98854 was designed as a prodrug of the tetrabenazine component having maximal VMAT-2 inhibitory activity and minimal dopamine blocking activity. Its slow metabolism to this single isomer is expected to provide similar or greater efficacy with an improved side effect profile.
Tardive Dyskinesia
Tardive dyskinesia is among the most severe side effects caused by dopamine blockers (neuroleptics), which are widely used in the treatment of schizophrenia, bipolar disorder, treatment-resistant depression, and as anti-emetics. Symptoms include involuntary and abnormal movements of the jaw, lips, and tongue, including grimacing, sticking out the tongue, and sucking or fish-like movements of the mouth. In some cases, other parts of the body may be affected by rapid jerking motions (chorea) or slow writhing movements (athetosis). The social stigma associated with these symptoms is exacerbated by the fact that laypersons frequently mistake them for voluntary movements that are related to the patient's psychiatric disorder. The prevalence is estimated to be approximately 500,000 persons in the U.S.
Tetrabenazine as the Prototype for NBI-98854
Tetrabenazine is among the most well-studied treatments for patients with TD who fail conservative treatments such as reducing neuroleptic dose. Tetrabenazine is believed to exert a therapeutic effect in tardive dyskinesia by inhibiting the activity of VMAT-2, a transporter that serves to package dopamine into vesicles for release into the synapse. This reduces synaptic dopamine levels, thus relieving overstimulation of hypersensitive dopamine receptors.
Evidence supporting the utility of tetrabenazine in this indication comes mainly from 11 relatively small clinical trials and case studies, of which 9 found evidence for efficacy. A similar level of evidence supports the utility of tetrabenazine for the treatment of Tourette's syndrome. However, the use of tetrabenazine for the treatment of TD is limited by the drugs unattractive adverse event (AE) profile, which includes suicidal ideation, sedation, and depressed mood. Furthermore, in the U.S. it is available only as a proprietary drug for the treatment of Huntington's disease and features orphan drug pricing of $50K per year.
Tetrabenazine is an older drug that has been used for many years outside the U.S.; however, it was never developed according to current pharmaceutical industry standards. It is sold as a complex mixture of four closely related compounds (isomers) and is metabolized in the liver to produce a related set of four isomers. One of these (Active Metabolite A) is a more potent VMAT-2 inhibitor than the others and lacks activity at dopamine receptors. The other three are less potent VMAT-2 inhibitors, two of which exhibit potent affinity for dopamine receptors.
Neurocrine's Approach
NBI-98854 is a novel compound identified by Neurocrine Bioscience that is slowly and completely converted into Metabolite A upon oral administration. By developing a compound that is converted to the known active metabolite of tetrabenazine, Neurocrine is able to take advantage of the extensive known pharmacology and clinical properties of tetrabenazine itself, while avoiding side effects caused by the dopamine activity of the unwanted isomers as well as those caused by the "burst" of drug release resulting from oral administration of a highly active CNS drug. The company believes that these differentiating factors will allow NBI-98854 to provide the demonstrated efficacy of tetrabenazine with far fewer side effects.
Phase IIa Studies of NBI-98854 in TD
This first Phase IIa study (the "Canadian Study") of NBI-9854 in TD patients was designed to assess efficacy, safety and tolerability of NBI-98854 in schizophrenia patients who have moderate to severe Tardive Dyskinesia over a twelve-day period. The impact on the dyskinesia was assessed utilizing the Abnormal Involuntary Movement Scale (AIMS). The AIMS battery is a clinician-rated scale to assess the severity of dyskinesia, described below.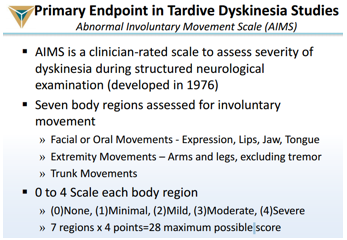 The dosing regimen consisted of three, four-day periods of NBI-98854 at increasing doses of 12.5mg, 25mg and 50mg administered once daily. After discontinuation of NBI-98854, a seven-day washout period was followed by a final assessment. The study inclusion criteria included a baseline total score of at least nine on the first seven components of the AIMS, with at least two body regions receiving scores of moderate (3) or severe (4). For this cohort of six subjects, the mean baseline score was 14.3 (AIMS total items 1-7, possible total score of 28).
After 12 days treatment, the mean AIMS subset score decreased from 14.3 to 8.4. After the seven-day washout period, most patients' AIMS scores returned to their baseline levels. Adverse events included one subject with dizziness and one with restlessness. The adverse events reported during administration of study drug were transient and mild or moderate including one subject with dizziness and one with restlessness. One subject became anxious and agitated seven days after stopping the study medication due to return of baseline-intensity dyskinesia.
Based on these preliminary results, Neurocrine undertook a randomized, placebo controlled, multicenter Phase IIa trial in 37 TD patients (The "1101 Trial"). As shown in the Figure below patients were randomized to one of four treatment sequences in a two-period crossover design.
2 weeks treatment with NBI-98854 50 mg QD followed by 2 weeks treatment with placebo
2 weeks treatment with NBI-98854 12.5 mg QD followed by 2 weeks treatment with placebo
2 weeks treatment with placebo followed by 2 weeks treatment with NBI-98854 50 mg QD
2 weeks treatment with placebo followed by 2 weeks treatment with NBI-98854 12.5 mg QD
The 12.5 mg dose was chosen as the lowest dose likely to demonstrate efficacy based on results from the prior Phase IIa study as well as based on preclinical data.
The pre-specified analysis of all data from the study failed to demonstrate a significant difference in the primary endpoint. Analysis of the data on a site by site basis revealed outlying scores for the 50 mg dose group at a single site. The Table below compares the results from a) the overall evaluable patient population, b) the patients from the problematic site, and c) the overall patient population excluding the problematic site. The data for the 50 mg group excluding those from the problematic site are quite similar to those obtained in the previous open label 6 patient Phase IIa study. The 50 mg dosing group data from the excluded site appears to show no effect of treatment, which given the 4-5 point AIMS score reduction seen in the placebo periods would imply that the effect of the drug was to worsen overall symptoms of TD at this particular site.
*Calculated by the author from data provided in the press release
This sort of post-hoc analysis and data exclusion is naturally a cause for concern. In this case, however, we believe that the overall picture is a favorable one. The data from the outlier site is genuinely outlying, with treatment effects for the 50 mg arm that are substantial and in the opposite direction from those seen in both the placebo periods and in the 12.5 mg treatment data. A favorable treatment effect of the same direction and magnitude of that seen in the post hoc analysis was observed in the Canadian Study, and has been observed previously in multiple clinical trials of tetrabenazine. Lastly we note that the scoring sessions at each site for this trial were videotaped, and the exclusion of data from the problematic site were based not only on their outlier status, but based on the observation of specific irregularities in the scoring procedure for the 50 mg treatment group while on active drug.
Among 37 patients randomized in this trial, 31 (84%) completed both phases of the study. There were no treatment-related serious adverse events (SAE). One patient discontinued due to an adverse event of akathisia, one was terminated for protocol violations (drug-seeking behavior), and three withdrew consent for unspecified reasons. There were no treatment-related SAEs, and no sign of typical tetrabenazine AEs such as depression, suicidal ideation, or parkinsonism, which may reflect the more selective VMAT-2 inhibition obtained by eliminating the isomeric agents present in tetrabenazine. Patient scores on the Brief Psychiatric Rating Scale (BPRS), a broad measure of psychiatric symptoms including anxiety, depression, and psychosis, decreased from 32 at baseline to 28 at the end of study. The most common AE was mild headache.
Details of the Ongoing Phase IIb Trials
Kinect-1 has completed enrollment of 120 patients on a stable dose of antipsychotic medication who have been diagnosed with tardive dyskinesia for at least 3 months. The trial employs a three arm parallel design to compare the safety and efficacy of 12 weeks (6 weeks double blind followed by 6 weeks open label) treatment with either of two NBI-98854 dosing regimens with placebo. One of the two active treatment arms is examining a flat dose of 50 mg QD, and the second is examining the effect of two weeks treatment with 100 mg QD followed by dose reduction to 50 mg QD. The primary endpoint is abnormal involuntary movement as measured by the AIMS scale at Week 6.
On the earnings call of July 25th, management noted that discontinuations had been relatively low, at 15% across treatment arms. Discontinuations have been mainly due to protocol violations (illicit drug use), and other non-AE related factors. While the study remains blinded, there do not seem to be any toxicity flags that are associated with those discontinuing their participation in the trial.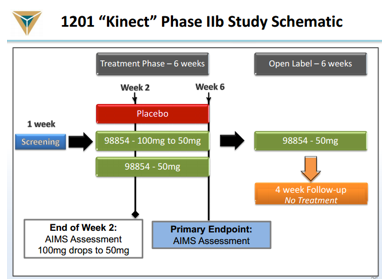 The Kinect-2 trial is a 2 arm, double blind, randomized parallel assignment trial comparing the safety and efficacy of 6 weeks treatment with up to 75 mg QD NBI-98854 to placebo. Patients in the active treatment arm will receive NBI-98854 25 mg QD for the first 2 weeks of the trial, followed by AIMS assessment. Part of this group will continue at 25 mg QD dose, and others will cross over to a 50 mg dose. Following reassessment with the AIMS instrument at Week 4, some of the 50 mg dosing group will cross over to a 75 mg dose. The primary endpoint for the study is AIMS assessment at Week 6. This study will provide information regarding the tolerability of NBI-98854 using a ramped dosing procedure of the type that has proven useful in minimizing side effects of other psychotropic drugs.
On the July 25th earnings call, management noted that approximately half the planned enrollment for this trial had been completed, and that enrollment was expected to accelerate as sites previously involved in the Kinect-1 trial were transferred over to Kinect-2.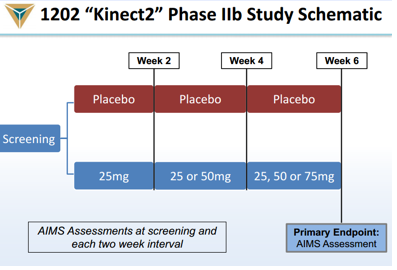 Summary
Based on management guidance, we expect top-line results from the Kinect-1 and Kinect-2 trials in early September and in the fourth quarter of 2013, respectively. We expect a positive outcome for each of these trials based on the Phase IIa data and based on NBI-98854's close relationship with the proven tardive dyskinesia drug, tetrabenazine. IND-enabling studies are currently underway for NBI-98854 in the treatment of Tourette's syndrome, potentially opening another large and lucrative market. Together with Neurocrine's endometriosis drug Elagolix, we expect it to drive the top-line of the company's future revenue growth. This makes Neurocrine an attractive biotech investment. We maintain our 'Buy' rating on the stock and believe positive Kinect-1 data in early September 2013 represents another leg-up for the shares.
Disclosure: I have no positions in any stocks mentioned, and no plans to initiate any positions within the next 72 hours. I wrote this article myself, and it expresses my own opinions. I am not receiving compensation for it. I have no business relationship with any company whose stock is mentioned in this article. PropThink is a team of editors, analysts, and writers. This article was written by Jason Napodano, CFA. We did not receive compensation for this article, and we have no business relationship with any company whose stock is mentioned in this article. Use of PropThink's research is at your own risk. You should do your own research and due diligence before making any investment decision with respect to securities covered herein. You should assume that as of the publication date of any report or letter, PropThink, LLC and persons or entities with whom it has relationships (collectively referred to as "PropThink") has a position in all stocks (and/or options of the stock) covered herein that is consistent with the position set forth in our research report. Following publication of any report or letter, PropThink intends to continue transacting in the securities covered herein, and we may be long, short, or neutral at any time hereafter regardless of our initial recommendation. To the best of our knowledge and belief, all information contained herein is accurate and reliable, and has been obtained from public sources we believe to be accurate and reliable, and not from company insiders or persons who have a relationship with company insiders. Our full disclaimer is available at www.propthink.com/disclaimer.