It was a wild week that began with panic selling and ended with panic buying.
On the Point and Figure Charts, the Dow Jones went from a "sell" on Monday to a "buy" on Friday and all the major indexes have returned to a much overbought state as of close on Friday.
The overall markets still seem very much "ahead of themselves," as demonstrated in the chart below.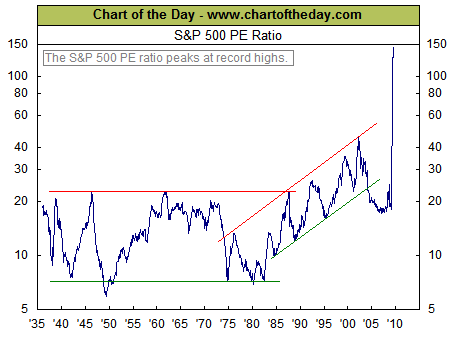 Source: ChartoftheDay.com
The P/E ratios tend to peak around 20 and trough at about 7-8 and today's are at a record high. You can see here how earnings don't support current valuations, however, the old saw remains true, "the markets can remain irrational longer than you can stay solvent."
Also, well known economist Dave Rosenberg reports that the S&P 500 has +4.0% real GDP growth priced in compared to -2.5% at the March bottom. His view is that we'll end the year with -2.5% real GDP and that we haven't seen a year of +4% growth since 2000 which supports the "overbought" conclusion.
All bubbles come to an end, and this one will, too, the only question being when. Our task will be to try to profit from both the up and downside of these continuing violent moves.
The View from 35,000 Feet
On Friday, the yearly count of bank failures came to 81, including a Top 12 on the all time list with Guaranty Bank of Austin with $13 billion in assets going under. Oddly, this one was sold to an outfit in Spain; this is the first time that has happened and can only make one wonder if no U.S. banks had the economic strength to pick up these assets.
And many analysts forecast that up to 1,000 banks could fail over the next 3-5 years as the problems with commercial real estate continue to develop.
But for this week the news was all good as Chairman Bernanke went to Jackson Hole and said, "prospects for a return to growth in the near term appear good," but he added a qualifier that "difficult challenges still lie ahead."
Consumer prices declined roughly -2% year over year, the largest drop since 1950, and existing homes sales rose an unexpected +7% to log four straight monthly gains and the highest level of activity since August, 2007, which you may remember was the beginning of our long slide down.
However prices are down over -15% year over year and distressed property made up roughly 1/3 of the sales activity in July. Also, 13% of U.S. mortgages are either in foreclosure or a month behind on their payments which would cast a shadow on this week's positive numbers.
And the labor market remains bleak with 15 states recording double digit employment levels.
The Week Ahead
Tuesday: June Case/Shiller Home Price Index, August Consumer Confidence
Wednesday: July Durable Goods, July New Home Sales
Thursday: Initial Jobless Claims, Q2 Preliminary GDP
Friday: July Personal Spending, August University of Michigan Consumer Sentiment Revision
Sector Spotlight
Leaders: Oil, Home Builders, Russell 2000
Laggards: Silver, Taiwan, Agriculture
Disclosure: No positions