Pinnacle Financial Partners (NASDAQ:PNFP) is a $1 billion bank holding company that has 29 offices throughout Tennessee. Even though the company is relatively young - founded in 2000 - the bank has made up a lot of time and last reported an asset balance of $5.3 billion, deposits of $4.09 billion and a tangible book value of $12.78 per common share.
I have reviewed quite a few regional banks and I have to say that this one stands out for all of the right reasons. Fast growth coupled with very lean operations has helped management meet their high expectations, which has earned the bank a fair but very full valuation - comparatively. Even so, the bank is set to outperform as its assets continue to turn in higher returns virtually insuring investors a long-term, double digit RoTCEs.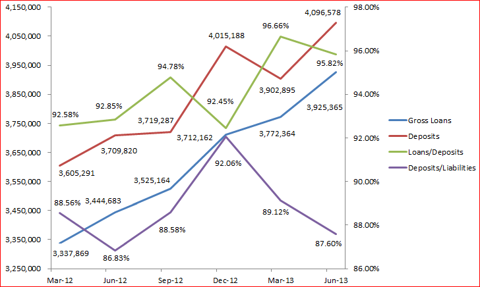 As you see from above, loan growth is up 14% YOY and management is not looking to slow down as it targets a CAGR of 11.5% by the end of 2014. That's 2014 not 2013 and were talking organic growth. Commercial loans are up 17%, residential is flat, and consumer loans have close to doubled (to $116 million on Jun-13).
Deposits have also grown, albeit at a slightly slower pace, but more importantly non-interest bearing deposits are up 34% YOY to just over $1 billion. This is a great stat to look for because in addition to providing the bank with free money (good for margins) it represents a customers operating account which means, taken from management's own words, that the bank is the customer's "primary banking relationship." In addition to trust, this means the bank is first in-line for future loans/transactions.
A faster growing loan portfolio means that the bank is getting really close to having to start funding additional loans with non-deposit liabilities that will significantly cut into NIMs and erode a large portion of the advantage gained in having such a large balance of non-interest bearing deposits. Taking a look at the market Pinnacle is operating in, the bank does face stiff competition for deposits but has held up rather well against larger competitors in the area like Bank of America, Regions Financial, SunTrust and fellow Tennessee resident First Horizon National Corp. (NYSE:FHN) - who is ~3Xs larger than Pinnacle. In fact, Pinnacle appears to be ahead of First Horizon in every single city that it operates in. But, this has been changing and a look at the competition link above reveals that Pinnacle has actually lost market share (as a percentage of total deposit) in every city listed while at the same time, First Horizon's has grown. Operationally, Pinnacle is ahead of First Horizon in efficiencies and returns and net interest margins, which leads me to believe First Horizon may have started to offer cheaper services in order to gain marketshare from its competition. Either way, there seems to be some correlation between the two that may start to threaten Pinnacles' profitability should they fail to grow deposits at or close to the same rate as their loan portfolio.
With a 95.82% L/D ratio, management is in a very profitable zone that sets up higher future returns as the accounts continue to grow. Dep/Liab is also high which means the bank has cheap funding and again, $1 billion of non-interest bearing deposits means that ~18% of the bank's $5.3 billion assets are earning money that only non-interest expenses can touch.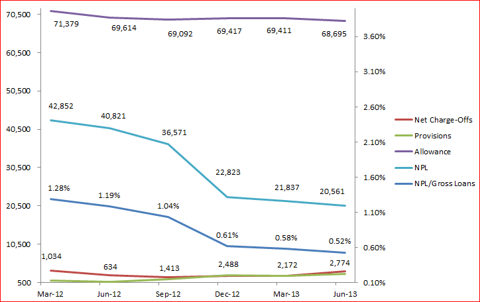 As assets have grown, nonaccruals have declined which is another big positive for the bank. That NPL above (light blue) is actually the nonaccrual balance, OREO is an additional $15.9 million so the total NPL is higher at $36.5 million. Allowances have nonaccruals covered by 3.34Xs and the full NPL balance covered 1.87Xs (not that the OREO is going to sell for zero dollars). The bank has been charging off more lately and has indicated that it prefers an "accelerated disposition of troubled assets" so we can expect this number to remain steady and probably can't expect gains on the sales since accelerated means the plan is not waiting around for prices to significantly improve (to me this nets out because of the costs involved with holding onto assets). Provision expenses are in-line with these charges and I don't think they are too excessive, even considering the high allowance balance, because of the growing and already larger loan portfolio (cushion/safety).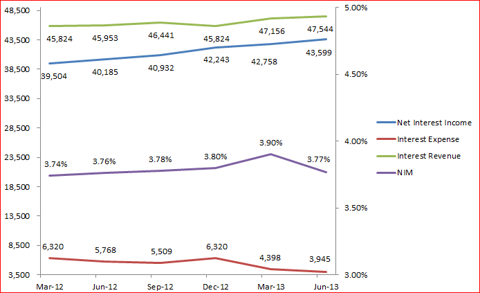 NIMs have been flat but are above average and reflect the market conditions that have been weighing down interest rates across the board. Income growth reflects the larger loan portfolio, up 10% over the amount earned in March-12. Going forward, PNFP stands to benefit from rising interest rates as it continues to sell more loans, management expects NIMs between 3.7-3.8 throughout 2013.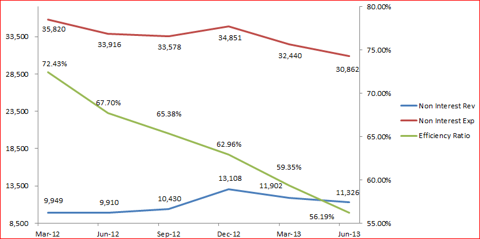 Compression of the spread between non-interest revenues and expenses, coupled with the rising net interest income has significantly brought down Pinnacle's efficiency ratio. YOY, the ratio is down 11.51% and it would have been down more (to 52.9%) had it not been for a non-recurring OREO expense (of $771 thousand).
This is a very important figure to watch going forward because management intends to keep it at the current level to leverage operations and continue to bring in ROAA between 1.1-1.3%. Just a year ago, with a smaller loan portfolio and higher efficiency ratio, ROAA was at only 0.65% so the current 1.1% means that the bank's assets are close to 2Xs more profitable right now. Tangible equity is leveraged ~12Xs putting the RoTCE at 12.72%, up from 6.69% during the same time last year.
Bottom Line
Compared to other banks, this one looks expensive trading at 2.27Xs its tangible book value. However, an extremely fast growing asset base coupled with very cheap overhead makes me believe that its above average growth supports this valuation and that shares stand to rise at or above the banks tangible equity growth rate ~12.7%. Again this is not a cheap price to pay but it is a fair one for the quality that investors are receiving in exchange for it. And, PNFP is a much better bank now than it was when it was trading above 3Xs TBV.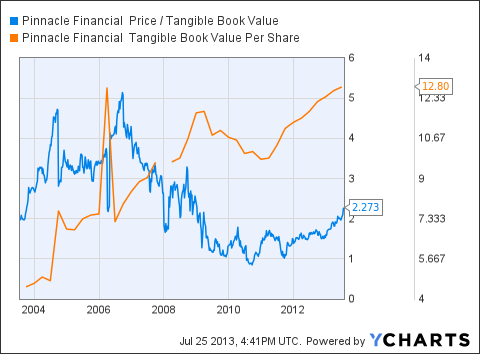 PNFP Price / Tangible Book Value data by YCharts
Disclosure: I have no positions in any stocks mentioned, and no plans to initiate any positions within the next 72 hours. I wrote this article myself, and it expresses my own opinions. I am not receiving compensation for it (other than from Seeking Alpha). I have no business relationship with any company whose stock is mentioned in this article.