The second quarter of 2013 was not a good one for McDonald's (NYSE:MCD). However, that does not mean it was a bad one either. Including dividends, McDonald's stock was essentially flat for the quarter, but it is still up 11% YTD. The continuing economic weakness in Europe and the strong dollar plagued McDonald's this quarter. The company is combating these trends with several initiatives. McDonald's has a long history of shareholder friendly policies, including 36 consecutive years of annual dividend increases. McDonald's currently offers a $0.77 per share quarterly dividend and yields around 3.15%.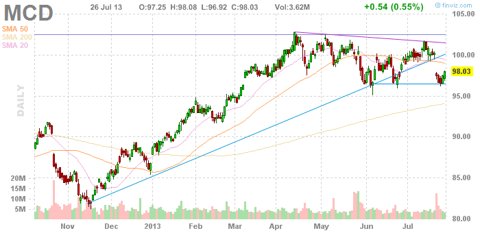 Q2 2013 Overview
In what seems to be a common trend among large American corporations with overseas revenues, the strong dollar has impacted comparisons to last year. McDonald's posted U.S. and Global comparable-sales growth of about 1% in the quarter. For the quarter. McDonald's reported revenues of around $7.08B, up 2% from the $6.92B last year. Operating income increased 2% to $2.20B, though when adjusting for currency, the increase was actually 3%. McDonald's net income rose 4% (5% when adjusting for currency) to $1.40B . While diluted EPS increased 5% (6% when adjusting for currency) to $1.38 from $1.32 last year.
U.S.
In the US, McDonald's margins seem to be hampered by its continued reliance on low-margin dollar menu sales. However, the dollar menu does drive volumes and alleviates the need for McDonald's to do short-term marketing and discounting.
McDonald's has been attempting to shift more of its menu items toward higher margin areas. In the quarter, the company released several new menu options, including Premium McWraps, the Egg White Delight sandwich, and several new variations of its classic Quarter Pounder Burger. These new items exceeded McDonald's revenue estimates. However, McDonald's saw declines in its chicken and beverage segments, which more than offset these gains.
Europe
In Europe, comparable sales were down 10 basis points. However, operating income was up 5% when adjusting for currency. McDonald's saw large gains in Russia and the U.K. while Germany and France saw moderate declines.
McDonald's is benefiting in Europe from its addition of several new higher margin menu items in Q1 2013. As an example, McDonald's launched several blended ice beverages in the U.K., which boosted summer sales. In Russia, McDonald's is deploying the same strategy it has in the U.S. by focusing on more premium, higher margin products. In France, McDonald's seems to be plagued by the weakening economy, which has lower French consumer spending. However, McDonald's is gaining market share in France by offering several value oriented lunch offerings. In Germany, McDonald's is losing both sales and market share. This is a combination of both a weaker economy in Germany and poor menu options. In Spain, McDonald's continues to see weakness, especially as the youth unemployment rate hovers well above 50%.
Asia Pacific, Middle East, and Africa
McDonald's Asia Pacific, Middle East, and Africa, or APMEA, segment saw sales decline 30 basis points. However, operating income was up 3% when adjusting for currency. While McDonald's did see market share increases in China, Australia, and Japan, comparable sales were down in all three markets. Consumers in the region have shown some price sensitivity, which has impacted McDonald's ability to introduce higher margin items. In China, McDonald's sales were down 6% due to avian flu fears. However, this trend has dissipated in recent months. In Japan, McDonald's has been using limited time promotions to lure customers and to increase the average check.
Medium to Long Term Catalyst: Restaurant Modernization
While new restaurant openings are the primary driver of growth for McDonald's, older restaurants can sometimes use a revitalization. Only about 50% of McDonald's global restaurants currently have contemporary exteriors while 60% have contemporary interiors. Most of these older restaurants are obviously in the U.S. McDonald's plans to update about 10% of its U.S. restaurants, which should put the total number of modern restaurants in the U.S. at about 50% by year-end.
Dividend, Share Buybacks, FCF, and Payout Ratio
After investing in our business, we're committed to returning all free cash flow to shareholders over the long term, first through dividends and then through share repurchases. For the second quarter, we returned $1.2 billion to shareholders through a combination of dividends and share repurchases.
The above quote comes from McDonald's Q2 2013 conference call. McDonald's is obviously very focused on returning capital to its shareholders. As noted, the company basically returns all of its excess FCF to shareholders. McDonald's dividend payout ratio using EPS is a modest 58%. Using FCF, the payout increases to about 70%. Do note that McDonald's does spend about 40% to 50% of its operating cash flows on capex, which results in a slightly higher FCF payout ratio.
YTD, McDonald's has paid out around $1.50B in dividends and has repurchased nearly $800M shares for a total of $2.3B. Annualized, this would represent about $4.6B in dividend payments and share buybacks for a shareholder return yield of about 4.70%.
Conclusion
McDonald's is as "blue chip" as a stock can be. While 2013 has so far not produced as much growth as previous years, this does not mean McDonald's is dead money. The problems facing the company in China and in Europe are mostly temporary. In addition, the company is investing in updating its U.S. operations, which should eventually boost volumes here at home.
For dividend-growth investors, McDonald's appears to be a near ideal long-term stock. However, there is no need to rush to buy it at current prices. McDonald's could very well drift lower over the next few weeks as it has a few upcoming catalysts.

Disclosure: I am long MCD. I wrote this article myself, and it expresses my own opinions. I am not receiving compensation for it (other than from Seeking Alpha). I have no business relationship with any company whose stock is mentioned in this article.
Disclaimer: The opinions in this article are for informational purposes only and should not be construed as a recommendation to buy or sell the stocks mentioned. Please do your own due diligence before making any investment decision.