In late June, Barnes & Noble (NYSE: BKS) announced its withdrawal from the multimedia tablet industry. Following the announcement, the stock fell 17% to $15.61 per share. It still has yet to recover.
Barnes & Noble's fiscal year earnings before interest, taxes, depreciation and amortization (EBITDA) fell 94.2% from $177 million to $10 million. And things will only get worse. Barnes & Noble will likely fail for 3 reasons: it is spread among its 3 market segments and won't succeed in any of them.
1. It can't play with the big boys of tablets
Barnes & Noble spent hundreds of millions of dollars trying to break into the tablet industry against tech giants Apple (NASDAQ: AAPL) and Amazon (NASDAQ: AMZN). How did it do? Well, this past quarter was the straw that broke the camel's back.
Barnes & Noble reported that revenue for the tablet segment declined 34% to $108 million, as high definition tablets did not meet projected sales forecasts. In this division alone, EBITDA losses increased to $177 million from $77 million last year, contributing to the segment's $475 million loss (81.7% increase) in the last year.
As for the other guys…
Apple sells the iPad and iPad Mini at a price 3-times Barnes & Noble's high definition Nook. For this extra cost, the iPad comes with better support features. For example, there isn't much the iPad can't do with its App Store platform. Apple's third quarter reported a 14% decline in sales YOY and has trended downwards for over a year.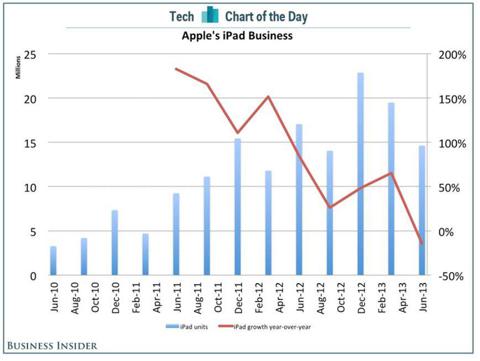 But Apple remains far above the competition in web traffic and overall usage.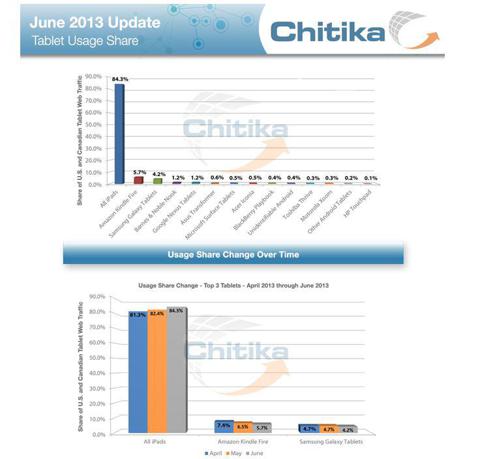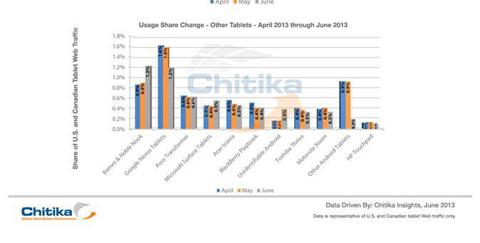 In the recent antitrust case US vs. Apple, the court ruled that Apple was guilty of restraining retail price competition. Apple and other publishers allegedly colluded to make prices higher so Amazon could not undercut competition with its discount strategy.
The agency model, as Apple's model is labeled, enabled Apple to partner with publishers, sell e-books for the recommended retail price, and receive a 30% commission on the sale price. On the other hand, Amazon would purchase e-books from publishers at a discount to the recommended retail price and then sell the product at its own price point to the end user. The agency model allowed Apple and Barnes & Noble to gain a greater market share from Amazon. The antitrust case is only a minor setback for Apple, which is projected to overtake Barnes & Noble as the firm with the second highest e-book sales.
On the other hand, Barnes & Noble will likely fall from the 25% market share it held because of Amazon. At 65% market share, Amazon will reemploy its discounting strategy to reclaim industry dominance by pricing books lower than Apple and Barnes & Noble. Interestingly, at inception, the Nook led Amazon's Kindle because the Nook was more reliable to consumers. For example, the .epub format of the Nook was much cleaner to read than the .mobi format of Amazon's Kindle. In the end, though, Amazon had the better strategy.
Also, by making publication easier for authors through Kindle Direct Publishing (KDP), Amazon Kindle readership soared. With KDP, authors gave away their e-books for free. The catch? Authors who first published with Amazon had to wait 90 days to put the book up for sale anywhere else.
Maybe there's hope for the Nook, though. Last year, Microsoft (NASDAQ: MSFT) acquired a 17.6% stake in Barnes & Noble's Nook business segment. Through this investment, Microsoft breaks into the e-reading market with the goal of developing a Windows 8 operating system to replace the Google Android operating system currently running on the Nook.
The rumors of Microsoft paying $1 billion for Barnes & Noble's e-book business segment should temporarily keep investors onboard. This is a huge pay potential for investors, as Barnes & Noble's market cap has been dipping below $1 billion for the past year. A deal between these companies is the only hope I see for Barnes & Noble's future.
2. Retail business can't compete
Barnes & Noble's sales of music, books and other digital content fell 8.9% this past quarter while sales declined 6% YOY. However, Barnes & Noble did increase its fiscal EBITDA for its retail segment by 16%. This is the only YOY EBITDA increase of its 3 business segments.
As aforementioned, though, its e-book division's future does not look bright. Last fall, it reported it had 27% of the e-book market share. Just a few months later, that number fell to 25%. Because its tablet segment is downsizing, its market share will continue to fall.
Barnes & Noble attributed the decline in retail sales to store closures and lower online sales. If Barnes & Noble's e-book platform fails, its story will closely match Borders, which went out of business in 2011.
3. College bookstores vs. industry innovation
Barnes & Noble remains hopeful with the last of its 3 market segments, its college bookstores. It is the only business segment to post revenue growth this past year, despite decreasing in EBITDA for the year. It attributes this decline to increased investments in digital education.
This segment may boast increasing margins as margins on textbooks increase, but I see this practice tapering off. As textbook rental sites like Chegg further develop and refine their business, college students will seek the all-inclusive services that go beyond just the textbook.
While Barnes & Noble does offer rental services at about 42% of a book's original price, other companies are continuing to grow. For example, CampusBookRentals.com started in 2007 and was one of the first companies to rent textbooks. Of the $10 billion industry, it reported $40 million in sales. The figure is up $17 million from last year and $32 million from two years ago, an extremely large percent growth.
Additionally, CampusBookRentals now puts kiosks in college bookstores for the top 100 schools. Industry innovation like this will severely harm the college bookstore segment of Barnes & Noble's business.
Conclusion
Barnes & Noble was once the place to buy books. To keep up with industry changes, it broke away from being just a retail bookstore to developing an e-commerce and digital book platform. Now, it is in trouble. Even though Microsoft is interested in the Nook segment, Barnes & Noble cannot hold on forever. It is operating three distinct business segments and is in an uphill battle with each.
Disclosure: I have no positions in any stocks mentioned, and no plans to initiate any positions within the next 72 hours. I wrote this article myself, and it expresses my own opinions. I am not receiving compensation for it (other than from Seeking Alpha). I have no business relationship with any company whose stock is mentioned in this article.
Additional disclosure: Article by Andrew Deckert.