Excuse me if I yawn at the announcement that MEMS microphone manufacturer Akustica Inc. has been acquired by Robert Bosch North America and will become part of its MEMS division, Bosch Sensortec GmbH (Reutlingen, Germany).
The company was started in 2001 and has sold over 5 million CMOS microphones for consumer devices like PCs and cell phones.
Competitor Knowles Acoustics, which shipped its first MEMS Microphone two years later, announced that it sold its ONE BILLIONTH microphone this past week. Knowles was acquired by the Dover Corporation (NYSE:DOV) a few years ago.
So why would Robert Bosch acquire a MEMS microphone company with market share in the noise level with 36 employees, even though it is one of the oldest entrants in the market? X-Fab provides foundry services for Akustica's microphone chips, so Bosch is only buying IP.
Akustica's products employ standard complementary metal oxide (CMOS) semiconductor processes and microelectromechanical systems (MEMS) to fabricate acoustic membranes and other sensor structures in the same chip with analog and digital circuitry.
However, many MEMS manufacturers prefer to use a hybrid approach to make cost-effective devices rather than a pure monolithic method. Often, the MEMS element is on one chip while the signal-conditioning circuitry is on another, usually an ASIC. Interconnecting the two requires a very careful approach to ensure that acceptable yield and reliability levels are achieved.
Clearly Bosch is not positioning itself in the MEMS microphone sector but in Akustika's patents for integrated CMOS and MEMS technology. With Bosch's expertise in the MEMS marketplace, we suspect they will be successful in using Akustika's technology in all of their MEMS sensor applications, which has the potential for reduced size and production cost.
Bosch is the market leader in automotive MEMS, with revenues of $430 million in 2009, double the revenues of its nearest competitor Denso (OTCPK:DNZOY) of Japan. More than 80 percent of Bosch's MEMS production is sold internally to its automotive subsystems for stability control and tire pressure monitoring. In the automotive MEMS market, Bosch also competes against Analog Devices (NASDAQ:ADI), Freescale Semiconductor, Infineon (IFX), and VTI of Finland. If the integrated technology can be applied Bosch's products, it will impact market share of its competitors.
By way of background, we started analyzing the silicon MEMs microphone market in 2003. Since that time the market has grown from 2 million units sold in 2003 to nearly 300 million sold in 2008.
The market, which included initial entrants Knowles Acoustics, Akustika, and Sonion (Denmark), has grown to include Analog Devices, NXP Semiconductors, Wolfson Microelectronics (OTC:WLFMF), Freescale Semiconductors, STMicroelectronics (NYSE:STM), and Infineon. China suppliers entered the market in recent years and include Shangdong Goer Acoustics Technology Co. Ltd, Suzhou MEMSensing Microsystems Co. Ltd., and AAC Acoustic Technologies (Shenzhen) Co. Ltd.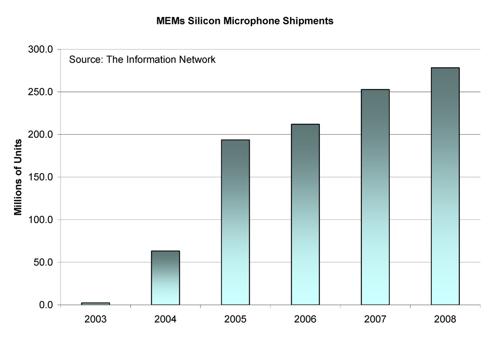 Cellular is the major market for MEMS silicon microphones Handsets with dual MEMS (micro electro-mechanical systems) microphones from the world's top-five handset vendors are expected to hit the market in the first quarter of 2009.
The dual MEMS microphones will enter the handset development design-in stage at all top-tier handset vendors in the third quarter of this year, allowing the vendors to launch handsets at the end of the first quarter, or early in the second quarter, of 2009.
For 2009 we forecast a 5% downturn in the cellphone market, from 1,216 million units in 2008 to 1,156 million units in 2009. The smartphone market, which includes the iPhone, will grow 21% from 175 million units in 2008 to 191 million units in 2009. This sector is the key growth area for the MEMS microphone.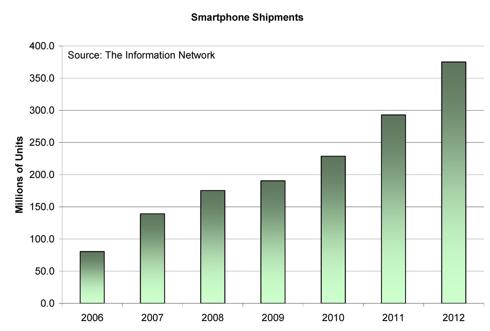 For Q2 2009, (NYSE:NOK) let the smartphone market with a 44% share, followed by RIM (RIMM) with a 21% share and Apple (NASDAQ:AAPL) with nearly a 14% share. Competitors such as Sharp (OTCPK:SHCAY), Fujitsu (OTCPK:FJTSY), and HTC held the other 21%.