The 13 closed end fund (CEF) types on average were up 0.2% for the week ending 8/21/09. The S&P 500, as measured by the SPDR S&P 500 ETF (NYSEARCA:SPY), registered a strong gain of 2.2%. On an aggregate, unweighted basis, the weekly price increase for 630 CEFs was up 0.5%.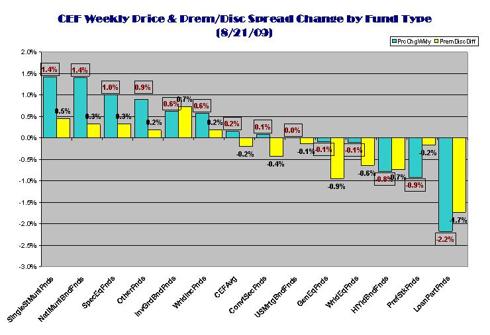 The weighted 51 CEFs comprising the Claymore CEF Index registered an average increase of 0.9% for the week. The 630 CEFs' aggregate, unweighted current distribution yield is 7.5% and is trading at a 4.2% discount. Year-to-date, CEFs on average have extended their price appreciation to 35.1%. (Click Here for YTD CEF Performance.)
The Eqcome CEF Fear Index was flat for the week. The unweighted average price change was 0.5% versus 0.5% for the related NAV. The CBOE Volatility Index (VIX), which typically moves inversely with the stock market, curiously rose 3.0% as the S&P 500 (SPY) logged in a solid advance of 2.2%.
CEF Weekly Fund Type Performance: Muni CEFs led the fund type price change parade. A favorable article last week in the Wall Street Journal regarding munis may have sparked investors' interest. Both national and single state CEFs rose 1.4% for the week. This was directionally consistent with the performance of the iShares S&P National Muni Bond (NYSEARCA:MUB) ETF which advanced 0.5%. There have been a substantial number of CEF muni funds increasing their dividends over the past year—possibly indicating the lull in the muni bond market crisis.
LoanPartFnds and PrefStkFnds were fund type laggards as the number of bank failures escalated to 81. (A preponderance of preferred shares and trust preferred are bank related.)
Premium/Discounts: There was nothing remarkable in the premium/discount spreads from the previous week. Fund types that experienced price advances saw their premium/discounts narrow; the reverse was also true. The only exception was ConvSecFnds where stock prices advanced and the discount expanded. Of that group, Nicholas-Applegate Equity & Convertible Income Fund (NYSE:NIE) experienced the greatest negative price/NAV spread change. This translates into a higher price and an expanded premium/discount.
On a fund type basis, the largest discount was in the LoanPartFnds at 10.2%, approximately twice the fund type average of 5.2%. (The fund type average could be different than the unweighted average of 4.2% noted above due to the different methods of calculation.)
When the premium/discount spread is negative it would indicate an expansion of the discount, the price increasing less or falling faster than the NAV. This could indicate a greater change in fund type's intrinsic value relative to its market value.
Price/NAV Weekly Spreads: The greatest positive spread was for DWS RREEF Real Estate Fund II (SRO) at 13.2%. This "penny stock" was the subject of a failed special vote for liquidation proffered by dissident shareholders led by the Horejsi Group earlier in the year—its largest shareholder.
This week the board of SRO initiated a fee reduction by its advisor and a rights offering through a dividend distribution; an apparent attempt to mitigate concentrated ownership. A liquidation proposal will be again offered, but this time by management at its annual meeting. SRO's current discount of 17.5% is substantially above the current CEF's market segment average.
The greatest negative spread was for First Trust Active Dividend Income Fund (FAV) at a negative 7.7%. There was no news.
(A positive spread between the change in price and NAV could be viewed unfavorably subject to other metrics. This is because the stock has advanced greater that it underlying NAV. All things equal, they should move in tandem. The opposite would also be true.)
Economic News: Investors seemed to have found their footing with another positive report on the housing market. Existing home sales rose for the 4th consecutive month in July. The 7.2% jump was the largest in 10 years. Lower prices, cheap credit and the availability of the first time tax credit fueled the advance.
Mitigating the good housing news are the following facts: 31% of the sales were foreclosures; mortgage delinquencies are at an all-time high; the first time tax credit will end shortly; the level of inventory remains high as more homes are being listed. (Click Here for Next Week's Economic Calendar.)
While US equity markets posted a strong week, Asian stocks fell. The Shanghai Composite fell for the third consecutive week; it was down 2.8% this week—albeit, gaining the last two days of the week. Fear of China reigning in its bank lending might stall its economy. The Nikkei was down 3.4%, breaking its five week winning streak.
While there will continue to be discussions of whether the market is ahead of itself, accumulating CEFs on your "wish list" in any market decline is recommended as we're closer to a capitulation by investors on the sidelines with cash.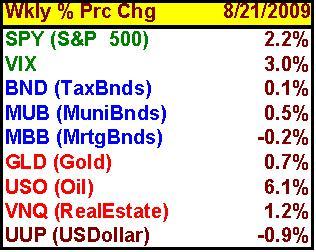 ETFs: Fixed income (Blue) generated a mixed performance. This was a result of equity markets' strong performance. Commodities (Red) rose as oil prices closed at its highest level for the year at $74 per barrel—mostly on speculative buying. Investors lost interest in the US dollar an equity markets advanced. Despite a shaky banking industry, real estate advanced mostly in sympathy with the general equities. (Click Here for ETF YTD sector performance.)
CEF Insider Trading: There were three notable transactions for the week. The Participants of a proxy solicitation of MBIA Capital/Claymore Managed Duration Investment Grade Muni Fund (NYSE:MZF) continued to increase their position by $202,861 for a total acquisition of $497,725 for the month of August. The Participants have accumulated over 15% ownership in the CEF.
Additional senior management of Apollo Investment Corporation (NASDAQ:AINV) accumulated shares post its most recent 18 million share follow-on offering this month (priced at $8.75 per share). In addition to James C. Zeller, CEO, who purchased 20,000 shares the week of the 14th, Patrick J. Dalton, COO, and Richard Peteka, CFO, acquired 7,500 ($8.70) and 10,000 ($8.80) shares, respectively.
Dan Neidich, a director of Great American Investors (NYSE:GAM), continued to add to his initial position in late July by acquiring another 2,300 shares at an average price of 21.35 per share. He has accumulated 15,300 shares.
There has been scattered buying of muni CEF by insiders this week. (Click Here for Insider Summary.)
CEF Focus for the Week: Muni CEFs keep popping up as attractive. As previously mentioned, in a sampling of this group, there has been a preponderance of dividend increases during the past year. Also, the equity markets have come a long way without a pause; it might make sense to be a little more defensive.
I'd stay with those mentioned last week: Morgan Stanley Insured Muni Income Trust (NYSE:IIM) and Morgan Stanley Insured Muni Trust (NYSE:IMT). Both are yielding over 6%, trading at a discount, increased their monthly dividend in the past year, leverage of under 30%, and have generated attractive historical returns.
Enjoy the last days of summer!
Disclosures: Long SPY, GAM, GLD, IIM