Amazon (NASDAQ:AMZN) continues to befuddle bears as its share price rises despite posting a small loss in the June quarter. The stock is up some eight-fold from its 2009 lows.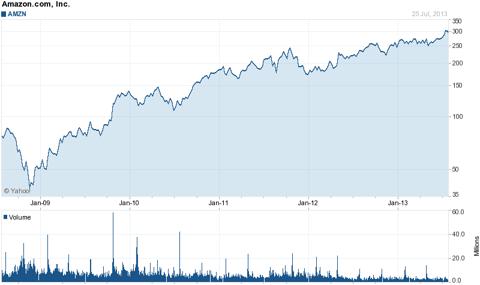 SA author Paolo Santos's excellent recent article shows the frustration the bears have with the stock. By any measure, it seems overvalued: Price to earnings, price to cash flow, price to book value, price-to-earnings growth - the traditional measures don't seem to work as the stock price defies gravity.
One measure that is highly correlated with Amazon.com's stock price is its sales revenue which, like the stock price, continues to grow at a blistering rate.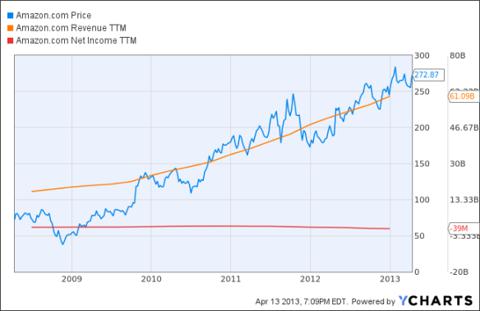 Investors who look into Amazon.com's growth and strategy get it. The company is investing virtually all of its cash flow and its "profit opportunity" to build its brand and its user base and to build sales. This strategy is working and working well.
Those who ask "when will this turn into annual profits and dividends that support the stock price" are asking the wrong question, since the answer is likely to be "when it is time, grasshopper, when it is time".
Retail is a brutal arena of competition and successful retailers have always found a way to distinguish themselves to support continued growth, usually if they are large, through direct price competition although many have been successful with strategies based on product differentiation, customer segmentation, unique selling propositions, and targeted advertising. The really successful and really large retailers have been more direct. Wal-Mart's (NYSE:WMT) success is, from the consumer's perspective, based fundamentally on price, although the size of the assortment, the emphasis on local presence and the overwhelming size of the stores have been factors. Behind that customer-facing presence is one of the world's most sophisticated logistics management systems in existence.
Costco (NASDAQ:COST) has also succeeded with a unique strategy based on price, a subscription model where the bulk of Costco's profits come from annual memberships and the products are sold at a price which more or less liquidates the cost of the stores. While the Costco assortment is not as broad as Wal-Mart, the experience is unique and the sense of value has consumers coming back again and again.
Amazon.com was an early mover in the on-line space and has emerged as a clear leader. It offers the widest assortment possible and makes it available at a very competitive price, and just as importantly, makes it available very quickly after you place an order, a vital part of a strategy to provide value that competes with Wal-Mart and Costco for consumer dollars.
It is useful to compare Amazon.com to Wal-Mart and Costco on the basis of enterprise value to revenue, since earnings comparisons are of little value with Amazon.com reporting a small loss.
| | | | |
| --- | --- | --- | --- |
| Company | Enterprise Value | Revenue | Enterprise value to revenue |
| Amazon.com | $134 | $64 | 2.10 |
| Wal-Mart | $304 | $470 | 0.65 |
| Costco | $50 | $105 | 0.48 |
Even on the basis of enterprise value to revenue, Amazon.com appears three or four times as expensive as two of the most successful retailers in existence. It is no wonder many see Amazon.com as a good short. There is a real question of value.
Implicit in the Amazon.com value is sustained growth for an extended period. How long? Even with its torrid pace of growth, Amazon.com is probably a decade away from Wal-Mart's size in terms of revenue if it can maintain a 25% to 30% growth rate. If it does and matures to a level of profitability consistent with that of Wal-Mart, it is likely to be valued at a comparable valuation and current shareholders will enjoy a low double digit rate of return.
Interestingly, while Amazon.com appears expensive and dependent on sustained rapid growth for at least the next decade, Costco appears relatively inexpensive and likely to reward investors. But that is an aside in this article.
Amazon.com has an enormous advantage over both Costco and Wal-Mart today. That is its investor base which is willing to pay such a premium for its stock. As the company continues to grow, it has access to capital markets on terms its competitors can only dream of and should have no problem finding the capital needed to continue to build out a worldwide logistics structure capable of same day delivery of any product anywhere on earth.
Investors are fickle and Amazon.com is vulnerable to any short term setback in its strategy of reinvesting every dime into infrastructure and letting the consumer benefit by transferring product to them at the lowest possible margin to ensure they have the greatest access to low prices possible. As long as the market sees progress, earnings per share are not going to be a very relevant measure.
Perhaps that is why Amazon.com's leader, Jeff Bezos, is sometimes described as a visionary who is "free from the tyranny of earnings per share". He sees the future and is determined to carve out a major presence in it and ultimately to profit from it.
You will too if you toss aside your "overvalued" label and buy into Amazon.com on the dips. Those who have done so have consistently been well rewarded.
I have no position in Amazon.com and no current plans to take a position.
Disclosure: I have no positions in any stocks mentioned, and no plans to initiate any positions within the next 72 hours. I wrote this article myself, and it expresses my own opinions. I am not receiving compensation for it (other than from Seeking Alpha). I have no business relationship with any company whose stock is mentioned in this article.