One of the smartest moves an investor can make is to assess the risk/reward tradeoff that exists in his or her investments, traditionally measured by beta. Beta's appeal comes from being a simple, one-number summary of risk that even novice investors can apply; high beta implies higher risk with higher reward while low beta implies lower risk with lower reward (at least that is the theory). However, investors that are up for the challenge will find it well worth their time to consider a more comprehensive metric, and their portfolios will thank them. This metric, dual-beta, is the serious investor's most valuable tool for evaluating risk.
Dual-Beta
Dual-beta is exactly what its name suggests: two independent betas. The first, upside beta, is calculated to reflect upside risk while the other, downside beta, is calculated to reflect downside risk.
Traditional calculation of beta assumes that upside risk and downside risk are identical. In other words, traditional beta assumes that an investment's magnitude of gain will be the same on days that the S&P500 rises as its loss will be on days when that the S&P500 falls (e.g. a stock with a beta of 2.00 will gain twice as much as the market on up days and lose twice as much as the market on down days). Most rational investors know that this is rarely the case, but have very little sense of how much injustice this assumption is causing.
By calculating dual-beta and comparing to traditional beta, we can see exactly how severely traditional beta is misstating a stock's systematic risk.
Consumer Defensive Sector
Studies by Don Galagedera suggest that, in addition to dual-beta being a better measure of systematic risk than traditional beta, the difference between these risk measures is the greatest in defensive, low volatility investments. As such, I will use the S&P500 consumer defensive companies to illustrate dual-beta and put these companies' defensive reputations to the test. This group of about 50 companies is shown below with downside beta in red, upside beta in blue, and traditional beta in green, subdivided by industry...
(data calculated using monthly returns from Yahoo)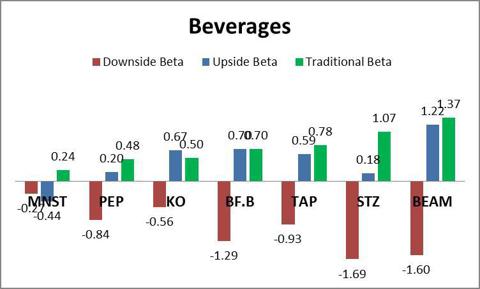 Among beverage companies, we find that investors have been highly loss-averse. With the exception of Coca-Cola (NYSE:KO), all beverage companies have seen minimal upside and significant downside. With all 8 companies, traditional beta has failed to fairly capture the losses that are incurred on down months. Both Monster Beverage (NASDAQ:MNST) and Constellation Brands (NYSE:STZ) are grossly misrepresented by traditional beta. Monster Beverage's traditional beta is suggesting to investors that there is upside on up months, despite the fact that its upside beta tells us that its price has actually declined during up market months, and even more than it declined during down market months. Constellation Brands' traditional beta also grossly misrepresents the company's downside risk.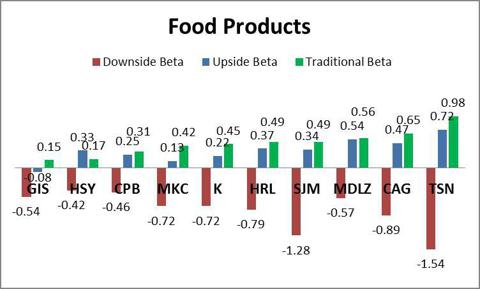 Food product companies tell us a similar tale. Among these 10 companies, none have an upside beta higher than its downside beta. Furthermore, with the exception of Hershey (NYSE:HSY), traditional beta overstates upside potential and understates downside risk. Furthermore, the data shows there is a significant chance that General Mills (NYSE:GIS) will incur losses in both up and down market months, similar to Monster Beverage.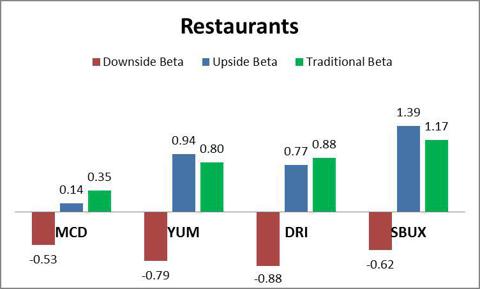 With the restaurant industry, we begin to see more accurate representation by traditional beta than with the food and beverage producers above. Both Yum! Brands (NYSE:YUM) and Darden Restaurants (NYSE:DRI) have fairly even upside and downside potential. Meanwhile, McDonald's (NYSE:MCD) upside/downside potential is overstated by traditional beta while Starbucks' (NASDAQ:SBUX) is understated.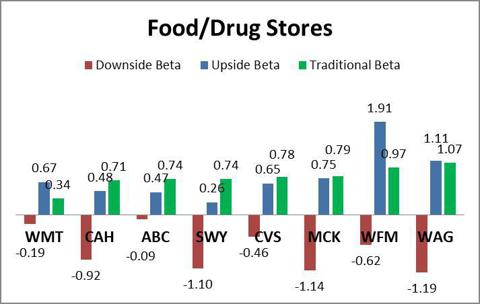 With food and drug stores, results are mixed. Wal-Mart (NYSE:WMT), AmerisourceBergen (NYSE:ABC), and Whole Foods Market (WFM) present an extremely appealing upside/downside tradeoff that is underrepresented by traditional beta, while most of the other companies are fairly well represented.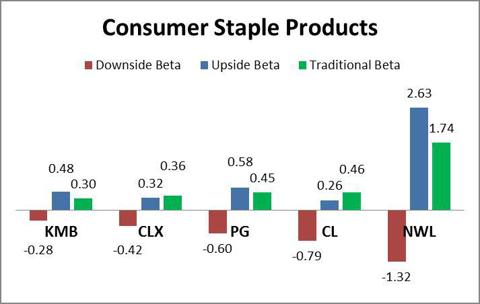 In the consumer staple product industry, we see another mixed bag. Both Kimberly-Clark (NYSE:KMB) and Newell Rubbermaid (NYSE:NWL) present favorable tradeoffs that are understated by traditional beta, while coming up short with Colgate-Palmolive's (NYSE:CL) poor tradeoff.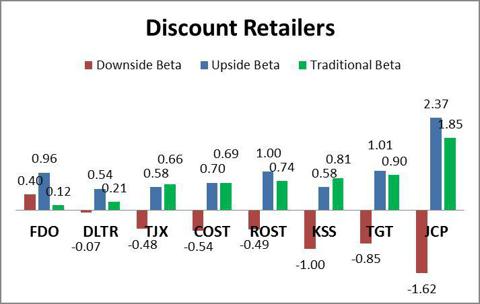 The discount retailer industry overwhelmingly presents a favorable upside/downside tradeoff. The industry's top dog in this regard, Family Dollar Stores (NYSE:FDO), actually has a tendency to rise in both down and up market months. With the exception of Kohl's (NYSE:KSS), companies exhibit higher upside beta than downside beta.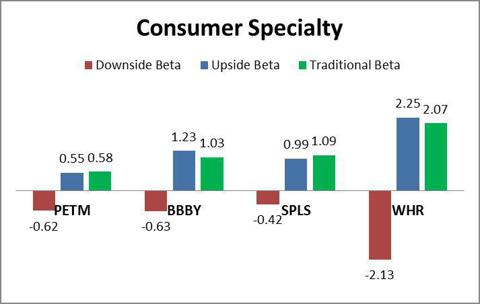 These specialty companies essentially occupy their own industry, and as such, should not be compared to each other (they are shown together for simplicity). Both PetSmart (NASDAQ:PETM) and Whirlpool (NYSE:WHR) are well represented by traditional beta, while Bed Bath & Beyond (NASDAQ:BBBY) and Staples (NASDAQ:SPLS) are significantly misrepresented.
Most Misrepresented Companies
These 10 companies present the 5 highest and 5 lowest in terms of upside/downside tradeoff, as measured by dual-beta. The ratio shown is the factor by which upside beta is larger than downside beta.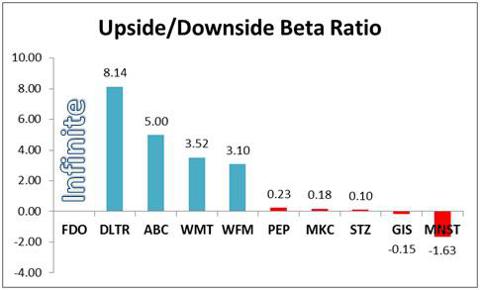 Topping the top 5 are Family Dollar Stores and Dollar Tree (NASDAQ:DLTR), both discount retailers. With an upside beta of 0.96, Family Dollar Stores appreciates nearly as much as the broad market in bull market months and with a downside beta of 0.40, actually gains by about 40% of what the broad market loses in bear market months. Close behind, Dollar Tree gains about 8 times as much in bull market months as it loses in bear market months. From this data, dollar stores appear to be the best buffer against recessionary consumer trends.
Rounding out the top 5 are food and drug stores AmerisourceBergen, Wal-Mart, and Whole Foods Market with upside/downside beta ratios of 5.00, 3.52, and 3.10, respectively.
Takeaways
From the above analysis, it is clear that food and beverage producers present far more downside risk than traditional beta implies, while discount retailers exhibit an overwhelmingly favorable upside/downside tradeoff that is also misstated by traditional beta. Other consumer defensive industries are mixed and require a case-by-case analysis.
This information is extremely useful for several reasons. Research by Graham & Harvey shows that approximately 74% of practitioners use CAPM beta (traditional beta) as their primary measure of risk. If this traditional beta is grossly misrepresenting risk, their CAPM calculations of cost of equity and subsequent intrinsic value calculations are also grossly inaccurate. Companies for which the upside/downside tradeoff is understated by traditional beta present attractive long-position opportunities, while companies for which this tradeoff is overstated present attractive short-selling opportunities, especially in bear markets.
Disclosure: I have no positions in any stocks mentioned, and no plans to initiate any positions within the next 72 hours. I wrote this article myself, and it expresses my own opinions. I am not receiving compensation for it (other than from Seeking Alpha). I have no business relationship with any company whose stock is mentioned in this article.