Actionable Items:
Highest Positive Spread: Gabelli Convertible & Income (NYSE:GCV)
Focus Stock: Nuveen Energy MLP Total Return (NYSE:JMF)
Last Week's Focus Stock: First Trust Energy Infra Fund (NYSE:FIF)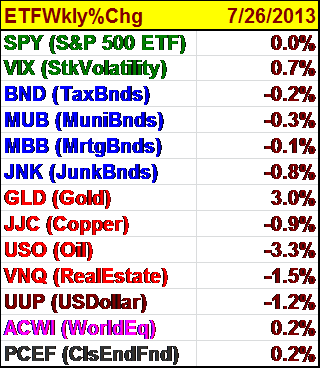 U.S. Global Energy: U.S. Energy Department predicts half the production growth of energy will come from China and India. The worldwide use of energy-mostly for transportation and electricity-will surge 56% by 2040 compared with 2010 levels.
Global economic growth will lift demand for renewable energy like electricity from solar power, but also one where fossil fuels like oil, coal and natural gas remain the world's go-to energy sources. The technology such as gas would be unlocked across the globe due to new extraction technology.
Maybe, if any "fusion technology" avails itself, the growth of global energy extraction elements will be eliminated. (Remember, peak oil was being drilled.)
Muni Bonds in Detroit: At issue is about $530 million in general-obligation bonds which is part of the $18 billion of debt. However, Mr. Kevyn Orr, Detroit's emergency manager, reiterated that these general-obligation bondholders will get no new deal, adding that taxes are already at the state limit and won't grow. They will become general obligation bonds.
ETFs' % Change Week-to-Week: MiscSectr (+1.4%), Technology (+1.0%) and Energy (+0.9%) were the leaders this week over the previous week. Foreign (-0.9%), Commodities (-0.9%) and Equity Income (-0.3%) were laggards for the week.
U.S. Dollar (NYSEARCA:UUP) ended up on the downside (-1.2%). Gold (NYSEARCA:GLD) was a positive +3.0% and Copper (OTC:JJC) was a negative -0.9%. Bonds were slightly to the negative (See Chart 1).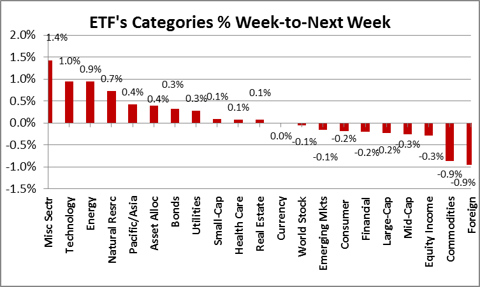 CEF Weekly Fund Type Performance: This week saw price rises for LoanPartFnds (+0.8%), ConvtSecFnds (+0.8%) and WrldEqFnds (+0.4%). The laggards were SingleStMuniFnds (-2.3%), NatlMuniBndFnds (-2.2%) and HiYldBndFnds (-0.9%). The laggards were some of the negative PrcNAVSprds (both NatlMuniBndFnds and SingleStMuniFnds where down close to 1.5%). All other sectors were up, let alone ConvtSecFnds up 1.0%.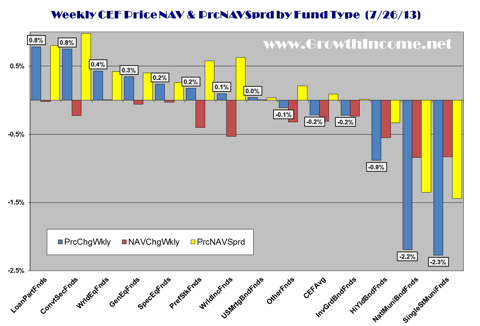 "Highest Spread" for the Week: Our "Highest Spread" for the week was Gabelli Convertible & Income. GCV had a positive share price of +5.6% and a negative NAV of 0.0%. The PrcNAVSprd was +5.6% (A positive number may mean a future decline in share price). GCV has a high total return of current income and capital appreciation through investment in convertible securities.
GCV, a ConvtSecFnds, has a premium of 4.2% which is ahead of its 52 week premium of 4.1%. The total assets were $111.2 million with effective leverage of 23.8% (Cumulative Preferred Shares). The annualized quarterly distribution yield is 7.4%. It has an ex-date of 6/12/2013.
Lowest Spread and "Focus Stock" for the Week: Nuveen Energy MLP Total Return was our "Focus" Stock" for the week. JMF's share price was negative -2.9% and its NAV per share was a positive +0.1%. Its PrcNAVSprd decline was -3.0%. (Stock prices typically go up.)
This stock is about energy. JMF seeks tax-advantaged total return by investing in a portfolio of Master Limited Partnerships (MLPs) in the energy sector.
Net assets were $1,057.4 million and the total debt was 24.3%. The quarterly distributions will be in two weeks ($0.316 per quarters). The holdings are in Oil Gas Storage (92%). The average undistributed net investment income is $0.3399 per share. Shares are at 1.0% discount to NAV-the average high of 52-week is 2.9%.
Focus Stock and High Price for Last Week: Last week's "Focus Stock" was First Trust Energy Infra Fund. FIF shares were up 1.8% this week from last week. The "Highest Spread" for the week is Kayne Anderson Total Energy (NYSE:KYE) ("Highest Spread" seems to go down) where it went down a negative -0.2%.
Disclosure: I have no positions in any stocks mentioned, and no plans to initiate any positions within the next 72 hours. I wrote this article myself, and it expresses my own opinions. I am not receiving compensation for it. I have no business relationship with any company whose stock is mentioned in this article.