A paper released by McKinsey & Co. last week concludes that 28% of asset managers are not responding adequately to the recent storm hitting their industry. McKinsey chalks this behavior up to "depression and denial".
But wait. There is hope for the future of the asset management industry. The consultancy also concludes that 13% of asset management firms are "decisive operators" who have pared back costs and preserved profits (or at least, mitigated a fall in profits).
These conclusions and accompanying prescriptive remedies are contained in a report called "Recovering from the storm: The new economic reality for U.S. asset managers" (soon to be available on the firm's website, but currently available for free by emailing here).
The chart below taken from the report sums up the state of the world today (click to enlarge):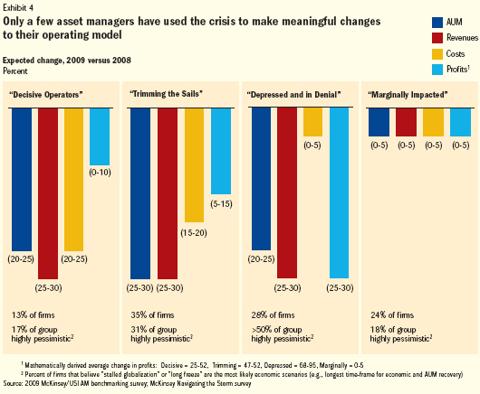 At first glance, you might be amazed to see that "decisive operators" have undergone a dramatically different level of cost-cutting than other groups. But don't forget, that characteristic is what qualified them as "decisive operators" in the first place.
However, there are a number of other characteristics shared by this group that do not directly result in their relative prudence. One is that very few are "highly pessimistic". While over half of the non-cost-cutters (those who were "depressed and in denial") were highly pessimistic about the future, only 13% of the decisive operators felt the same way. Perhaps they were more optimistic because they had just slashed costs. Who knows?
Specifically, two thirds of these happy slashers have considered or recently revised compensation to include non-cash long-term incentives. Meanwhile, only a third of their depressed and denying brethren had considered the same.
In addition, the decisive operators cut non-compensation costs (a distinct minority of overall costs for an asset manager) and have "resized" support functions and overhead such as finance, HR, marketing and legal (perhaps their optimism is unwarranted after all).
If the deniers are hoping the current industry tsunami is cyclical, they may be out of luck. The report also highlights 5 secular changes over the next 5 years, including declining industry revenues, industry concentration in several market segments, and the dominance of pure play asset managers (see chart below from report – click to enlarge):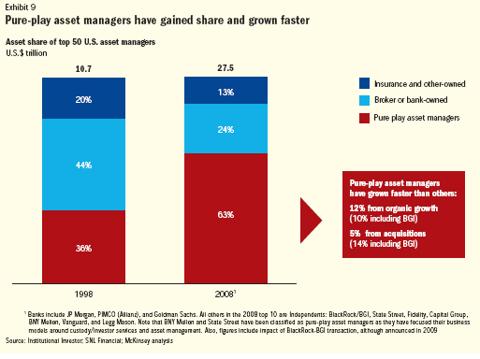 There's more in this decidedly prescriptive report for anyone who is looking for ammunition in order to rationalize, cut costs, and "recover from the storm", thus avoiding the clinical depression and denial that is apparently sweeping across the asset management industry. Call it strategic Prozac if you will.