In this performance update and new list of Balance Sheet Bargains, as promised previously, here is a quick update on how our screen is working. The quick summary - it is nicely beating the S&P 500 performance.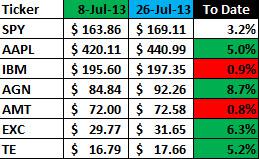 Four of the six stocks have handily beat the SPY over the last 3 weeks. AAPL was down but then bounced up nicely after the earnings announcement. AMT has dropped after a nice gain and IBM continues to underperform.
The purpose of this screen is to identify strong companies with stocks that may have already, or very soon will be, bottoming. Trading stocks near the 52 week low carries higher risk, so this screen attempts to filter the firms with solid financial foundations and therefore lower risk. It might be loosely considered a value strategy.
So specifically, this screen looks for stocks with an average daily volume over 1 million, strong short-term asset positions (quick ratio greater than one), the firm is profitable, the recent price is within 10% of the 52 week low, the price is greater than $5 (a threshold for many major investors and institutions), positive recent insider transactions (net purchases by the management team) and the firm pays a dividend (it is committed to returning shareholder value). In addition, to filter out stocks which are being targeted by short sellers and therefore carrying a higher risk, these stocks have low open short interest of the available float (<5%).
The screen yielded 3 stocks this week - there was one new name, one returning name and one repeater. Of particular note is that for the first time in several weeks, there were not any basic material stocks. Both Freeport-McMoRan (NYSE:FCX) and Newmont Mining (NYSE:NEM) have risen enough to be off the list.
Broadcom (BRCM) designs, manufactures and distributes semiconductors for voice, video, data and multimedia wired and wireless communications. Yielding 1.6% BRCM has a 52 week trading range of $26.58 to $37.85. It sports a healthy quick ratio of 2.0 giving it plenty of cash firepower.
American Tower Corporation (NYSE:AMT) is making a second appearance on the list. After an impressive 8.1% gain in the first week, it has come back down to the price we originally identified it.
AMT is a real estate investment trust that owns and operates a wireless and broadcast communications infrastructure. The 52-week range is $68.87 to $85.26 and it yields a rather small 1.5%. This is small because it operates as a Real Estate Investment Trust so it is passing along 90%+ of the profits to shareholders which indicates the margins are very thin here. AMT has been growing long-term debt steadily for the last few years and while it has a positive quick ratio at 1.2. AMT may have been caught in the massive recent REIT selloff and could present a real opportunity because it owns and operates real property and does not just trade paper based on interest rate arbitrage.
IBM (NYSE:IBM) continues to make the screen with a 1.1 quick ratio and a 1.9% dividend. After the earnings announcement, there was a brief jump up on price but profit taking brought it back onto our list. IBM has a 52 week trading range of $184.88 to $215.90, so in some respects to say it is within 10% of the 52 week low while true, yet the high is only within 18% above of the low. Still this is a solid company with some downward price moves recently and it may be ready for a bounce - however the price action this week did not follow through. If IBM continues to stay on our list, this is a bad sign and probably not worth trading using this strategy.
Please share your thoughts on this screen - are there parameters that should be added, deleted or modified?
Disclosure: I have no positions in any stocks mentioned, and no plans to initiate any positions within the next 72 hours. I wrote this article myself, and it expresses my own opinions. I am not receiving compensation for it (other than from Seeking Alpha). I have no business relationship with any company whose stock is mentioned in this article.
Additional disclosure: I have no business relationship with any company whose stock is mentioned in this article. I am not a registered investment advisor and do not provide specific investment advice. The information contained herein is only my opinion based on personal research and offered for informational purposes. Nothing in this article should be taken as a solicitation to purchase or sell securities. Before buying or selling any equity, do your own research and reach your own conclusion. Investing includes risks, including loss of principal.