I can remember sitting in front of our small black and white TV with my dad at some of the oddest hours of the day or night, watching "professional" wrestling. Even as a 10 year old kid, I did not believe what I was seeing.
Some huge guy was getting hit over the head with a piece of furniture and didn't even bleed, let alone get killed. He jumped back up to his feet and lifted a 500 pound monster-man named Haystacks Calhoun, and slammed him head first into the mat to win the match with a quick count to three.
I would look at my dad each time a similar (and classic) "wrestling match" was repeated, perhaps with different men. Some were the "good guys", some were the "bad guys", and if you couldn't tell just by looking at them, the crowds in the arena would let you know which was which just by their jeering or cheering. My dad would just smile, wink and say; "yep, that is the real thing".
Who was I to question my dad.
The True Value Of The WWE
These days (as it has been since 1952), World Wrestling Entertainment, Inc. (NYSE:WWE) has a strong hold on this business and while there are several direct and indirect competitors such as TNA Wrestling (Total Nonstop Action Wrestling), WWE is the "name brand" in the entertainment wresting world. It has been a public company since 1999, but is nearly 70% controlled by the original founders of the business, the McMahon family.
I am not going to debate whether the "sport" is real or not. In the eyes of the fanatical fans it most assuredly is. I will debate that the business itself is VERY real, when it comes to actual money. There are plenty of analysts and investors smarter than me that would run, not walk, away from this stock as a money making opportunity. By first glance, I might even agree.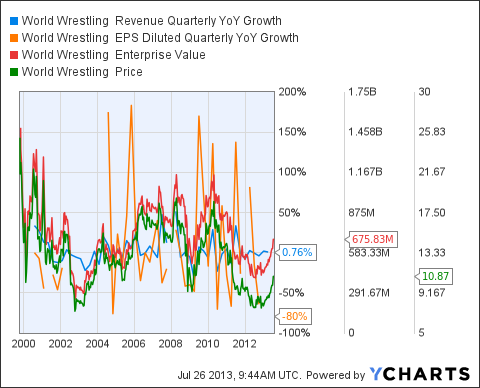 This historical chart shows how earnings have cratered (again), revenues are just about as flat as usual, and the enterprise value has dropped from about $1.5 billion to $800 million as of the most recent annual report.
While the growth of the company is uncertain at best, the true value of the company is hidden behind the basic fundamentals shown here. Keep in mind that not only does the McMahon family hold nearly 60% of the economic interests in the company (as noted above), but the family also holds 80% of all voting rights.
As noted in this industry article as well as the following SEC filings:
1) SEC form 4 filing: dated3/27/2013
WWE filed a document with the SEC on Wednesday disclosing that WWE CEO Vince McMahon converted 450,000 shares of Class B McMahon Family Stock into 450,000 shares of Class A Common Stock.

McMahon now owns more than 39 million shares (56.9 percent) of Class A Common Stock. Also, McMahon owns 87.2 percent of Class B McMahon Family Stock.

The result is that McMahon owns "approximately 81.8 percent of the Company's total voting power," according to WWE's disclosure.

It's also worth noting that McMahon "indirectly" owns another 100 shares of Class A stock owned by his wife, former WWE CEO Linda McMahon, and 566,670 shares of Class B stock owned by Linda.
What this means to me is that the company can be taken private if the family wants to, or sold outright to another company, if that is desired by the family. Just by virtue of the fact that the company continues to churn out revenues and profits year in and year out, virtually at the same rate but with fits and starts, the share price could easily double just by an ownership change.
Supporting my thesis is a clearly pristine balance sheet (this is a detailed report for the full year of 2012). Here is a snippet of the most important ingredients: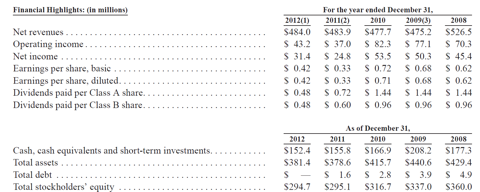 The skeptic will quickly point out that WWE pays out more in dividends than it has earned, and has sliced its dividend all the way down to $.48/share. Obviously, the company cannot keep paying out more than it has coming in and expect to stay in business. The family is committed (for now) to return shareholder value in the form of these dividends, and the current payout ratio sits at a less than appealing 185%.
The one obvious detail here is that the company has zero debt.
Actually the company NEVER has had any debt. With $152 million in cash and $381 million in total assets, if the company decided to stop paying the dividend and sell the company outright or take it private, the cash from the payment of dividends will more than double just the cash position of the company, and I believe more than double the enterprise value, as well as the share price.
If the enterprise value doubles, then shareholders at the current share price of $10.87 could see the price of shares rise back over $25.00/share where it all began. Additionally, that does not take into account the premium the company (and stock) should get from its new business ventures.
Forget about selling the company, or taking it private, and let's see what WWE has going for it as it stands right now.
WWE Is The Largest Company In This Business
Being the biggest in any business sector always commands leading positions in the other segments of the business. The business consists of 4 major areas:
Live and televised entertainment
Consumer products
Digital Media
WWE Studios
The synergistic effect that happens when WWE ventures into a business that becomes a hit is very compelling. As noted in this article:
Entertainment companies are powerhouses of intellectual property, and they are able to draw on decades of characters, and make profits even during bad times by rehashing old stories or rereleasing old material. When WWE has a big hit on its hands, it can virtually mint money.
Recently, the company has pursued new opportunities, and to my eye, the future appears quite bright.
WWE Main Event was launched last summer on the ION network, complementing its deals with Comcast to broadcast Raw and Smackdown.
A kids-focused show on the CW network.
Saturday Morning Slam, with CBS and Time Warner.
WWE Studios and Warner Bros will co-produce a Flintstones animated movie for early 2015. (A focus on the younger audience again?)
The "Rock" (Dwayne Johnson) is back in full swing with WWE as well as becoming a more widely known and successful Hollywood star.
Shares have actually increased more than 25% since the "Rock" has delivered on his pay-per view programming, and TV revenues have increased by 15% (see the year end earnings report) as the company added another hour of its "Raw" programming as well.
As these ventures begin to pan out, and bring fresh new faces into both the business and the fan base, the company should benefit from a revenue and profit standpoint.
The Bottom Line
I am not saying that WWE is a dividend growth stock. Far from it actually. However, a dividend yield of more than 4% while investors wait for the bigger payday ahead, in terms of dramatic capital appreciation, makes this stock a compelling buy at the current share price.
The downside is that the current projects fail to deliver, and the family, which controls an overwhelming stake in the entire company, does nothing to alter that course. That could cause further deterioration in not only the dividends, but in the overall profitability of the company.
The company could also face the following headwinds that should be reflected upon in assessing the risks:
Failure to renew Dwayne Johnson's contract.
TV contracts could expire and not get renewed.
Failure of the younger target audience to embrace the Company products.
Poor television ratings leading to lower revenues from advertising as well as secondary products.
Failure of the majority shareholder and voting power to agree on any required changes to the business model.
Given the facts that I have presented, however, I believe that this small cap stock offers a very compelling risk/reward for potential investors.
If the business succeeds as I see it, I believe this stock can double or a triple within the next 24-36 months.
Disclaimer: The opinions of the author is not a recommendation to either buy or sell any security. Please do your own research prior to making any investment decision.
Disclosure: I have no positions in any stocks mentioned, but may initiate a long position in WWE over the next 72 hours. I wrote this article myself, and it expresses my own opinions. I am not receiving compensation for it (other than from Seeking Alpha). I have no business relationship with any company whose stock is mentioned in this article.