I've covered Strayer Education (NASDAQ:STRA) quite a bit recently. Just a little over a week ago, my two articles, The Ultimate Value Proposition in Education and Strayer: The Ultimate Value Proposition in Education, Part 2, were published. They detailed my thoughts on Strayer. In my research, I was extremely impressed with the company. I found that Strayer offered students an above-average education (especially for a for-profit online provider) at a reasonable price. I told investors why I thought education providers would need to propose strong value to students going forward to return to enrollment growth and keep accreditors and regulators off their back. Strayer was my best-in-class pick in terms of educational value proposition and that's why I recommended buying Strayer to capitalize on this shift in the industry. You'll note that in both those articles, and another unrelated education article I wrote in the interim, I mentioned that I might be purchasing Strayer shares 'in the next 72 hours.' I didn't in that time period, only because I haven't felt that Strayer has been my absolute most attractive long idea (it was my second best to Apple (NASDAQ:AAPL), not any other education company). You see, I'm a focus investor in the fullest sense of the word. This past year, I've been committed to holding my entire portfolio in my single best investment idea. I've written on my reasoning for doing so, but all you need to know for this article, is that if I buy something, it means it's the absolute most attractive thing out there in my opinion. So as of Friday morning, that's my view on Strayer. I bought up as many shares as I could this morning at the open.
A few things have changed since I last wrote that convinced me to make my move. Thursday, Strayer released their Q2 earnings results. The company beat analyst estimates big time, and yet shares tanked nearly 11%.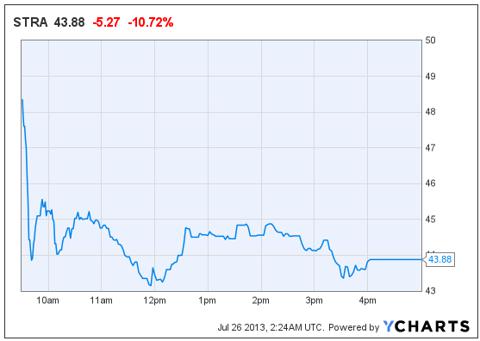 New student enrollments dropped a whopping 17% and that scared everyone out. New student enrollments/starts and continuation/retention rates are the two important determinants in the direction of total enrollments. Revenues have almost directly followed enrollments recently and the enrollment decline is the biggest reason for the reduced profitability schools are seeing, so it's critical to follow enrollments to track the turnaround. While the analyst beat is impressive, investors are correct to focus mostly on enrollments. I think the market reaction was way over the top though. Consider where we are right now.
In mid-February, it was announced that then-COO Karl McDonnell would take over as CEO and former-CEO Robert Silberman would continue full-time as the company's Chairman. Silberman is still very much involved as evidenced by his extensive presence in Thursday's conference call, but now McDonnell is calling the shots. The switch officially took place on May 2nd, but it was likely recognized internally much sooner. Silberman and McDonnell act much more like Co-CEOs than anything else. During the months leading up to the May 2nd transition and Investor Day, executive management devised a turnaround plan. Under new leadership, the first step is to identify the problems. The company did some surveying and a self-evaluation and determined that the primary issue students had was affordability. 75% of Strayer's students are minorities and many are low-income working adults looking to make a better living. Strayer's current tuition rates, as I mention in my first article, really aren't terribly high. But the nature of Strayer's students does make affordability the issue and management acknowledged that. The next step is to fix the problem and management devised several solutions that were announced on Investor Day: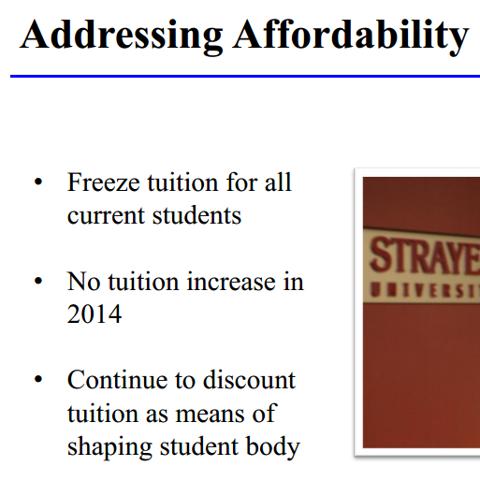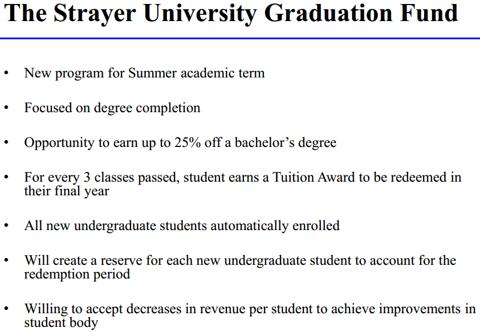 Besides the typical tuition freezes, management also created the Strayer University Graduation Fund as you can see above. I think the idea is really intuitive. SUGF is designed to improve retention. Students are encouraged to stay at Strayer because of the free classes they'll be eligible for in their final year if they stick around. Strayer currently has about 40% retention. 40% of students who enroll stick around to graduate. The majority who leave cite affordability as their reason. Strayer is willing to give them as much as a 25% tuition discount, but only if they stay the course. Now when the student considers leaving, they'll be discouraged from doing so knowing that they'll be passing up free classes. There is no effort involved on their part other than to stick around to take the free classes. It's a tough offer to pass up. That combined with the tuition freeze make a really compelling case for students to stick around. That was the intention of the Fund- to improve retention, but as analysts pointed out Thursday and I mentioned in my first article, it should also improve new student starts. Free classes in your senior year is a huge selling point to prospective students.
In my first article, I compared broad-based tuition rates with Strayer. Here's the chart again so you don't have to click through.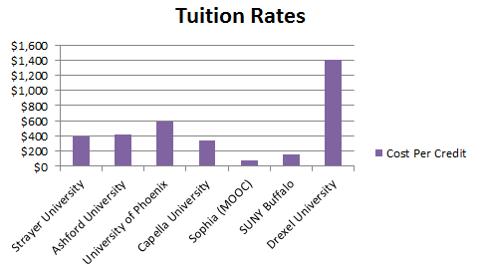 While effectively illustrating that Strayer's tuition rates are about average, this chart doesn't do the company enough justice relative to important competition- public universities. As students become more and more price-sensitive, many have opted to transfer to a community college or public university for the low rates they are able to offer by being state-subsidized. In my chart, I included tuition data for SUNY Buffalo, where I will be attending this year. I wrote:
At my current college, SUNY Buffalo, tuition for a full-time New York resident student is $2935 per term. A full-time student can take as many as 19 credits per term, so tuition per credit can be as low as $154.
That's perfectly true, but that $154 is a full-time rate. 86% of Strayer's students are part-time so they wouldn't be eligible for such rates. It makes more sense to compare Strayer's rates to the undergraduate part-time rate and make adjustments for SUGF.

Source: University at Buffalo Student Accounts
So for comparison purposes, Buffalo is really $356 per credit, not $154. Strayer is $394 per credit for a part-time undergraduate but with the maximum SUGF discount of 25%, cost per credit goes down to $296. That's substantially less than Buffalo, a subsidized state university. You know your rates are cheap when they're less than a subsidized institution.
Strayer has addressed affordability and devised a solution that directly attacks the issue by lowering prices, but in such a way that students see more potential savings than the Strayer will lose in terms of revenues. If tuition had just been lowered by a straight 25% across the board, students would see the same maximum potential savings but Strayer's revenues would also drop by the full 25%. With SUGF, students see 25% savings but Strayer's revenue per student will only suffer by about 10% or so because only student's who continue (about 40% retention rates) will see the savings.
This program really seems like the perfect fix for the problems Strayer's been having. So why are we seeing -13% YOY total enrollments compared to -9% YOY last quarter? Yes, the fix has been devised, but it hasn't really gotten attention yet. It just got rolled out this summer, so students are just finding out now that they're eligible for the free classes. It also hasn't been advertised yet as McDonnell points out:
We also, by the time that we had implemented the graduation fund, our media plan had already been complete and implemented. And so other than just some advertising that we did on our own website, there wasn't any media advertising the graduation fund which we plan to have moving forward.
Some other comments from Silberman, McDonnell, and CFO Mark Brown during the call that further confirm what I'm saying and are certainly worth reading are listed below:
With respect to the graduation fund, we did fully roll out the program for our summer academic term which means that all our new undergraduate students were automatically enrolled in the program. Again, this is a program that is intended to drive improvements in retention and over time, graduation rates. And so we're really going to have to wait until the end of our fall term enrollment in October to begin assessing the early impact from the graduation fund because obviously, fall would be the first term that our new summer cohort of students would have the opportunity to continue into. So once the fall enrollment is complete, we plan, obviously, to sit down and do a compressive analysis on the continuation impacts for our new summer cohort of students and we'll have more information to share once we complete that analysis.
Well, we rolled it out for the summer academic term, Corey. And in a few of the states, there's a little bit of lead time to get state approval for various programs that you're running. So there was a little bit of a staggered rollout, if you will, across the full campus footprint, which we've completed now. We also, by the time that we had implemented the graduation fund, our media plan had already been complete and implemented. And so other than just some advertising that we did on our own website, there wasn't any media advertising the graduation fund which we plan to have moving forward. But again, the construct of the plan is intended to improve retention and graduation rates. The feedback from students has been strong. If there is a benefit on new students, that would be a plus from our standpoint given that its primary design is intended to improve retention.
I would just remind everybody, of all the things that we have done on affordability. Again, we froze tuition for all of our current students. We announced that we're going to forego any tuition increase next year. Obviously, we rolled out the graduation fund. But as we continue to listen to the needs of our students and to the extent that those needs would require us to do additional steps on tuition pricing, we would look at that. And our view is, we would make whatever changes we feel are necessary without impacting obviously our ability to deliver a high-quality academic program or in some way, affect enrolling the types of students that we feel are going to be successful. So it's something that we're going to look at through the balance of the year.
Well, we have seen good traffic to our website. It may or may not, Jerry, translate into more interest for new students. It wasn't, as I said, at least for the summer academic term, supported by any other media dollars, broadcast media, et cetera. But -- and it is early. We have one quarter under our belt. A quarter that had... Yes, not even a full quarter. And a quarter that had no associated advertising or media. So I can tell you that the feedback from students has been very favorable. And so I think we're just going to have to wait until we get a few more quarters under our belt to know if it's having an impact on the new student side or not.
The direct answer to your question is we do intend to communicate broadly and strongly the value of that. And that will be in our media and in our marketing plan for the -- during the third quarter for our fall term enrollment.
Well, it may have an impact. Our view is that in sharing the design of the program, we're saying that the program was designed to impact retention, and as I said, ultimately graduation. The feedback has been very strong and it may have some impact on our new student enrollment, but it's too early to tell. And if it does, that would be a positive in addition to how the program was designed.
Q3 has traditionally been the company's largest marketing quarter as the most students enroll in the fall term. The company developed new advertising for Q3 which strongly conveys the value of SUGF to prospective students. I expect that to boost new student enrollments such that we'll see a lower YOY decline in Q3 than in Q2. I also expect continuing students to decline at a lower rate in Q3 as students now become aware of SUGF and make the decision to continue or withdraw for the first time with that knowledge. If both these metrics improve in Q3 earnings, then the total enrollment decline YOY will be less than 13% and move in the opposite direction. The turnaround will officially be recognized by those 'waiting for the dust to settle' and shares will jump. I also think that shares will trade higher leading up to the company's Q3 announcement as more and more investors recognize what I'm noting now and anticipate the jump. If the recovery takes a little longer or the turnaround is priced into the stock later than I expect, I'll just have to deal with holding shares of a great company with a good entry point. Woe is me!
Relative Safety Net
There is a strong safety net that comes with buying at a 5 year low and a day after an 11% drop.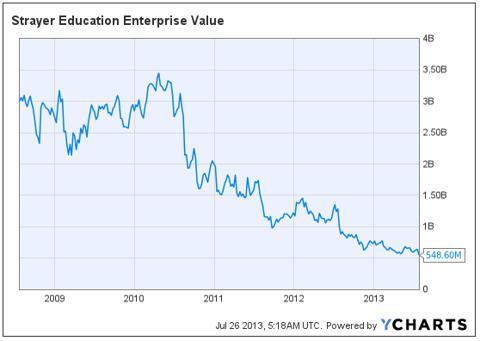 The question becomes, how much lower can shares go? That's what market participants have been asking themselves since the close Thursday. The results, when you think about the stage of SUGF implementation we're in, really aren't that surprising. This quarter was expected to be bad and the company beat estimates by a good margin, and yet shares dropped 11%. In education, it's been the trend for the market to take some time to react rationally to earnings results. Investors have been so confused that a large decline followed by a recovery isn't out of the ordinary. I think that's what we'll see.
Buying Buybacks
I could go on and on about why timely buybacks are an attractive characteristic of companies, but that's not for this article. In an article I wrote a while back I made a case for buybacks, but I think SA Contributor Ploutos does a better job in his ongoing series Buying Buybacks. Investors often look to insider transactions to see what management's opinion of the stock is, but think about it: these same managers also decide when the company buys back shares. A large share repurchase program is just as much a testament of stock attractiveness as insider buying is.
I've always been a huge advocate of buying stock in companies that buy themselves, but somehow I missed this in my initial research on Strayer. Luckily, a commenter on one of my articles made me aware of Strayer's extensive share repurchases. Strayer has reduced its share count by an impressive 24% in 5 years and continues to aggressively repurchase stock.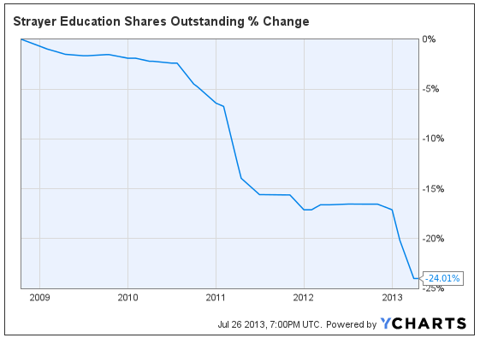 The company even recently leveraged cheap money debt markets to finance buybacks. $25M has been spent on share repurchases in 2013 already. Much of those repurchases were made at higher prices than what the stock trades at today. While some may be disappointed that the company didn't anticipate lower prices and wait to buy back shares now, I look at it this way: Retail investors find it very attractive to buy stock in a company at a lower price than an insider or prominent investor. You're essentially leveraging their judgment while getting a better deal sole because of timing. If executive management with a reputation for excellent capital allocation thought the stock was attractive to repurchase at higher prices, then they must love shares at this price. While they've already exhausted much of their repurchase program, I have the opportunity to get in big and at a lower price than the people who know the most about Strayer did. That alone played a very big part in my decision to initiate a position today.
Conclusion
In my other articles, I told you why Strayer was a great company and why it was selling at an attractive price. Here, I've explained why shares are even more attractive now and why now is the absolute best time to buy. I've told you what to expect leading up to Q3 and if all that wasn't convincing enough, I'm telling you that this is my absolute best investment idea right now and that I've finally put my money where my mouth is. Leadership at Strayer is buying shares, I'm buying shares, and now it's time for you to buy shares.
Disclosure: I am long STRA, AAPL. I wrote this article myself, and it expresses my own opinions. I am not receiving compensation for it (other than from Seeking Alpha). I have no business relationship with any company whose stock is mentioned in this article.
Additional disclosure: I allocated 30% of my portfolio into Strayer shares today at $44 per share and intend to aggressively add to my position as cash becomes available in the weeks to come.