Kulicke and Soffa (NASDAQ:KLIC) is a little known company with great potential. Investors have failed to realize value in this company; they have beat analyst expectations 7 out of the last 8 quarters. With this in mind, we value Kulicke and Soffa at $12.95 by year-end of 2013 and $16 by June 1, 2014, an increase of 43% from current levels. Some things to keep in mind are the future of semiconductors, new opportunities or investments, the economics of semiconductors, growth drivers in the future, and cash/valuation to peers.
Kulicke and Soffa is a global leader in the design and manufacture of semiconductor assembly equipment. As one of the pioneers of the industry, KLIC has provided market leading packaging solutions. In recent years, they have expanded product offerings through acquisitions; adding a broader range of tools and components to the core line of products. With extensive expertise in process technology, KLIC is well positioned to help customers meet the challenges of assembling the next-generation semiconductor devices. Kulicke and Soffa essentially provides the equipment and tools that are used in the production of a wide range of semiconductor devices. Their customers produce the "chips" that drive the information world and drive products such as computers, smartphones, media tablets, and LED TVs.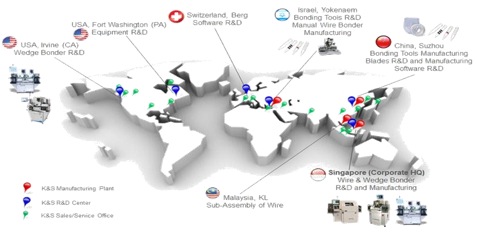 Image from KLIC Investor Presentation - March 2013
Kulicke and Soffa Business and Customers
Kulicke and Soffa components and tools can be found or are used to manufacture semiconductor products all over the world in personal computers, servers, mobile phones and tablets. Samsung, Micron Technologies, and Texas Instruments are three of KLIC's largest customers from a mobile, communications, and storage side. With customers involved in all different areas of semiconductor technology, Kulicke and Soffa positions itself well as a derivative play on the recovering semiconductor market and is poised to take advantage of the mobile DRAM space with large customers. Samsung and Micron (NASDAQ:MU) will also continue to work with KLIC going forward in order to create faster data delivery on the mobile front as well. (Look back at our previous report on Micron to gain a better understanding of this industry as a whole)

Semiconductor Demand and the Future
Semiconductor unit demand is outpacing semiconductor spending, signaling greater cost sensitivity and higher prices. This will trickle down to KLIC and allow them to charge higher prices for equipment and components, essentially increasing revenues and margins across the board.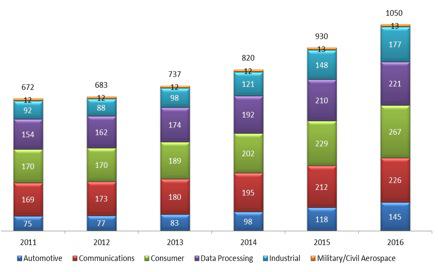 Image from KLIC Investor Presentation - March 2013
Semiconductor Revenue Projections by Segment
One of the major growth drivers for KLIC going forward will be the shift from semiconductors for PCs to mobile phones and tablets. The company is invested in this area and provides equipment and components to some of the largest competitors in this space including Samsung, Micron, and Texas Instruments (NYSE:TXN).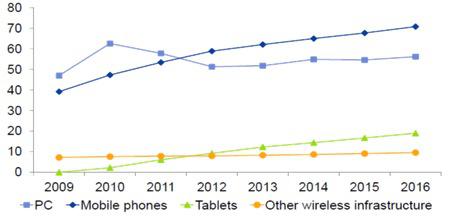 Image from KLIC Investor Presentation - March 2013
Market Share Trends
As we can see, over the last 5 years KLIC has continued to take market share from all competitors in Asia while expanding operations worldwide and competing with the larger firms internationally. As mobile communications have evolved and connected the world, Kulicke and Soffa has excelled in expanding operations and taking advantage of opportunities in new markets.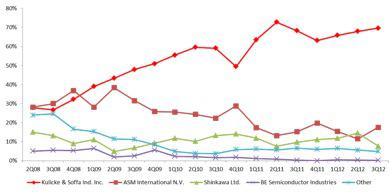 Image from KLIC Investor Presentation - March 2013
Major Trends for the Semiconductor Industry - COST IS KING
Increasing chip complexity - leads to rising design cost & few new entrants
Consumer market is the leading user - leads to greater market volatility & cost sensitivity
Increasing manufacturing cost and scale - leads to manufacturing outsourcing
Need for innovative solutions and faster payback on the rising cost of R&D - leads to R&D partnerships & collaborations
Volatility of Global Economy - leads to careful inventory management to control cost
All of these facts bode well for KLIC as they are a leading supplier of semiconductor components and tools
The Future of Packaging and Copper Bonding - KLIC Competitive Advantages
One of the important areas for KLIC going forward is in the packaging and bonding space of semiconductor technology. Their investment in this area should prove to be a major growth factor for the company over the next 5 years. Wire bonding is the method of making connections between a semiconductor device and its packaging during fabrication. Wire bonding is considered the most cost-effective and flexible technology, and is used to assemble the vast majority of semiconductor packages. Copper wire has become one of the preferred materials for wire bonding and this is where KLIC has invested for the future. Copper wire has the ability of being used at smaller diameters providing the same performance as gold without the high material cost.
Innovative Packaging and Wiring
Wire bonding is a mature, high yield, lower cost solution than Through Silicon Via (TSV) which is at the heart of 3D Packaging currently, but has many steps and is expensive
New technology is targeting high performance, high density applications
Higher density for the same footprint
Higher performance/wider bandwidth
Lower power consumption and better integration
Copper Bonding Wire Use

Kulicke and Soffa sustain its technological leadership in manufacturing by focusing on areas that give constant decreases in cost and productivity improvements. KLIC utilizes a model, which continually moves fixed cost to variable cost in order to limit the effects of semiconductor market volatility. This is the one issue that has had the biggest impact on many semiconductor companies. KLIC is one of the best at planning for the future and weathering the storm of volatile markets. They also engage in material localization programs to determine where the parts and sub systems should be sourced and partner with suppliers who have excellent manufacturing and supply chain capabilities and utilize the same variable cost methods to reduce exposure and their overall costs. This optimized operations model allows KLIC to better manage gross margins, control costs and reduce cash conversion cycle time. Their advanced multi-sourced supply chain network mitigates risk & reduces costs for the components that they supply to manufacturers. KLIC also utilizes a hybrid Sales & Distribution network comprised of internal resources and reps and distributors. This unique model for the industry combined with high equipment volumes drive significant cost savings. Overall, their sales, support, distribution & service cost is roughly 3.5 - 8% versus 10 - 15% external rep network costs that are typically associated with this industry. In the end, this is a great time to invest in a company with great growth potential because of innovative technology, elastic supply chain and distribution network, variable manufacturing cost structure, and best in class manufacturing capabilities.
As the market continues to transition from gold bonding and packaging to copper, KLIC has positioned themselves to take hold of significant market share. Kulicke and Soffa is targeting 30% market share by 2016 in a market that is estimated to be $1.8 Billion. Consumers are driving semiconductor growth and influencing the evolution of packaging and advanced packaging will see a faster growth rate in the next few years. The copper wire bonding transition will continue for another 3~4 years and KLIC will lead the industry in wire bonding and advanced packaging technologies.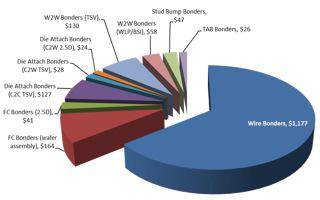 Image from KLIC Investor Presentation - March 2013
Valuation

In the case for Kulicke and Soffa, considering the future prospects and improved pricing surrounding semiconductors, they appear to be undervalued compared to their peers. The recent pullback should be used as a buying opportunity as KLIC continues to diversify their business and expand operations. As we can see, they are trading at a discount in every valuation metrics.
Profitability

Look to gross profit margin as an area of improvement going forward. This has been a negative area for Kulicke and Soffa, as it has been for many companies in the semiconductor space, in the past because of the volatility associated with semiconductor prices. As prices continue to improve and KLIC becomes more involved in higher margin areas as a mobile component supplier, this will be a metric that significantly improves in the future. In general, the company's gross profit margin should be stable and cash flow will continue to outperform.
Management Effectiveness

KLIC continues to be in a strong financial position and has been able to make nice acquisitions that have added value in a short period of time to many areas of their business. Kulicke and Soffa has historically been able to evolve and develop new strategies. With the ability to generate cash, their strong cash balance, and no debt, KLIC looks to be a great investment at this point in time. When looking at the different profitability measures, we can see that KLIC is outperforming their peers. With an ROA, ROE, and ROI of 19.15, 25.36%, and 23.37% respectively, investors will realize value in the stock soon. In 2014, look for KLIC sales to rebound along with gross profits. The semiconductor market was volatile this year and expectations were not high for 2013, but strong growth is expected for 2014, and KLIC will be a major benefactor of this improved outlook.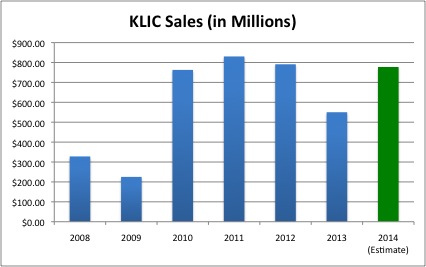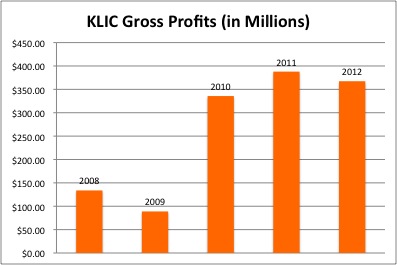 Investors should focus on KLIC's cash flows from operating activities. This area has significantly improved over the past 3 years, and indicates how much cash the company generated from its core business. This gives us the best picture of how well the firm's business operations are producing cash that will ultimately benefit shareholders. One major reason for this in the case for KLIC was the company's accounts receivable decreasing, meaning that the firm collected a great deal of money from its customers and the time that it takes to collect this money is far less than competitors, putting them in a strong financial position.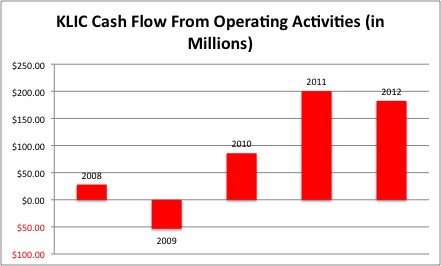 KLIC Cash and Debt Balance (in Millions) from 2005-2013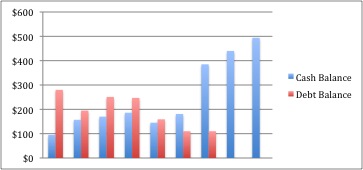 Macro Environment for Semiconductor Business
As we can see, the semiconductor industry correlated with broader GDP and the overall economy. This industry shares many of the same macro drivers, most importantly consumer spending. This is the area of the economy that will have the greatest effect on KLIC, and as the economic views continue to improve and consumer spending increases, so will business for KLIC. The industry is expected to enjoy a double digit rebound over the next 4 years.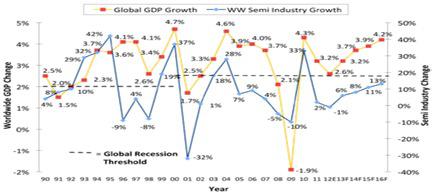 Image from KLIC Investor Presentation - March 2013
Kulicke and Soffa is positioned well for the future and will have great opportunities in high growth spaces such as mobile DRAM as a component and equipment supplier. As a derivative play, KLIC will continue to see the positive trickle down effects of an improving semiconductor market. The revenue growth has come in higher than the industry average and revenues are projected to increase going forward. This growth in revenue will trickle down to the company's bottom line, improving the earnings per share. Investors have yet to realize the value in this company, as they have been involved in quite a bit of volatility over the course of the last year. With total semiconductor sales in 2012 of $245B, expected growth of 7% in 2013, and double-digit growth in 2014, KLIC with play a major role in the manufacture and component supply of these devices. Mobile devices, smartphones, and tablets will continue to be the driver for semiconductor market. Regarding Kulicke and Soffa's future course, buying the stock at current levels is a good idea, and any pullbacks present a further buying opportunity. We see the stock returning to 52 Week Highs of $12.95 by the end of the 2013 and continuing to rise to $16.00 by June 1, 2014.

What You Need To Know
Kulicke and Soffa reports their next quarter on July 30, 2013 and will give a clearer picture on the current semiconductor market and components supplies. Many investors and analysts focus too much on the overall semiconductor market and do not realize value in the firms that have found a niche and are constantly outperforming. Expectations for this next earnings announcement are low, and given KLIC's history of positive surprises, we expect to see upside in the stock post results. KLIC generates a great deal of cash and this will continue in the future without having any debt on the balance sheet. The earnings conference call will give investors insight into 2014 and provide a better look at the KLIC product diversification. With steady improvements around the world and improving economies, the semiconductor market expects to see double-digit growth. This makes KLIC a great investment at this point in time with solid growth prospects for the future.
Disclosure: I have no positions in any stocks mentioned, and no plans to initiate any positions within the next 72 hours. I wrote this article myself, and it expresses my own opinions. I am not receiving compensation for it (other than from Seeking Alpha). I have no business relationship with any company whose stock is mentioned in this article.