Though financial planners and pundits are fond of pounding the table with the mantra of "slow and steady wins the race," I'm not convinced this advice is appropriate for all individuals prepping for their golden years. Given low interest rates and puny risk-free security yields, unprecedented economic policy, exploding healthcare costs, and increasing life expectancy, a set-it-and-forget-it, conservative income strategy for those near or in retirement may or may not cut it. Indeed, for those not blessed with executive-like wealth or substantial fixed income resources, the funding of a comfortable, extended retirement with investable assets could prove difficult. We can all aspire to be tortoises, however, the reality is that many of us may become losers without some hare-like thinking.
Who Needs to Be A Hare?
By hare, I'm not alluding to one becoming a rapid day trader taking on substantial risk. However, I am alluding for the need to take a more active, strategic role in one's investments, perhaps taking on a bit more risk or making more frequent tactical moves to increase income in the years ahead. Upping the risk ante may not be an appealing idea for many, however, those who don't run a bigger risk of digging into too much capital too early on in retirement.
One needs to look into the mirror when making these decisions. While this article will serve as a guide as to how one may formulate a more hare-like strategy, personal variables must be taken into account. And whatever path you consider or choose, there is no substitute for a good night's sleep.
Diversify, Diversify, Diversify
As I have oft preached in the past, I see little reason to take concentrated risks in an income-oriented portfolio. Whatever asset allocation mix and specific investments you select, spread your wealth around to as many securities that you have the time to adequately manage and monitor. Though dividend cuts, freezes, missed bond payments, or other cash flow disruptions tend to be rare, minimize your cash flow risk by maximizing your diversification.
And while there is no "right" number of stocks or bonds to own in an income portfolio in my estimation, I would suggest no more than 3% in any one security. I would strongly promote an over diversified portfolio as opposed to an under diversified one.
Harvest Time
Contrary to some of the "forever stock" commentary that one can read, I don't think you should ever go into an investment thinking you're going to hold it for years to come, especially if you are actively looking to increase income. While historical consistency is an important attribute for a company, I don't think one should assume that earnings or dividend growth from a P&G (NYSE:PG), Coke (NYSE:KO), Colgate (NYSE:CL) or JNJ (NYSE:JNJ) will be superior or infinite in the years ahead. While I would agree that consumer products companies could form the core of the dividend growth portion of an income portfolio, I wouldn't necessarily recommend holding on when valuation becomes salty or business seems like it's headed for the tank near or longer term.
While I'm not specifically advising one to jettison a PG or JNJ from a portfolio, with the stocks up better than 25% over the past year and now yielding less than 3%, I think one should consider harvesting some gain and swapping into an equity with a better valuation and a higher yield like Conoco (NYSE:COP) or Intel (NASDAQ:INTC). While one should be cognizant of the tax consequences of doing so in a non-qualified account, there's no doubt that thoughtful swaps, even with non-qualified monies, can improve your income over time.
To illustrate, let's consider two investors that start with a $100,000 investment in XYZ company, with a hypothetical 4% starting yield, an 8% stock price gain per annum, and 8% dividend growth rate per annum over the next 10 years. Investor A will hold the investment for ten years, while Investor B will reallocate each year. Instead, investor B will harvest gains to find new stocks that also pay 4%, but appreciate 12% a year in value, effectively increasing dividend income 12% in years 3-10.
The Simulation:
| | | | | |
| --- | --- | --- | --- | --- |
| End of Year | Investor 'A' Stock Value | Investor 'A' Dividends | Investor 'B' Stock Value | Investor 'B' Dividends |
| 1 | $108,000 | $4,000 | $108,000 | $4,000 |
| 2 | $116,640 | $4,320 | $120,960 | $4,320 |
| 3 | $125,971 | $4,665 | $135,475 | $4,838 |
| 4 | $136,048 | $5,038 | $151,732 | $5,419 |
| 5 | $146,932 | $5,441 | $169,939 | $6,069 |
| 6 | $158,687 | $5,877 | $190,332 | $6,797 |
| 7 | $171,382 | $6,347 | $213,172 | $7,613 |
| 8 | $185,093 | $6,855 | $238,753 | $8,526 |
| 9 | $199,900 | $7,403 | $267,403 | $9,550 |
| 10 | $215,892 | $7,996 | $299,492 | $10,696 |
10 year dividend income Investor A: $57,942 Investor B: $67,828
In a qualified situation, Investor B was able to generate almost $13,000, or 17% more in income than Investor A over the life of the simulation by reallocating year to year and finding stocks with better stock price appreciation and similar yield. Some may consider this simulation overly contrived, yet I don't think it's unrealistic to think that an active value-oriented investor with sound stock picking skills can outperform someone who sits around and does nothing for ten years.
High-Yielding Investments
Obviously if one is in need of elevated income, let's say five percent or higher, then the market's stable of consistent income producing companies and other dependable, yet lower yielding dividend growers may not be enough to satisfy personal cash flow needs. And while I'm reluctant to paint a wide brush and say that higher yield always brings about higher risk, that generally tends to be the case. However, I would argue that a thoughtful scan of the high-yield universe can mitigate that risk by focusing on some off the beaten path ideas and isolating the best (and worst) risk-adjusted situations.
One area that income investors tend to overlook is the closed-end fund space. Given the unique attributes of CEFs and somewhat erratic trading that can occur relative to the fund's net asset value, active income investors can take advantage of the peaks and valleys that frequently occur here. Most recently high-yield bond CEFs, which had been trading at high premiums to net asset value, took it on the chin amid Fed fears and general credit concerns. in a recent article, I took the stance that the vast swing in market prices relative to a more muted net asset value swing made high-yield CEFs attractive.
One specific CEF I like, Alliance Bernstein Global High Income (NYSE:AWF), has experienced nearly an 18% market swing just this year, despite the fact that its NAV has swung less than half as much. Earlier this year with a premium in excess of 5%, I opted to sell the fund, however, recently I bought back in as the discount went lower than 5 percent. The move enabled me to buy better than 10% more income for the same dollar amount.
AWF-YTD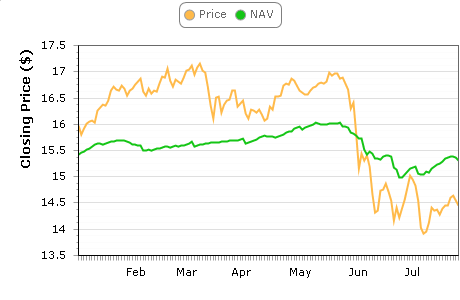 Elsewhere in CEF land, I like many of the option-income funds, which currently yield in the neighborhood of 10% and sell at discounts. These funds are generally positioned to generate high rates of tax deferred distributions by selling covered call options. They will typically not participate in a raging bull market, but are susceptible to equity sell-offs. Two that I own here are managed by Eaton Vance (ETV and EXG).
Other options for high income seekers include REITs, where I'm particularly fond of American Realty Capital Properties (ARCP), selling at a compelling forward FFO multiple and better than 6% yield. Also a consideration would be business development companies, many of which I consider attuned to high-yield bond funds. I like many business development companies so long as they are bought near or below net asset value.
However, as I recently found out with one of my personal BDC holdings, Solar Capital (NASDAQ:SLRC), portfolio gyration can lead to a significant near-term cash flow disruption. Solar announced just this week that it would be cutting its dividend due to expected monetization of two separate large portfolio investments. But since I've taken my own advice and kept the Solar position to a minimum, it will have a negligible impact on my overall cash flow.
Finally, I've become somewhat negative on mREITs. Though the yields certainly seek to draw investors in, the recent rate-related hiccup in the space should be illustrative of the book value risks endemic to these products. Not withstanding the tremendous leverage mREITs employ, it is very difficult to analyze an mREIT book of business and its hedging strategies and the various, somewhat arbitrary quarter-to-quarter risks they face, including prepayment. While I wouldn't necessarily say avoid the space, I would utilize them sparingly with a caveat emptor approach.
Conclusion
In this day and age, I would be highly suspect that a slow and steady posture will necessarily lead you to a comfortable retirement. While more passive income generating strategies may be enough for many, I think those planning for or already in retirement should take a more active portfolio management role. Consideration of strategies and investments that focus on continued growth of capital and a higher level of income may be surprisingly effective.
Disclaimer: The above should not be considered or construed as individualized or specific investment advice. Do your own research and consult a professional, if necessary, before making investment decisions.
Disclosure: I am long ARCP, AWF, SLRC, EXG, INTC, COP, CL, JNJ, ETV. I wrote this article myself, and it expresses my own opinions. I am not receiving compensation for it (other than from Seeking Alpha). I have no business relationship with any company whose stock is mentioned in this article.