It does not take a market wizard to tell you that the greatest opportunity to buy stocks is at the very end of a bear market. Once a disconnect between fundamentals and psychology takes the market to extreme lows, smart investors know that the risk of loss is suddenly limited. On the contrary, very often, the best time to sell stocks, or anything for that matter, is near a broad market peak.
So, bonds topped from a 30 year secular bull market in July of 2013. As indicators of economic conditions now finally point to more growth, and the Federal Reserve talks about tapering their nearly 5 year long bond buying program by the end of this year, one can almost say this with certainty. So, as of today, people who want to bet against bonds are exactly one year late, which might lead them to hesitate shorting government and corporate debt. Is it too late? Let's take a look at another example.
The S & P 500 bottomed from the worst bear market since the Great Depression in March of 2009. If you were exactly one year late, and bought the S & P 500 Index in March of 2010, you would still be up over 65%, before adjusting for dividends, which makes the percentage gain closer to 75%. Thus, in long-term trends, a year is close to insignificant. And if bonds are about to enter a supercyclical bear market for the next 25-30 years, then shorting bonds for the long run now appears like a very low risk proposition.
Remember, the interest rate cycle repeats over time, closely matching the 52-57 year Kondratiev Cycle.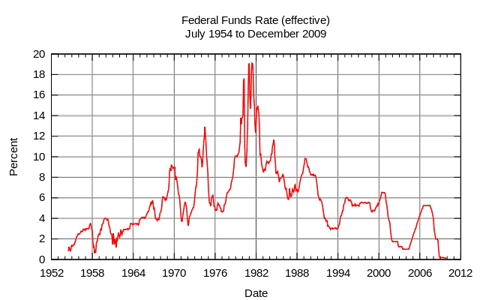 That said, one might even consider, despite the climb in interest rates over the past year, buying a longer-term mortgage, or getting a longer-term loan. Probabilities certainly favor new, longer-term borrowing to be profitable (in terms of increasing your net buying power).
So back to the strategy. ProShares UltraShort 20+ Year Treasury (NYSEARCA:TBT), a double leveraged fund that moves inversely to the 20 Year Treasury Bond, has recently exhibited signs of accumulation, and finally, made a breakout to new yearly highs. In the chart below, look at the volume bars and how volume picked up in recent months. Also notice how most of these bars are white, meaning that the volume was mostly the volume of new buying.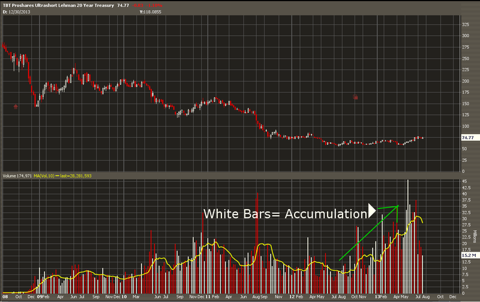 Then, consider the bottoming pattern taking place over the last year. Typically, long-term bottoms have a familiar look. The stock, ETF, index, debt instrument makes a new low, then the security attempts to make another low, but sellers find themselves pushing into a mass of new buyers actively accumulating. The attempt to make new lows fails. Finally, a break to new highs, and generally a pullback. You then have a new uptrend. Does the chart below have all of these steps of a major bottom?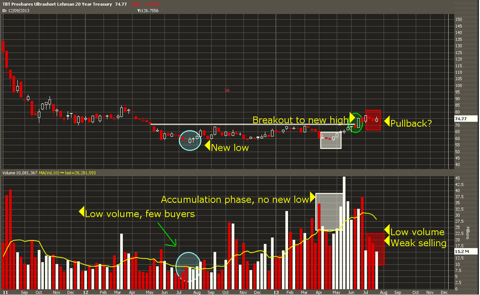 If you are in agreement with my view on interest rates, one can also buy such ETFs as ProShares Short Investment Grade Corporate (NYSEARCA:IGS), Direxion Daily 30-Year Treasury Bear 3x Shares (NYSEARCA:TMV), or Direxion Daily Total Bond Market Bear 1x (NYSEARCA:SAGG), depending on your risk tolerance. One must also consider the risk involved with directional ETFs, as even cyclical upswings in interest rates could take back much of the unrealized profits gained.
The bottom line is no, you are not too late to come into the party and short debt. This is an opportunity that comes along, depending on when you are born, once a cycle, or lifetime. So don't wait for this new cycle of expanding growth, rising interest rates, and rising stock prices will leave you behind.
Disclosure: I have no positions in any stocks mentioned, and no plans to initiate any positions within the next 72 hours. I wrote this article myself, and it expresses my own opinions. I am not receiving compensation for it (other than from Seeking Alpha). I have no business relationship with any company whose stock is mentioned in this article.