The current issue of the 10x45 Bargain Hunter (pdf file) stock screening report, published on August 23rd, includes a table of the Top 45 "Magic Formula" Stocks, based on current consensus estimates of this year's earnings per share. This "Magic Formula" screen is based on a methodology advocated by Superinvestor Joel Greenblatt, author of The Little Book That Beats The Market.
Here are 10 'magic formula' companies that deserve a closer look:
EarthLink (NASDAQ:ELNK) is a "cash cow" business offering commoditized Internet access to consumers and businesses. Management has made a strategic decision to cut backend costs and marketing expenses in order to maximize FCF generated by existing customers. At a 13% earnings yield based on this FY EPS estimates, the shares deserve a look, but investors should make conservative assumptions about future ARPU and churn.
Pre-Paid Legal (NYSE:PPD) is a company with a theoretically appealing value proposition. Unfortunately, the company has not yet found the right formula to grow membership beyond the current 1.5% of addressable households. PPD's multi-level marketing strategy may present a hurdle to widespread adoption of the pre-paid legal service. We recognize that it would be exceedingly difficult to revamp the sales strategy due to the risk of transitional channel conflict. As a result, PPD may be stuck in a strategy that could keep it a marginal provider of legal services for a long time.
Mirant (MIR) sells electricity, which it generates through coal-fired, and oil and gas generating facilities. Star hedge fund manager John Paulson owns more than 12% of the company. With shares trading at 0.6x tangible book value, they deserve a closer look.
Foster Wheeler (FWLT) is an engineering and construction contractor and power equipment supplier that has executed well in recent years, benefiting from global growth and strength in energy-related industries. The company has a rock-solid balance sheet and bought back more than $400 million of stock in 4Q08. The shares price in a sharp near-term downturn in business, making this a potentially interesting opportunity for contrarian investors. Investors should monitor the so-called "scope" backlog to gauge Foster Wheeler's resilience in a weak operating environment.
H&R Block (NYSE:HRB) is one of the most widely recognized consumer brands, as the company is nearly ubiquitous across the country at tax time. H&R Block misstepped badly during the housing bubble, making a major foray into mortgage loans. This mistake is now behind the company, so future value creation will depend mostly on H&R Block's ability to gain share versus other tax services providers, such as CPAs. The trend toward electronic tax return preparation -- think Intuit's TurboTax -- remains the major long-term threat to H&R Block's prospects.
GT Solar (SOLR) provides manufacturing equipment and services for the production of photovoltaic, wafers, cells and modules, and polysilicon worldwide. While we normally avoid solar companies because the entire sector has been hyped for quite some time, GT Solar is interesting both from a valuation standpoint as well as the fact that respected value investment firm Oaktree Capital Management owns more than 5% of the shares.
GigaMedia (NASDAQ:GIGM) is engaged in the growing business of providing gaming software and services to the online gaming industry in China, Taiwan, Hong Kong, and Macau. The company's solid balance sheet and valuation of slighly less than 1x enterprise value to trailing revenue make GigaMedia worthy of consideration.
Synopsys (NASDAQ:SNPS) provides electronic design automation (EDA) software and related services to semiconductor companies worldwide. The EDA segment remains one of the most attractive places in the semiconductor value chain, and Synopsys is a leader in the space. The company derives a large portion of revenue from recurring software subscription fees, improving the steadiness and predictability of the business. High-quality tech companies such as Synopsys rarely trade cheaply enough to appear on a 'magic formula' screen, which is why we take note of it here.
Lorillard (NYSE:LO) lacks a key attribute of a great business — an ability to reinvest FCF at high rates of return. As a domestic-only tobacco maker, Lorillard operates in a slowly but steadily declining market. This puts the company in cash harvest mode despite the modest growth exhibited by Newport in recent years. Lorillard may continue outperforming the rest of the tobacco industry for quite some time to come, but that's not saying much considering the challenges facing U.S.-centric tobacco companies.
Hewlett-Packard (NYSE:HPQ) needs no introduction. The recent trading price implies a current earnings yield of roughly 11%, quite respectable for this industry leader. Respected value-oriented fund managers Steve Mandel of Lone Pine and Dan Loeb of Third Point initiated positions in Hewlett-Packard during the second quarter.
Top 45 "Magic Formula" Stocks (based on this FY EPS estimates)
click to download pdf version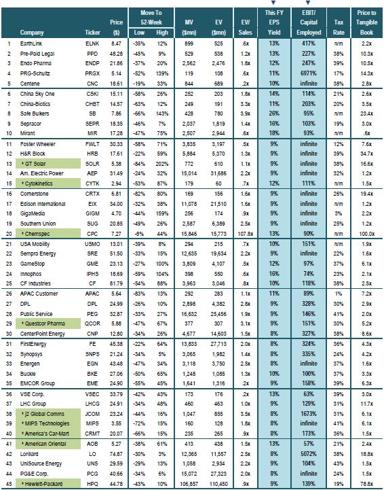 Source: The Manual of Ideas, BeyondProxy LLC.
Disclosure: No positions