As a global industry, steelmaking enjoys considerable attention. Corporations based upon it have been experiencing varied difficulties. Pertinently, United States Steel Corp. (NYSE:X) is scheduled to report its earnings on Tuesday, July 30th before the market opens. Expectations appear low, so there may be a backdrop for a trade. The following article uses current research of the large, respected investment banks to discuss topics that may affect the cyclical company. Those considering its stock might be contrarians, as ratings presented here are the equivalent of buy, hold, and sell.
The stock pays a $0.20 annual dividend to yield 1.1%. It has been reporting losses recently, so an increase is not probable. The company has generated cash each of the past two quarters, consistent operating cash flow is not an issue, and its balance sheet is not worrying, so the dividend is unlikely to be cut. There is a high amount of short interest, reported at nearly 32% on June 28, that can squeeze the stock sharply higher.
A recent article in The Economist magazine, "An Inferno of Unprofitability," discusses doldrums before the wider industry. While the publication can on occasion provide remarkable insight, it seems that they are at least partially off target. The article describes such a bleak picture for the French giant ArcelorMittal (NYSE:MT) that some may wish to bet against it. However, with the stock just off of its 52 week low, the timing is obviously not sensible. Here is what is troubling: the magazine contends that iron ore, used to produce steel, belongs to a "Seller's market," which is unlikely to be true in the future if you listen to James Chanos, JPMorgan, or Deutsche Bank.
Pertinent to domestic companies, the article says,
American steelmakers, though they are struggling to compete with Latin American rivals, have it a bit better. Signs that the economy is recovering, cheap energy from shale gas and a resurgent motor industry are all bringing good cheer to steel firms.
Indeed, Ford (NYSE:F) and General Motors (NYSE:GM) have just reported terrific results, while a new plant is intended to service them. Records show two directors making open market purchases in May, at prices from $17.44 to $18.99. The domestic economic recovery may lead to increased demand; though overcapacity is ever-persistent as a concern. So, upon reviewing what is being said about this important supplier to automotive, construction, energy, railway, barge, and industrial manufacturing businesses, a case might also be made for investing in US Steel's customers.
Credit Suisse
Credit Suisse has ceased coverage of US Steel as of July 5. Its current report includes comprehensive information pertaining to the company's backdrop. The Swiss firm forecasts no change to global steel tonnage over the next three months.
Production is shown to have been slightly down, with spot prices higher at $643/ton from $628/ton in June. Volatility is predicted in the future, with Chinese activity having considerable bearing. There is nothing decisive presented, but there may be reason for optimism.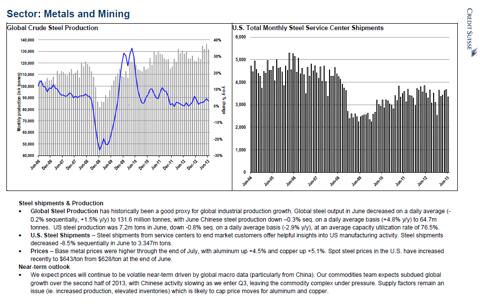 However, global production is clearly in an uptrend, in light of both seasonally adjusted ("SA") and raw data, according to Credit Suisse. This is not surprising in light of worldwide capacity discussed by The Economist.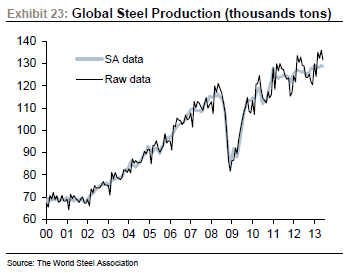 JPMorgan
JPMorgan's most current research on the stock is dated May 1, 2013, and it revises its target price down to $23 from $26 while maintaining a Neutral rating. It is rare for a company to be ranked any lower, as only 13% of stocks covered globally are rated underweight. The investment bank also has a 41 page report on the wider industry, produced on July 19th, "Global Metals and Mining Weekly Wrapup," that lists Nucor Corp. (NYSE:NUE) as its top steelmaker.
Nucor's profitability per ton surpassed steel mills with perceived greater operational leverage, including X and AK Steel (NYSE:AKS), during the last cycle peak even without its new DRI facility (which should come online at the end of 3Q13).
Asia in general, and India specifically, are concerning in consideration of reports that a mill is being abandoned there:
Steel oversupply in Asia will not easily be eliminated, and given the major risks inherent in constructing new steel mills…The key downside risk (for TATA) is "A sharp reduction in India profitability from levels."
Among 2014E data are EPS of $1.32 and P/E of 14. In addition to Nucor, other Overweight-rated steel stocks include AKS, Dynamic Materials (NASDAQ:BOOM), Haynes International (NASDAQ:HAYN), and Steel Dynamics (NASDAQ:STLD). For contrarians, Allegheny Technologies (NYSE:ATI) is rated Underweight.

In its 11 page May 1st write-up, JPMorgan says,
We cut our 2013E EPS to ($1.41) from $0.83 as higher than expected maintenance costs weigh on an already weak domestic flat rolled steel market. We could see further downward pressure on 2H13 earnings if the Lake Erie lockout persists beyond 2Q. Our 2014E EPS also declines to $1.32 from $1.81 to adjust our expectations for a more modest recovery in Flat-Rolled and continued deterioration in Tubular margins, offset in part by a lower tax rate assumption… reflecting a slower recover in Flat-Rolled and continued deterioration in Tubular margins.
The firm's thesis,
…We view U.S. Steel as the most levered domestic stock to a steel recovery given its higher fixed costs from its backward integration into iron ore. As a result, X's stock price tends to outperform during periods of high raw material price inflation - something we are not forecasting in the near term as iron ore and scrap prices ease throughout 2013 from their recent peak while coking coal faces an increasing array of substitutes. Against this backdrop of lower raw material prices and increasing frequency of steel price "mini-cycles," U.S. Steel will not likely enjoy the necessary preconditions to fully display its historical earnings leverage. Moreover, we continue to project margin compression in Tubular from increasing supply and falling rig counts while capital constraints limit management's ability to meaningfully stabilize costs and improve margins...
A partial listing of key risks:
A rapid decline in steel prices
A spike in energy costs
A significant appreciation of the dollar (emphasis added)
Labor relations
A meaningful decrease in Chinese economic activity and steel demand
Deutsche Bank, April 30, 2013, Buy, $23 Price Target
Under the Outlook portion of its investment thesis, the German firm says
U.S. Steel is a leading global integrated producer of flat-rolled steel (#2 in North America) and the largest producer of tubular products in North America. It has annual crude steelmaking capacity of 30M tpy in the U.S., Canada and Central Europe. We see U.S. Steel as a leading beneficiary in our coverage of a weak USD and stubbornly high steelmaking raw material costs over the long term via its integrated business model. We rate the shares a Buy.
Key risks:
Metal prices (Flat carbon and tubular steels)
Raw material and operating costs - US Steel purchases significant amounts of coal and iron ore
Currency fluctuations
Tubular imports, which have risen in recent years
Pertaining to being a beneficiary of a weak dollar, my own inclination is to say that is less likely to be the case in the future with QE tapering in the works. However, Deutsche Bank appears to be right about beneficial material costs. Here are some charts included in the report that display a favorable situation overall: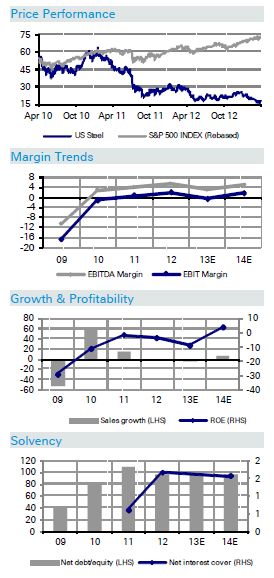 Goldman Sachs, July 3, Sell Rating and Cautious View
Goldman Sachs assigns the company its lowest rating. Its most recent report, issued earlier this month, discusses Oil Country Tubular Goods ("OCTG") imports, which are said to have increased 80% between 2010 and 2012, at 2.9M tons. As a detail, the investment firm says "In the last couple of years, Korea has gained the largest share of OCTG imports into the United States." There is a trade case pending against nine countries, which may result in extensive deliberations and findings that not all defendants are practicing unfair trade. OCTG is a part of the US Steel's Tubular Segment.
In 2009, the industry suffered significantly and X reported losses for two quarters in its OCTG segment. This time the market is reasonably profitable (X earned about $200/ton in its Tubular division in 2012), so the impact is not as clear.
There is no discussion of exchange rates or material costs in the note. There are graphs showing declining tubular profitability, in agreement with JPMorgan.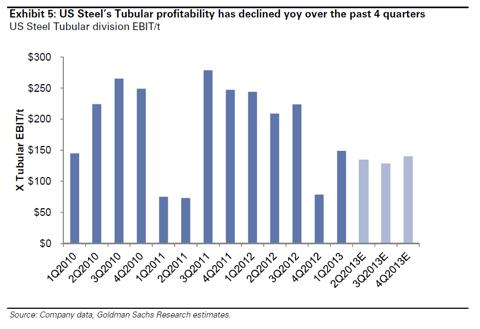 Though not labeled a "Thesis," the rating is explained:
X (Sell) produces about 20mn tons of flat steel and each $10/ton decline in price would impact its EBITDA by $200mn. On the other hand, it produces 2mn tons of OCTG, and to compensate for a $10/t decline in flat steel prices OCTG prices will need to go up by $100. Based on our view of $80-$90/t iron ore world in the coming years, we see significantly higher downside risk for flat rolled prices vs upside if the OCTG case is settled favorably for the domestic industry.
It seems to me that improved profitability, concurrent with resurgent industrial activity, is a possibility. Natural gas prices may have nowhere to go but up, though the abundance of energy should work in US Steel's favor. Coke is another critical input, and per its Form 10-K, US Steel purchases all of its coking coal. Similar to iron ore, an eventual decline in Chinese activity can result in a buyer's market for coke - as implied by Deutsche Bank, and JPMorgan in its thesis.
Financial Health
The company's balance sheet is not particularly strong. However, current figures are consistent with those of a year ago, and goodwill is not an imminent concern, set to amortize at $11M per annum from 2014 to 2017:

Trading and Investing
Financial markets are said to be priced for the future. With that in mind, a description of a framework for post-earnings stock price movement is described here. If expectations are high heading into earnings then a stock is probably going to decline when it reports, and if expectations are low it may move higher.
Aside from Deutsche Bank's April note, everything described thus far has involved low expectations. The consensus is for US Steel to announce a loss of $0.77 per share. An okay report might be all anyone is requesting.
Conclusion
For owners of US Steel, or those would like to be, Monday might be a decent time to buy. Problems have been known for some time, and X might not go much lower. There is a chance of moderate appreciation; and a squeeze can not be ruled out. However, the overall and long-term situation is not outwardly compelling.
Disclosure: I have no positions in any stocks mentioned, but may initiate a long position in X over the next 72 hours. I wrote this article myself, and it expresses my own opinions. I am not receiving compensation for it (other than from Seeking Alpha). I have no business relationship with any company whose stock is mentioned in this article.
Additional disclosure: Any position in the stock initiated in the next 72 hours would only include options.